Welcome to Straight from the 'Beek! We're inching closer to kicking off the 2018 NFL season and the Falcons' big showdown in Philly against the Eagles – and you've got lots of questions. So, let's get to them. Just remember, all opinions here are mine unless otherwise noted.
What do you have for me today, Beekers?
Mark from Clarksville, IN
Hey Beek, all the hype is one thing, but being able to live up to that hype is another. So, my question for you is, our Falcons only go as good as our offense goes. And it seems to me, that we are still the same offense from a year ago. We started the preseason three-and-out and didn't move the ball Week 1. In preseason Week 2, if it weren't for a long completion to our TE on third down, we would've had another three-and-out to start the game. It just seems to me we start off very bad and when we do get going we only come away with three points. We cannot win a championship like that. Will Sark's play-calling and his offense live up to all the hype?
Tim from Stuart, FL
Hey Beek, love the blog! Thanks so much for the input and thoughts on the Falcons. Couple of questions, how productive do you think Ridley will be this season? Why do you think so many people doubt Matt Ryan? And with the Jags not picking up the option on Fowler Jr., do you think DQ would attempt to bring him in since he helped get him to Florida when he was there? Thanks so much for all the insight and keep you the great work. RISE UP!
Matt: Hey, Tim. Back in June, Tai from Lithia Springs, Ga., asked me to predict Calvin Ridley's stat line for 2018 – so I gave it a shot. And that, mind you, was before Ridley even played a preseason game for the Falcons. I said 45 catches for 650 yards and six touchdowns. And I still stand by it. I have no idea why some people still doubt Matt Ryan; I've been pretty vocal about it since starting SFTB, too. I think it's ridiculous. It's usually some knee-jerk reactions from fans who have no appreciation for the best quarterback in franchise history who, by the way, is still playing at a very high level. If Matt Ryan wins a Super Bowl, he's a first ballot Hall of Famer. No question. Mark it down. As far as the roster goes, don't be surprised if you see moves in the next few weeks. The Falcons are always looking to improve and there are some areas that I think are still somewhat unsettled. And I'll leave it at that.
Shawn from Bellingham, WA
More of a statement. I have been a Falcons fan my whole life ... now into my 40s. If the Falcons win the Super Bowl at home, I will tattoo the whole 53-man roster down my leg. Just putting that out there Matt.
Matt: Two thoughts, Shawn. Don't do it until it actually happens – that would be the ultimate jinx, my friend. And if you can't wait for some reason, be prepared to change some of those names. As I mentioned above, I don't think the Falcons are done tinkering with their roster yet. You could also cross out names, I guess. Please send pictures, if you should end up doing it. Thanks for reading and writing in!
Matthew from Tuscumbia, AL
I am beyond excited for some real Falcons football and have very high hopes for Atlanta this year. That being said, what is your prediction for our battle with the Eagles?
Matt: We know that Nick Foles will start for the Eagles and that Carson Wentz was listed as limited in the first injury report released Monday. But I would not be surprised at all to see Wentz play at some point if Foles struggles badly and the Eagles should fall behind. That said, I'm expecting a close game. The Eagles will be riding high full of emotion because they'll be rolling out their Super Bowl LII championship banners – they'll also want to put on a show for the home fans as they begin their title defense. The Falcons are coming into this one relatively healthy and extremely motivated as well – they know they were a few yards away from winning the last time they played at Lincoln Financial Field. I see the Falcons pulling this one out on the road, winning 27-13.
Sarah from Atlanta, GA
Beek! I'm not big on preseason predictions, as one injury can derail a whole team's season. However, I still have a question. I feel like our Falcons team is missing an identity. Whether it be a tradition like the Lambeau Leap or something else, we don't have anything that's specific to Falcons football. I know you're trying to find a nickname for our defense, but that all seems superficial. Falcon fans aren't known for being the rowdiest group of people on the planet, but the city of Atlanta has proved we can make noise and have cool fan traditions (see: Atlanta United). I was reminded of this when I saw a video of the United supporters singing "We Ready" in unison – all 70,000-plus of them. It's mostly the same people going to the games, so why not start something like that? What do you think we should do to keep the fans more involved?
Matt: Sarah! I totally agree with you when it comes to settling on a nickname for the defense – the team needs to win and the defense needs to earn that name on the field. You're right about the stadium traditions – it's always very cool to see a stadium full of fans coming together as one, no matter what it is. The "We Ready" chant (along with the cell phone flashes on) is an awesome example. The Falcons are lacking one, for sure. Maybe instead of soliciting nicknames for the defense I should be ask all the Beekers out there to come up with ideas on how to turn Mercedes-Benz Stadium into an intimidating environment for opposing teams by coming up with in-game chants, songs or something along those lines. Let's do it. What do y'all think? Start sending in your ideas and I'll start running them here if I get some really good ones.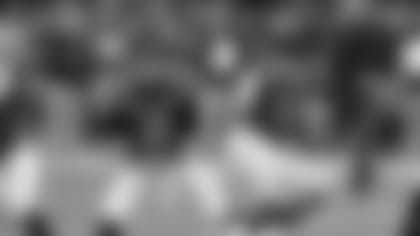 Chris from Fresno, CA
Hey Matt, it's good to be back! I was just wondering about the "RPO" (Run-Pass Option) since Philly does it a lot and is pretty darn good at it. How can our defense stop that? Minnesota and New England got killed by it, but we held them only to 15 points. Also, I heard that Steve Sarkisian's ran the "RPO" offense in college, too. Does that mean we have a chance to run it also? Example: I've seen us do that in the red zone a few times. Matt Ryan in the gun with Devonta Freeman right beside him. The ball gets hiked and Julio Jones runs across the field. Ryan has two options: 1) Hand the ball off to Freeman or 2) throw it to Julio. I've seen both work lol. Freeman's TD in the Super Bowl and Julio's TD against the Rams in the playoffs.
Matt: I'll say this much, there's definitely a chance the Falcons could run something similar to that, Chris. Expect some new wrinkles, too. As far as stopping it, it'll come down to every player on defense executing – reading their keys correctly, shedding blocks, not over-pursuing, taking the right angles and forcing some turnovers would be nice, too. Sounds like I'm over-simplifying things, but if you read our latest After Further Review piece, we tackle this topic – and explain what makes the Eagles offensive line so good as well as the challenges facing the Falcons defense.
Barry from High Point, NC
Hey Beek, we haven't heard much about Deadrin Senat. When he was drafted one scout remarked that Dan Quinn now has two Grady Jarretts. I think that is a good thing because I happen to be a big fan of Grady Jarrett. In my opinion he is the most underrated player in the NFL. I am hoping to someday see those two on the field together. That could be a formidable middle to run against. I don't think it would hurt the pass rush either.
Matt: Barry, you'll see them on the field Thursday night. Falcons coach Dan Quinn likes to rotate his players to gain an advantage in certain matchups but also to keep them fresh. So expect to Grady Jarrett, Terrell McClain, Deadrin Senat and Jack Crawford rotating in and out at defensive tackle. I think you'll see Jarrett and McClain start, but expect Senat and Crawford to get reps.