Welcome to Straight from the Beek! It's April Fool's Day, but no jokes from me today. Free agency is still in full swing even though things have quieted down some here in Flowery Branch. Meanwhile, the draft is right around the corner and you've got plenty of questions. So, let's get right to them. Just remember that all opinions here are mine unless otherwise noted.
Rob from Suwanee, GA
Hey Beek. This not a question but a preference. I have been hoping for a change back to the old red/grey/white uniforms from the 1980's. However, let's keep the current logo. I believe that combo would look completely awesome.
Matt: Thanks for writing in and noted, Rob. I don't have a problem with the current logo as much as I do with the current uniforms. That said, I'd still pick the classic logo over the current one. And if you read SFTB on a regular basis, you already know which uniforms I'd pick – all day and every day. The same ones you like, Rob.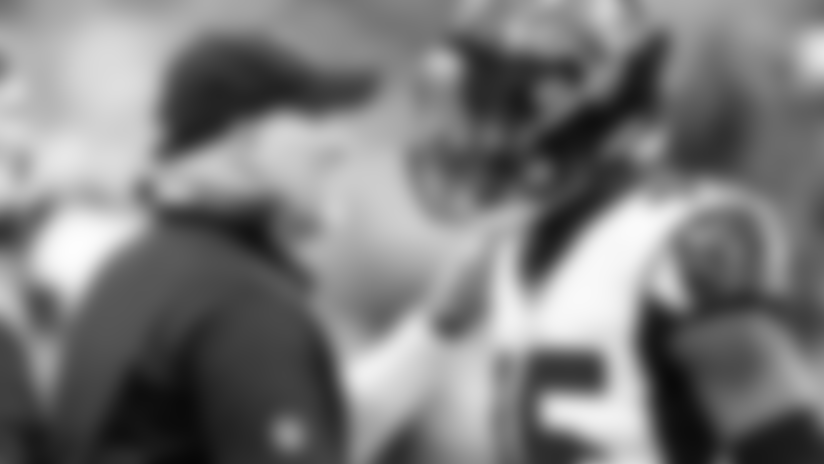 Jack from Broomfield, CO
I was just wondering how the Falcons will be able to afford to pay Deion Jones, Grady Jarrett, Keanu Neal, and up Julio's pay all within the next year with our limited cap space. Are there high-paid players that could get cut? Will we decide not to re-sign one or two of them? Thanks!
Matt: Therein lies the challenge of the salary cap, Jack. The Falcons have drafted well in recent years and have enjoyed the benefit of many of those rising stars playing on their rookie deals. But a few of them are going to be seeking big money – and they'll be in demand if they hit the market. Falcons general manager Thomas Dimitroff has said that it will takes lots of creativity to not only get new deals for Grady Jarrett and Julio Jones but do so in a way that puts the Falcons in position to be able to re-sign some of those rising stars, too. Deion Jones, Keanu Neal and Austin Hooper, for example, are all playing in the final years of the first contracts. The Falcons have done a nice job so far of identifying their core players and securing them with long-term deals. It's not going to be easy and some tough decisions will have to be made. We all know that you can't keep everyone; that's just how it goes in the NFL.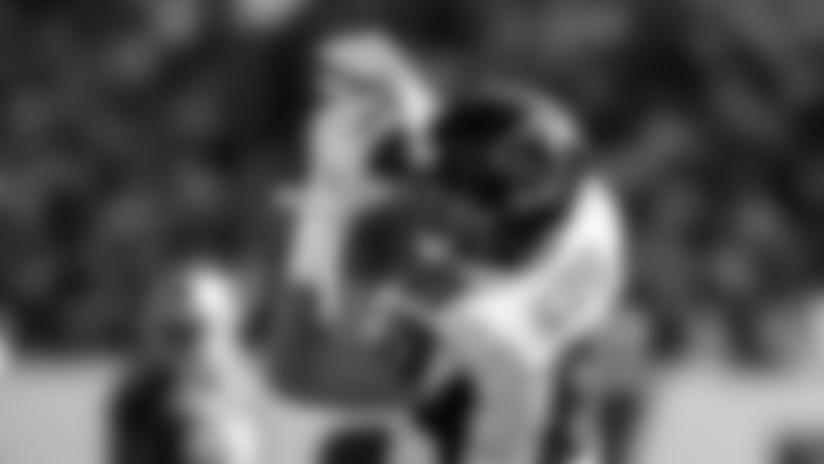 Rod from Lawrenceville, GA
Hey Matthew. Hope that you're enjoying the March Madness going on and that your bracket wasn't busted too early 😜. Anyways I had a question about our TEs. How many are we planning on keeping on the roster and who do think will be on the roster once it's all said and done? Plus, as far as uniforms, does Nike bring in the ideas to the team to look over? And why don't the Falcons change already?
Matt: Well, I don't know how many people had Auburn, Texas Tech, and Michigan State in their Final Four brackets, but kudos to them if they did. Let's just say that I had Michigan and Virginia in my title game, so my bracket isn't looking good, Rod. Regardless, this tournament has been a blast to watch and the Elite Eight games were thrillers. Now if only the NCAA would expand the playoff field in football and nix these meaningless bowl games … but I digress. OK, let's talk tight ends. Yes, right now the Falcons have a crowded room with Austin Hooper, Eric Saubert, Luke Stocker, Logan Paulsen, Alex Gray and Jaeden Graham on the roster. That's a lot. However, some of these guys bring different things to the table. Hooper continues to get better every season and was even a late add to the Pro Bowl last season. Saubert looked fantastic during camp last year but it didn't translate come regular season, mainly because of limited opportunities. Paulsen was brought in to be blocking tight end and did a fine job there. Graham and Gray are, for now, longshots but two guys that have some potential. Now things get interesting when it comes to Stocker. He can do a little bit of everything and has even played some fullback, but the numbers suggest that he's more in the mold of blocking tight end. It'll be very interesting to see how and when the Falcons use him on offense. If he's as versatile as advertised, I could see him becoming the No. 2 behind Hooper. If that's the case, that No. 3 spot would come down to Paulsen and Saubert. But it all depends on what kind of changes/tweaks they make to the offense and what kind of packages Stocker is used in. Stay tuned. As far as the uniforms go, Rod. There's been a lot of discussion about them here in this space over the last two years. The fans are itching for some changes. Under NFL rules, teams can't replace a uniform more than once every five years, so the Falcons don't have to worry about that hurdle. However, if a team wanted to change, they must give notice by a certain date and then the league still must approve it (colors, uniform appearance, helmet designs, uniforms designs, trademarks, etc.). In short, the whole process can take up to two years.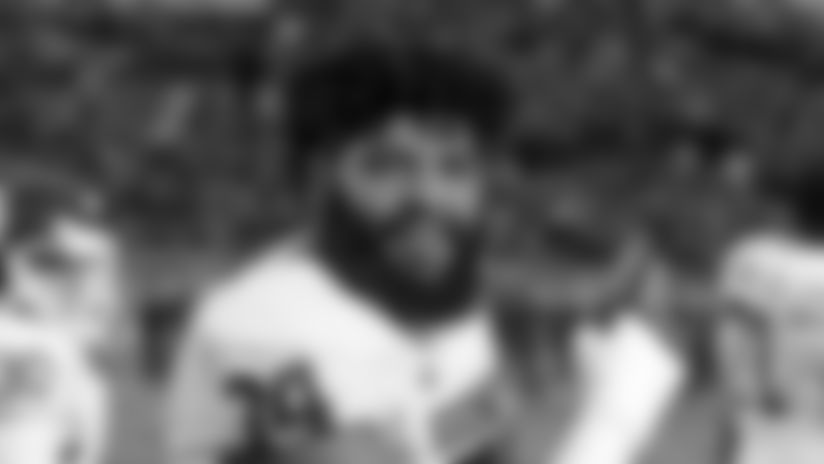 Conner from Dublin, GA
I have been looking at a lot of mock drafts and a lot of them have us taking Cody Ford out of Oklahoma. Why? Ty Sambrailo is dependable and we need to get a player on the defensive line that can stop the run and get to the quarterback. What do you think?
Matt: Well, I have thought about it a lot, too, Conner. I have put together five different mock drafts to date and in my most recent one, I have the Falcons selecting Cody Ford as well. As for why, just think back to the Falcons' inability to keep Matt Ryan upright and run the ball effectively in 2018 for starters. And then carefully read this quote from Falcons owner Arthur Blank: "This is my 19th year as an owner and one of the things I've learned is that Matt (Ryan) plays much better vertically than horizontally," Blank said. "I don't think we're complete in terms of the offensive line. I think it'll be an area of great scrutiny and activity during the draft." In my four previous mocks I have the Falcons taking two defensive ends and two offensive tackles. So, I'm not disagreeing with your assessment that they need to address to the defensive line at all. I'd prefer they do it, to be honest. And I'd prefer it be an edge rusher – a quarterback hunter. So stay tuned.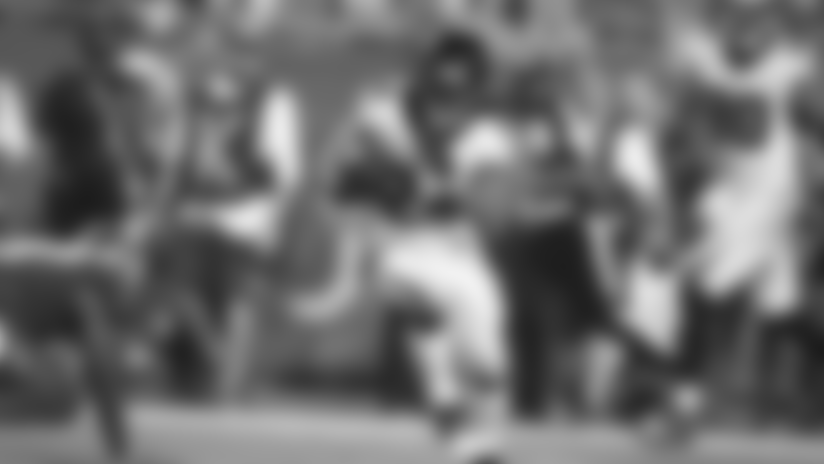 Trevor from Reading, PA
Why on earth didn't we cut Devonta Freeman, not pick up the option on Vic Beasley and make a run at Le'Veon Bell? Freeman is a walking injury and Beasley has proved to be a bust since leading the league in sacks two years ago. Thomas Dimitroff never makes offseason moves and seems to be draft dependent. For crying out loud, make a big move, TD. Time is running out on Matty Ice. It's becoming now-or-never time.
Matt: There's so much to unpack here, Trevor. You need to think about the salary cap, but clearly you are not. I also think you need to tap the brakes and think about each one of these statements for a second. Devonta Freeman signed a five-year deal prior to the 2017 season and is heading into the third year of that deal. First of all, you can't just cut him without taking a significant salary cap hit. And there's a very good reason he received that deal. Do you really want to give up on such a talented back who's just hitting his prime? Granted, the last two years have been tough injury-wise and 2019 is a huge season for him but think about what Freeman brings to the table when he is healthy. Vic Beasley is another player who has a lot on the line this season. After leading the league with 15.5 sacks, the last two seasons have been far less productive in terms of sacks. But have you seen what young, talented defensive ends are pulling down salary-wise, Trevor? Beasley, if he can get close to double-digit sacks again with Dan Quinn calling the defense, would be a bargain at that price. If he has another down year, then maybe it's time to rethink things. OK, the Le'Veon Bell suggestion is definitely out there. Bell signed a four-year deal worth a reported $52.5 million, and it has a max value of $61 million and includes $35 million guaranteed. In case you missed it, the Falcons have given long-term deals to Freeman, Matt Ryan, Jake Matthews, Desmond Trufant, and are re-working the deal they gave Julio Jones. They're also negotiating with Grady Jarrett on a long-term deal and have three players coming up that will need new deals – Keanu Neal, Deion Jones and Austin Hooper. A deal for Bell would not even make sense for this team. MAILBAG
Do you have a question about the Falcons that you want answered? Ask a question here and it could be posted on AtlantaFalcons.com.