Welcome to Straight from the 'Beek! The players are back – yes, all of them – and training camp kicks off today. Are you ready for some football? You've clearly got some questions, so let's get right to them (you can submit your own right here). Just remember, all opinions here are mine unless noted otherwise.
And we're officially onto the 2018 season.
Let me join the others and welcome you back to work! I hope that the family time enabled you to come back refreshed and ready for an exciting season! That being said, I am nervous with all the prognosticators who state that Falcons have the best receiving corps, young defense and surely will go to the Super Bowl in their hometown! I believe that, while it's great to hear, those types of statements add pressure and make it harder to focus on maintaining and improving the team. How do you think DQ and his staff are dealing with that expectations of this season? As my drill sergeant used to say, pressure will bust a steel drum!
Matt: Thanks, Charles. It's good to be back – and even better to have football back. You're right, the expectations are high for this team. And I've seen some of the predictions out there, too. In his 2018 record projections, Nate Davis of USA TODAY has the Falcons beating the Chargers in Super Bowl LIII. My guy Pete Prisco of CBSSports.com annually picks every single game prior to the season and this year has the Falcons advancing to the NFC title game. Look, that's not a bad thing at all, Charles. Why? It means a lot of the people who cover the NFL think they're talented and capable of making a run. I do, too. It wouldn't surprise me at all to see this Falcons team win 12 or 13 games this season. Yes, I just typed that – and mean it. Is that – the added pressure of outside expectations – a bad thing? Not at all. These coaches and players expect to win every single game. Yes, they take it one day, one practice, one game at a time, but they're professionals, too. They've trained their entire lives to play at an elite level. And to be honest, I don't think they care what the writers or media think, Charles. The fans might get worked up over that stuff, but they tend to keep their focus on themselves. Hope that answers your question.
Jon from Fort Walton Beach, FL
What will be the most important focus for the Falcons to win the Super Bowl at home? Let the brotherhood, fans and opponents know that this city deserves what is due! Let's be humble dirty birds! We will take what is ours …
Matt: Thanks for your question (and statement), Jon. The Falcons obviously have an experienced, well-balanced and talented roster. They have the players. But as Falcons coach Dan Quinn pointed out on Thursday in his pre-training camp press conference, they need to be more consistent in key areas this season and improve their turnover ratio. For more on that, you can read my story here. And, quite frankly, they need to stay healthy and get some lucky bounces along the way, Jon.
Preston from Lincolnton, GA
Beek, you don't have to publish this one unless you feel the need to but retract my question and statement the other day! Still a little upset/disappointed with Julio Jones, but I'm sure he's losing about as much sleep as I am. Let's just play football and win, win, win. Hope to see you around the Benz on Sunday! Beek on Brotherhood & RISE UP!!!!
Matt: No worries, Preston. Everyone understands how passionate the fans can be – and that's not a bad thing. When comments get personal, nasty or move away from the field, I tend to ignore (delete) them anyway. Everyone knows that sometimes football and business intersect -- Dan Quinn has stated that at least once or twice. And look around at every single NFL team – contract negotiations are simply part of the game. Some fans forget that it's more than just a game sometimes. This is their livelihoods and both sides – players and organizations – have to do what's best. It should be noted that this was a win-win for both sides. And the good news is that now we can just focus on football. So, onto 2018. Thanks for the comment though, Preston.
Jerry from Statesboro, GA
Hey, Beek. Who are the best candidates for the practice squad in your opinion? I'm guessing it will be mostly receivers and secondary guys on the practice squad because of special teams need. I would also like to congratulate TD and DQ on their extensions. Well deserved. Rise up!!
Matt: Jerry, ask me about the practice as we head into that fourth and final preseason game on Thursday, Aug. 30, against the Dolphins. It's way too early in my opinion to start projecting the practice squad – I think some of these rookies and first-year players could turn some heads and surprise the staff. Falcons coach Dan Quinn said as much on Thursday when talking about the 30 or so rookies. So, stay tuned, Jerry.
Alan from Tallahassee, FL
Matt: Oh yes we are – and it's about to get really fun in just a few more hours, Alan!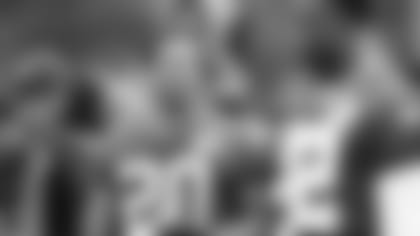 Jalmil from Shreveport, LA
How do the Falcons plan to use CB Isaiah Oliver? More on the outside or on the inside? I think we put him outside and kick Robert Alford inside. What do you think Beek?
Matt: I think it's going to be very interesting to see what happens with Isaiah Oliver. All we've seen of him is the rookie minicamp, OTAs and then minicamp. He certainly has the physical tools and looks the part, Jalmil. He's 6-foot, 201 pounds and has something like a 33.5-inch reach – those are some long arms. Corners like that can actually disrupt plays at the line of scrimmage because of their reach – they can jam receivers and throw off routes. And before long, they have quarterbacks reacting because the timing is off with his receivers. That's one of the things that makes Richard Sherman so good. Now, I am not saying Oliver is as good as Sherman. Not yet, anyway. And since he's a rookie who has yet to participate in one full-pad practice yet, I'm going to tap the brakes on making any sort of prediction on where he plays or how soon he starts. He's got a tremendous opportunity in front of him and I am excited to see what he can do.
Great to have you back in the mix, Beek! Your insights on all things Falcons are extremely helpful. My question has to do with Takk. Shoulder issues (right last year, left this year) concern me ... He is such a key piece of our defense and his ability to rush the QB is a difference-maker. What do you hear on his status? Will he be held out of training camp and work with the trainers on the sideline as he did in offseason workouts or actually be a full-time participant? Thanks again for your insights.
Matt: Hey, Jim. Takk McKinley is a player who a lot of people are excited to see in his second year – and by people I mean national writers. One guy I know and respect a lot is Pete Prisco and he listed McKinley at the top of his annual breakout players for 2018. "McKinley has the speed to be a dominant player, but he's also solid against the run. Vic Beasley led the NFL in sacks in 2016, but McKinley will be the Falcons' best pass rusher in 2018 – and one of the best in the league," Prisco wrote for CBSSports.com. Yes, he had a procedure in the offseason, but I don't think it's anything to worry about, Jim. And anytime a player goes through that, teams are always going to be cautious. Once the pads come on Friday, we'll get our best look at McKinley since the end of last season, which was a very good campaign for the then-rookie.