Welcome to Straight from the Beek! The Falcons have been active early on in free agency – signing four players formerly on other teams and re-signing six of their own – and you've got plenty of questions as we head into the weekend. So, let's get right to them. Just remember that all opinions here are mine unless otherwise noted.
Dwight from Wilmington, DE
Hi Beek. Question about the Falcons draft. Now that the offensive line has five starters, do you think they will draft one of the top tackles with the 14th pick? Great column.
Matt: Appreciate that, Dwight, and thanks for reading. I think there's a lot that's going to happen on the practice fields and in preseason games before that starting lineup is ultimately decided. And could they end up drafting an offensive tackle with the 14th overall pick, especially if one of those top prospects slides (due to a run on defensive players and/or quarterbacks)? Absolutely. The two players signed in free agency – James Carpenter and Jamon Brown – are both guards. I don't think that right tackle has been locked up yet by anyone. It'll all depend on what happens through free agency and how they early part of the draft plays out, but right now I can see a scenario where it plays out, Dwight.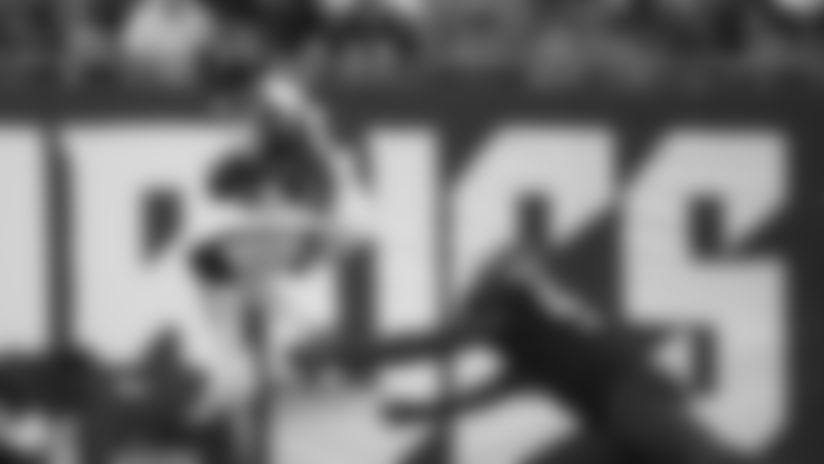 Heather from College Park, GA
Is Tevin Campbell going to stay as a running back with the Falcons?
Matt: Tevin Coleman's run as a Falcon is over for now, Heather.  He was an unrestricted free agent and ended up signing a two-year deal worth a reported $10 million with the San Francisco 49ers. The Falcons ended up signing running back Kenjon Barner in free agency on Wednesday to compete with Ito Smith for that No. 2 spot behind Devonta Freeman.  Time will tell what the Falcons will do with that group as free agency plays out and the NFL Draft still around the corner.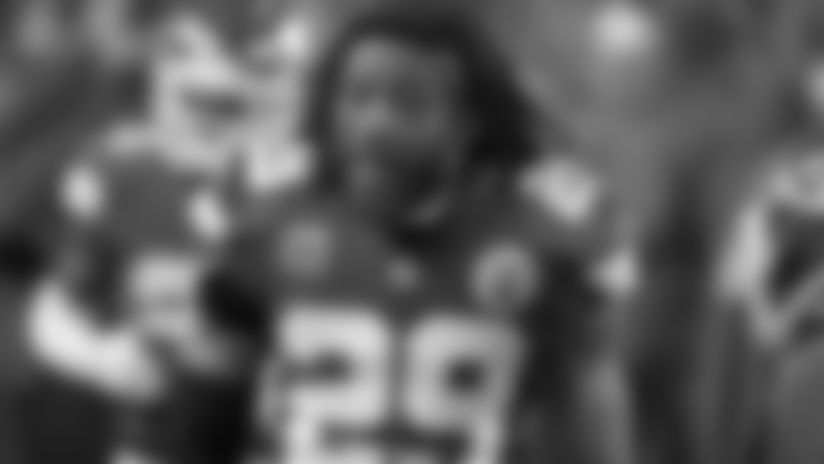 Will from Dumfries, VA
Do you see the Falcons making a play for Eric Berry? Bring him back home.
Matt: Hey, Will. Who doesn't love Eric Berry and his story – of how he beat cancer and a serious injury to return to the NFL? Not to mention that he's one heck of a player to boot. That said, the Falcons will be getting Keanu Neal and Ricardo Allen back from injury this year and Damontae Kazee emerged in 2018 as a serious playmaker back there. I don't see the Falcons pursuing Berry because of those three players – and not to mention that the former Chiefs player is likely going to command a decent price tag despite the market being flooded with safety talent this year. I think the Falcons have more pressing needs and will spend money elsewhere, Will.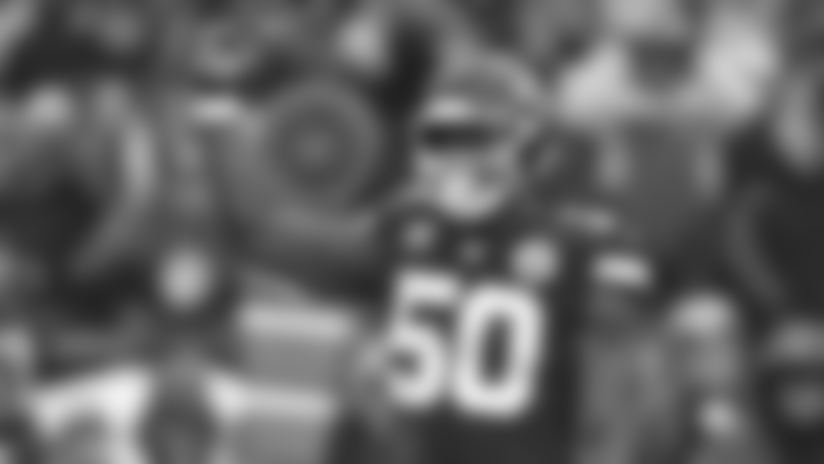 Jerry from Statesboro, GA
Hey Beek! With the current free agency signing of two guards I guess it's safe to say that we won't be drafting a guard with our first pick. My guess is offensive tackle, defensive tackle, or edge rusher. I would love for Atlanta to bring at least one of our Georgia natives to Atlanta to end their careers. I'm talking about Justin Houston or Eric Berry. Could you imagine this rotation (Takk McKinley, Vic Beasley, Bruce Irvin and Justin Houston)? I think Eric Berry is still a playmaker, and we could use him in our secondary, because he can play free safety or strong safety. With a few more salary adjustments, I think we could pull it off. What does the Luke Stocker signing mean for Eric Saubert? I think Saubert is a better player when given the opportunities. With the addition of the newly signed guards, I definitely feel we should move down and load up on draft picks for this year and next year. I also think we need to look for another Tevin Coleman late in the draft, since we have a replica Devonta Freeman in Ito Smith. I also say we look for a Debo-ish linebacker in the middle rounds, unless Devin Bush or Devin White are there at 14. How do you think the recent signings affected our draft outlook?
Matt: I think for the right price both Eric Berry and Justin Houston would make any team better – they're both veteran players but I still think they are/can be very productive. The issue is the price tag that'll come along with each in free agency. As I noted above regarding Berry, I think the Falcons have more pressing needs and also intend to take care of their own players when it comes to spending. But for the right price, yes, I'd be all for adding Justin Houston's talents to the Falcons' defensive front. As far as the tight end position goes, Luke Stocker and Eric Saubert are two different kinds of players. I think Stocker fills more of the role that Logan Paulsen played in 2018 – he's more of a blocking tight end, Jerry. Eric Saubert, a fifth-round draft pick out of tiny Drake, is entering his third year and had a solid training camp last year. He ended up with just five catches for 48 yards during the regular season though. Regarding the draft, I'm a fan of both linebackers you mentioned – Devin Bush and Devin White – but I'd be surprised if the Falcons take one of them at 14. Again, it'll depend on how the early part of the draft plays out, but there are some terrific defensive linemen and a few offensive linemen that could really help the Falcons. Right now, based on what the Falcons are doing in free agency, it definitely feels like that first pick is going to be a defensive player – a tackle or edge rusher. If one of those offensive tackles falls (Jonah Williams, Cody Ford, Jawaan Taylor or Andre Dillard), they'll have to consider him, too.
Chad from Malta, NY
Hey, Beek. I love the SFTB column and always look forward to the next one. Does the signing of Jamon Brown and James Carpenter alter your expectations for the Falcons draft? Or do you think these two guys are coming in for depth and we will still target a long-term solution for offensive lineman with the No. 14 pick?
Matt: Hey, Chad. First, I love what the Falcons are doing so far in free agency. I know they aren't big, splashy signings, but they are systematically addressing needs and they're aren't breaking the bank in the process. What they're also doing is setting themselves up nicely for the draft. With this class being deeper in talent when it comes to the defensive line and edge rusher positions, I think they'll be in a nice spot to address those positions at No. 14. Don't rule out the Falcons taking one of the better offensive tackles, either, at 14. In my last two mock drafts – you can check them out here and right here – that's exactly how the first part of the draft played out. And that wouldn't be such a bad thing, either. If they could somehow land Jonah Williams, Jawaan Taylor or an Andre Dillard (pictured above) there, the Falcons would have two very nice bookends – with Jake Matthews on the left side. Protecting Matt Ryan and creating some running lanes for the running game are two huge priorities.