Welcome to Straight from the 'Beek! We're exactly four weeks away from the start of Falcons training camp and you've got plenty of questions. So, let's get to them. Just remember, all opinions here are mine unless noted otherwise.
And we're off, beginning with a couple of questions about Alex Gray.
Hey, Beek. I have a follow-up question from a response you made yesterday. It was regarding Alex Gray, the rugby player. You said he will be on the practice squad and can participate in preseason games but not regular-season games. Why can he not play in regular-season games?
Matt: Hey, Gary. That's just how the program works. This year a total of eight teams are participating in the NFL's International Player Pathway program – the NFC South and AFC North teams – and each team receives an exemption for an 11th practice squad player for the duration of the season. The players cannot be activated, nor can they be released. The international players are allowed to practice and participate in the preseason games, but they are not eligible to be activated to the 53-man roster. In my opinion it's actually a good thing for Alex Gray, who will continue to learn the NFL game and fine tune his skills – and have a guaranteed spot on the roster, albeit practice squad.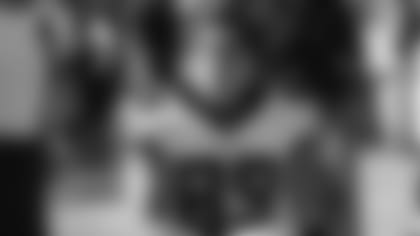 Barry from High Point, NC
Hey, Beek. I understand that you don't like to make predictions and that's okay. This question is not so much asking for a prediction as it is a method for me to clarify something in my mind. When the season starts, Alex Gray will be spending his second season on the practice squad. Since a player can only spend two seasons on the practice squad it brings up an obvious question. It is my understanding that the International Pathway has been set up with the ultimate goal of international players making their respective teams. What is the chance of Alex Gray making the team next season? If he does not make the team, does the International Pathway have a special dispensation to allow international players to spend a third season on the practice squad? We don't hear much about Alex Gray. How good is he? How is he progressing?
Matt: The rule used to be two seasons, Barry, but I'm pretty sure that a player can now be on a practice squad for up to three seasons (and said player must be on the squad for at least six games to count as one season). Yes, the goal of the program is to identify foreign players who show potential NFL talent, give them an opportunity to learn the game, develop their skills and ultimately have a legitimate chance at making an NFL roster. I like Gray, as a person and player. I think for someone who never played the game while growing up, he's come a long way in one year. I expect he'll only get better once training camp kicks off. The real test will come during the preseason – that's when we'll see how far he's come. Based on everything we've seen from him during OTAs and minicamp, I'm expecting him to play a whole lot better in 2018.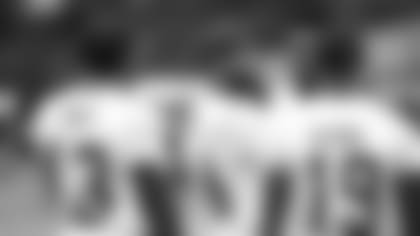 Matthew from Tuscumbia, AL
What do you think is the strongest position group on the team? Also, do you know if we're wearing the (awesome) Color Rush uniforms again this year?
Matt: That's a good question, Matthew. There's a few deep position groups on this team, but I'll go the receivers right now. That group, which is comprised of Julio Jones, Mohamed Sanu, Justin Hardy, Marvin Hall and Calvin Ridley for starters, is deep and proven. And let's not forget about some of those your players who could make some noise during training camp and the preseason – Russell Gage, Reggie Davis, Christian Blake, Dontez Byrd, Devon Gray, Lamar Jordan and Taj Williams. Regardless, your question warrants a Straight from the 'Beek Question of the Day:
As far as the Color Rush uniforms go, Matthew, they are not technically going away completely (teams still have the option to wear alternate uniforms), but I wouldn't count on seeing them again anytime soon. Fox Sports, which now owns the broadcast rights to Thursday Night Football, have said that Color Rush uniforms are now a thing of the past (see the tweet below). I have not heard or read anything official yet regarding the Falcons uniform schedule for 2018. As soon as I do, I'll be sure to pass it on to you guys here.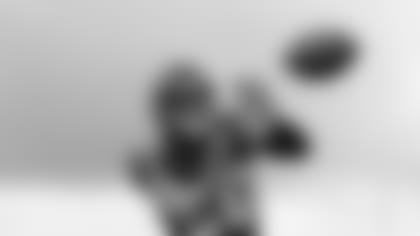 Jalmil from Shreveport, LA
Hi, Beek. My question is about rookie cornerback Isaiah Oliver. How has he looked in practice? I have really high hopes for him. I think he could be a Day 1 starter and kick Robert Alford inside. Do you think that would be a good move?
Matt: Hey there, Jalmil. I got a chance to see Isaiah Oliver in action – albeit in shorts during non-contact drills – in rookie minicamp, OTAs and then the mandatory minicamp. But he's looked very good at times. He's got great size, length and speed. So, in that sense, he's looked the part. But, again, it's early and I'm not making any sort of roster projection based on that. Look, in the end, it'll all depend on Oliver. He's got a terrific opportunity ahead of him and it's going to be fun watching him when the pads come on. Stay tuned.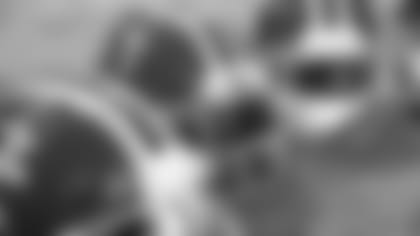 Jeff from Stockbridge, GA
Having been a Falcons fan going on 50 years, I usually try and keep my mouth shut on certain things. But when the topic of uniforms comes up, I'm very passionate and nostalgic. The originals, replete with the red helmets (and old gold stripes) are, to me, the best-looking uniforms in Falcons history. If there's ever a change, I'd really appreciate that being the choice. And while we're talking uniforms I have to ask, why change from those? Years back the Falcons played the Giants at the Dome and it was 'throwback' Sunday, it was like taking a step back in time. I hate that when they wear the throwbacks the red helmets aren't included. Those make the uniform.
Matt: Hey, Jeff. I just pulled up some pictures from our archives of those helmets from the game you mentioned (above). And I have to agree with you – those helmets are great looking. Unfortunately, under the current rules, teams aren't allowed to change the color of their helmets anymore. So, in order for the Falcons to wear red helmets again they'd have to make wholesale changes to their uniforms. I'm personally a big fan of the red helmets, too, Jeff. I'd love to see them back in action.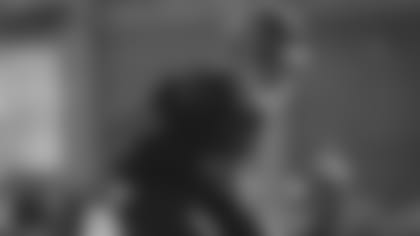 Hey Beek! I've always been incredibly fascinated by the behind the scenes looks of players and coaches during game weeks. On average, how much time do players normally put in at Flowery Branch watching film? Any insight you can give on this subject would be greatly appreciated! Also, I loved your all-time Falcons list! Sorry for all the heat that you had to take, but glad that it also got such a great response! Hope all is well.
Matt: How's it going, Damian? I'm not sure I can accurately quantify the amount of time players spend in meeting rooms and with their tablets watching video. Let's just say it's a huge amount of time, but it also varies from player to player, too. I spoke with Robert Alford (above) during minicamp and he was telling me that his No. 1 priority this offseason has involved film study. When you think of all the time these players put in training, running, and lifting weights, that says a lot. Ha! Glad you enjoyed my all-time Falcons team – you can't please everybody, that's for sure. I knew there would be some tough decisions and lots of debate ensued. I enjoyed the feedback. Next season I plan on turning that into a separate feature with some video as well. I was glad someone asked me the question here in Straight from the 'Beek!