FLOWERY BRANCH, Ga. -- A hot, humid training camp doesn't phase Atlanta Falcons wide receiver Penny Hart.
In fact, the higher temperatures actually fuel the Roswell, Georgia, native. They're familiar. 
"I feel like being back home just gives me that much more of that strength," Hart said. "Like when Superman goes and flies up into the sun, he gets that strength. It being hotter, it feels better to me. The work feels a lot better. Being back home feels a lot better." 
Hart hasn't quite had a chance to dig deep and soak it all in as he fights for a roster spot. But he gets glimpses of how much it means when he drives down the street to see his family, when he plays in front of hometown fans at open practices or when he goes downtown back to Georgia State. 
All summer, Hart has trained at his old stomping grounds, often working with the current collegiate Panthers players. When he was a young cub, former stars like Robert Davis and Albert Wilson coming back to campus fired up Hart's own NFL dream. 
"They say whatever you're around, that's your environment; that's who you are," Hart said. "I will always see myself as an NFL player. 
"To be around other NFL football players made me do well. So, I always try to do that as well for them." 
That mentality helped Hart secure a spot with the Seattle Seahawks for three seasons from 2020-22 after going undrafted in 2019. Hart will have to muster up a similar effort within a crowded receiver group in Atlanta. 
Though, his additional experience on special teams, especially as a punt returner, could also bolster his hopes of staying home.
"Penny's been in this league for a little bit," Falcons coach Arthur Smith said. "All of these guys are competing. There's a lot of great competition out there. He'll be one of the guys fighting, and he'll get plenty of opportunities throughout the preseason." 
After the game has slowed down more in his most recent season, he's approaching training camp a bit differently. He's more experienced in controlling his body without giving up speed. He's wiser when paying attention to detail, whether that's breaking down film or just listening to what defensive veterans are saying on the field.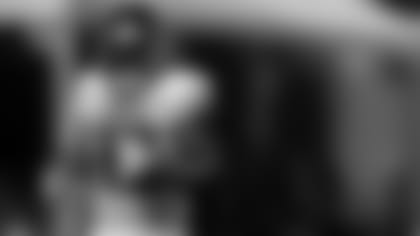 Hart's goal during practices has been to catch every ball, both as a receiver or a returner. Then it's just about being fast and making plays — and sticking to his game, which Hart prides himself on. 
"When my number is called, doing what I got to do to take care of business and just continuously get better, I'm really good at that," Hart said. "I'm really good at understanding and knowing who I am as a person. I think that some players struggle when they start to try and be something else or do something else that they're not."
That dedicated approach has been building since his high school days at King's Ridge Christian School in Alpharetta, Georgia. He carried it through college and into what could have been his rookie season in 2019 when he didn't initially make a roster. 
This preseason will likely give Hart the reps to put that dedication to the test again. His first opportunity will come in Miami on Friday against the Dolphins. The Falcons then return to Atlanta on Aug. 18 to play the Bengals. That's when Hart will have the chance to see his local friends and family, who have essentially been sidelined to his teammates.
"(My father) said, 'Man, I haven't heard from you or seen you all week,'" Hart said. "I'm like, 'This is what it is.' …
"We only have a limited amount of time that we have to play this game. You got to cherish it. You got to make the most of it."
Take a look as the Atlanta Falcons put in the work in Flowery Branch during the 2023 AT&T Training Camp.