ATLANTA – The Falcons had two offensive linemen named to the Pro Bowl after the 2018 season, but it's an area many expect the team to address this coming offseason.
Left tackle Jake Matthews and center Alex Mack, the two Pro Bowlers previously mentioned, were the only two players coach Dan Quinn said he was "comfortable" with after the season, and Fox Sports analyst Mark Schlereth believes the Falcons need to improve along the offensive line.
"The offensive line was certainly an issue," said Schlereth, who played guard in the NFL for 12 seasons. "I think the injuries are not an excuse, but it's a reason. But, with that said, you're going to have to upgrade up front, and that's maybe the hardest thing in this league to do right now. Maybe even harder than finding a quarterback is finding an offensive lineman in the college game that can come in and play in the NFL."
Atlanta lost both its starting guards in 2018 as Andy Levitre and Brandon Fusco went down due to injury. That led to shuffling within the unit at various points throughout the season and resulted in struggles to protect quarterback Matt Ryan or generate a constant push in the run game.
Ryan was sacked 42 times, tied for the eight-most in the NFL, and the Falcons averaged just 98.3 rushing yards per game, which ranked 27th among all 32 teams.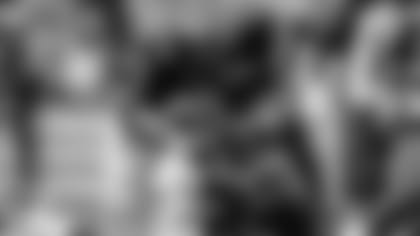 The Falcons could opt to add players via free agency, the draft or both. It remains to be seen how much cap space Atlanta will have when free agency begins on March 13, and their decisions at that point will largely affect how the team uses the No. 14 pick in April's draft.
Falcons general manager Thomas Dimitroff has previously shared his belief that it's difficult to find offensive linemen in college football today who are ready to play a significant role immediately. Schlereth echoed those thoughts, adding that it's becoming increasingly difficult to add quality offensive linemen in free agency as well.
"It is really hard to find guys in the college game that can play, and I guarantee you you're not going to find them in free agency," Schlereth said. "Because guys who can play in free agency, the only guys who hit free agency that are offensive linemen are injured or old or whatever. So, it's a really hard thing to do."
Schlereth talked to teams prior to last year's draft who did not believe Indianapolis Colts guard Quenton Nelson should be among the top players taken simply because he was a guard. Nelson was taken with the No. 6 pick and was named an All-Pro after his rookie season.
But players like Nelson, who Schlereth called "the best player I've seen in years" of covering the draft, are few and far between.
Atlanta has worked to develop offensive linemen in recent years, most notably with Wes Schweitzer, Ben Garland and Sean Harlow. Perhaps that development period means more along the offensive line than at most other positions, but thus far those players have yet to become no-doubt starters.
The Falcons parted ways with offensive coordinator Steve Sarkisian after the season, hiring former Tampa Bay Buccaneers head coach Dirk Koetter to assume the role. Koetter will have plenty of weapons at his disposal on offense, and the Falcons have a lot of talent on the roster. In Schlereth's mind, however, they must address their most pressing issue from 2018.
"I think the Falcons are an incredibly talented football team," Schlereth said. "I think the running back situation is really good. Obviously, the quarterback situation is great, the receivers are unbelievable. Hooper was phenomenal at the tight end position. Grady Jarrett is a great player, he's one of my favorite players to watch. I think talent-wise, speed, athleticism, that's a talented football team that works hard. I think Dan Quinn is the right guy.  
"Ultimately, it still comes down to, regardless of who the coordinator is, you've got to find guys up front that can block. And that's going to be the big challenge for Atlanta."