FLOWERY BRANCH, Ga. — Linebacker Troy Andersen has been placed on injured reserve, the Atlanta Falcons announced Tuesday.
Andersen suffered an injury during the fourth quarter of the Falcons' Week 3 road loss to the Detroit Lions last Sunday. Falcons head coach Arthur Smith said Monday initial feedback was not good on what he described as a shoulder/pectoral injury. An MRI confirmed its severity.
"You hate it," Smith said. "That's an unfortunate part of the NFL. It stinks. You guys see it happen all around the league. Nobody wants to see that."
As a corresponding move, the Falcons signed offensive lineman Storm Norton off the New Orleans Saints' practice squad to their own 53-man roster.
Andersen is in his second season with the Falcons after getting drafted by the organization in 2022 with a second-round pick. He's a product of Montana State.
Andersen played in 17 games as a rookie, starting five. He finished with 69 total tackles, three of which were for a loss, along with a pass breakup and forced fumble.
Though the Falcons are three games in 2023, Andersen only got one full four-quarter performance under his belt with the Week 1 win over the Carolina Panthers. He had 10 tackles and a sack assist. Andersen then missed the Falcons' Week 2 win against the Green Bay Packers while in concussion protocol. And before he went down in Detroit, Andersen had made nine tackles against the Lions.
Nate Landman has stepped up in Andersen's absence, filling in alongside fellow starting inside linebacker Kaden Elliss.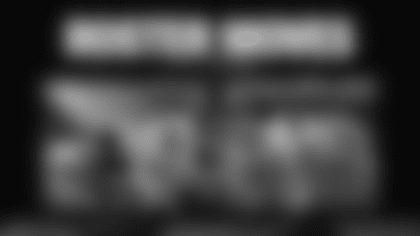 As for Norton, he joins the Falcons with four years of active experience under his belt. He was an undrafted free agent out of Toledo in 2017 and earned his first game appearance in 2018 with the Minnesota Vikings.
Come 2020, the Los Angeles Chargers picked up Norton, and he remained there through the 2022 season. He played in 36 of a possible 50 games, starting 18.
Norton saw the most playing time in 2021 when he started in 15 of his 17 appearances. The Chargers offense had the fourth-best count in total yards and fifth-best in scoring.
The Saints had signed Norton to a one-year deal back in the offseason, but he ultimately ended up on the team's practice squad before the regular season began.
Norton is a 6-foot-7, 317-pound tackle originally from Ohio, which is where his name came from.
"We grew up in the Toledo area, so pretty close to Detroit," Norton said in March when he signed with the Saints. "My parents went to a (Detroit) Tigers game one day, and the pitcher happened to be named Storm Davis. I guess, at that moment, they kind of knew that's what they were rolling with."