ATLANTA — Pop off, Jessie Bates III.
The Atlanta Falcons' new safety was single-handedly responsible for three turnovers in their 24-10 win Sunday over the Carolina Panthers for the Week 1 matchup at Mercedes-Benz Stadium. Bates grabbed two interceptions and forced a fumble. They were the only turnovers of the afternoon opener.
"It almost felt like I was in high school again," Bates said. "It was a great time, for sure."
Sunday afternoon was also his Atlanta debut. Talk about a warm welcome.
Bates signed with the Falcons this offseason as a free agent. He spent the previous five seasons of his NFL career with the Cincinnati Bengals, who used a second-round draft pick on him in 2018.
In those five seasons and their respective 79 games, though, Bates never had a game with more than one interception. He only ever had one game with both an interception and a forced fumble. So, Sunday's performance was truly a first.
Nobody in the Falcons' locker room seemed the least bit surprised.
"Just seeing how he works in practice, he works every single day," Falcons running back Bijan Robinson said. "He's so big on the little things and trying to be better at the little things. He knows he's a top safety in the league. But he doesn't say that. He's like the most humble guy."
Said cornerback A.J. Terrell: "We brought him here to be the leader, help us out. He did everything, (and) that. Just out there making plays, playing fast. That's love. We all need that. We need that energy."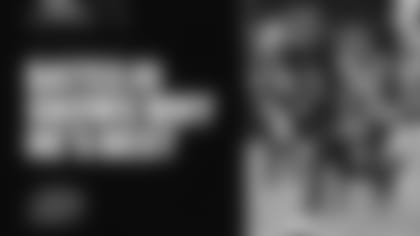 Bates now has 16 interceptions and four forced fumbles in his career. He's at two and one, respectively, for the Falcons.
The first pick Sunday came in the first quarter. Panthers quarterback Bryce Young, who was the No. 1 overall pick in the 2023 NFL Draft, tried for tight end Hayden Hurst on a second-down play with 16 yards to go. Bates intercepted it at Carolina's own 20-yard line and returned it three yards.
That turnover set up the Falcons' first touchdown.
Bates' second pick came in the third quarter. Young was shooting for wide receiver Terrace Marshall Jr. this time, facing a third-and-6 situation. Bates intercepted the ball at Atlanta's 49-yard line.
That turnover prompted a Falcons field goal.
"There's a reason we wanted to get those guys (like Bates) in our program," Atlanta head coach Arthur Smith said. "You're playing a rookie quarterback, you're at home; those guys were in tune with everything. There were some things that (Bates) anticipated, and he's a great player. That's why we signed him."
After the Falcons put the field-goal points on the board, Bates' forced fumble literally happened during the Panthers' next offensive drive. Carolina running back Miles Sanders was collectively tackled after a 10-yard run by Bates and cornerback Dee Alford when Bates managed to get the ball out at the Falcons' 39-yard line, where outside linebacker Lorenzo Carter recovered it.
That turnover led to another Falcons touchdown.
In the end, Bates' turnovers ultimately produced 17 points for the Falcons.
"It's not about me," Bates said. "It was good to get yourself going, but it's not possible if my teammates aren't doing their job, if they're not doing their one of 11. That's what makes this possible for me. I wasn't doing anything super out of my job, like being Superman. I was just doing my job playing the middle field, and good things happened for me so that's a good start."
Bates tied inside linebacker Troy Andersen for a team-high 10 combined tackles, his own evenly split between solo and assisted.
The Falcons defense as a whole limited the Panthers offense to 281 net yards — 127 passing and 154 rushing. Young completed 20 of his 38 passes with one touchdown — the Panthers' only touchdown. Otherwise, Carolina had just a 43-yard field goal.
"We keep a team at 10 points," Bates said, "we're going to win a lot of games."