FLOWERY BRANCH, Ga. -- The story of how the Falcons found Jared Bernhardt is actually not at all complicated. The story in and of itself is actually really simple.
Why? Because Bernhardt (the national championship winning lacrosse player turned triple option Ferris State quarterback who made the Atlanta Falcons 53-man roster all in the span of two year's time) caught Arthur Smith's attention.
Per Kyle Smith, the Falcons vice president of player personnel, it was Arthur Smith who initially pointed the Falcons in Bernhardt's direction. It wasn't a scout out on the road who just so happened to come across Bernhardt. It was the head coach, himself.
"Coach Smith brought his name up," Kyle Smith said of the person who kick-started the process of vetting Bernhardt.
Arthur Smith follows every sport, Kyle Smith continued, basketball, baseball, lacrosse, you name it, he follows it.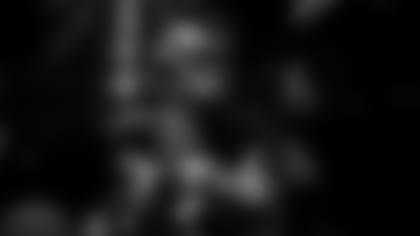 The Falcons head coach grew up not too far from the University of Maryland, where Bernhardt would one day help the lacrosse team to its first national title in 42 years. In fact, Arthur Smith went to school at Georgetown Prep in Washington, D.C., about a 30-minute drive from College Park, where Bernhardt would one day became the nation's leading scorer, winning the Tewaaraton Award (lacrosse's version of the Heisman trophy) in 2021.
Having spent much of his young adult life in the area, Arthur Smith knows it well and is connected to it even still. Therefore, it's not at all surprising that Bernhardt's name eventually landed in Arthur Smith's lap... or better yet: In a text message thread or two.
"I had a bunch of buddies telling me about him," Arthur Smith said in August.
After all that he had accomplished with Maryland lacrosse, Bernhardt desired a change of pace, using his final year of NCAA eligibility in the fall of 2021 to play football for Ferris State in Big Rapids, Michigan.
There, Bernhardt did what he'd become known to do: Win.
In one singular season with Ferris State, Bernhardt threw for 1,322 yards and rushed for even more as a triple option quarterback. He helped lead the Bulldogs to a NCAA Division II national championship. He was also named the GLIAC Player of the Year. And it was during this mammoth of a season that Arthur Smith approached the Falcons scouting staff about Bernhardt.
"(Smith) asked about him during the season," Kyle Smith said. "We made sure our area scout was on it."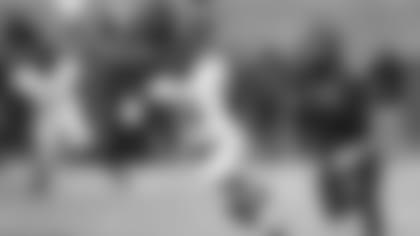 Thus, began the process that connected Bernhardt to the Falcons. What's interesting is that as the Falcons were doing their due diligence on scouting their would-be No. 8 overall pick, a receiver by the name of Drake London. They were giving similar treatment to a former lacrosse player playing football in Michigan.
As college's pro days began and the Falcons sent scouts across the country to attend them, Bernhardt traveled back to Maryland to participate in the Terrapins' pro day.
"(We) made sure that we were there to attend it," Kyle Smith said,
There, Bernhardt worked out as a receiver.
Though Bernhardt played his lone football season at quarterback, the Falcons weren't interested in "Bernie" (as they call him) at that position. Because of his spatial awareness, instincts and toughness, Kyle Smith said the Falcons thought they could see a path for him to the NFL as a receiver. So, that's what he did.
According to Kyle Smith, it was during Maryland's pro day that the Falcons could "start piecing everything together" about Bernhardt.
With Bernhardt, you could flip on his lacrosse tape and his football tape and immediately see the athleticism, the quickness, the awareness, the twitch, Kyle Smith said.
"But the question you don't know is his hands," he continued.
At his Pro Day, Bernhardt caught the ball "pretty well." Well enough, that the Falcons were willing to give him a shot, signing him as an undrafted free agent at the end of April.
For evaluation purposes, Kyle Smith said Bernhardt did not run as fast at his Pro Day as the Falcons would want, but they quickly saw when he arrived for rookie minicamp and OTAs in May and June that "he plays a lot faster than that."
Fast forward to training camp and the preseason, and Bernhardt became a name every Falcons fan knew, and was quite interested in.
Everyone from the scouting department to the coaching staff took notice, too, at his near meteoric rise as the 53-man cut down loomed.
Kyle Smith said Bernhardt was lightyears ahead of where he was when the Falcons saw him at Maryland's pro day. Wide receivers coach T.J. Yates called what Bernhardt did in his progression as a receiver, "remarkable."
Arthur Smith? He called it "eye-opening" how quickly Bernhardt made a transition from one of the best lacrosse players in the country to triple options quarterback to undrafted free agent that... yes... made the Falcons initial 53-man roster as a receiver.
In one final note, Kyle Smith added that Arthur Smith and general manager Terry Fontenot value and put a "big emphasis" on players who grew up playing multiple sports, not just specializing in football alone.
"We tend to lean towards (that), in the draft we want to know: Do they play other sports? Because there's an instinct, a spatial awareness - we call it - with people who play other sports," Kyle Smith said. "You can feel that with Bernie."
For the Falcons, they felt that from the beginning with Bernhardt. And interesting enough, that beginning came when Bernhardt dropped onto Arthur Smith's radar.
The rest? It's still a story that's being written. Sundays In Atlanta, GA Reserved For Dirty Birds
Doesn't get better than a Falcons Sunday in the city! Shop the Kickoff Collection today online or in-store at Atlantic Station.