Expectations for Drake London's rookie season were set high, and yet, he's living up to every one of them.
The No. 8 overall pick started this season on a high note, leading all Falcons' receivers in both yards (74) and receptions (5) in the first game against the Saints' and hasn't let up since. And now entering Week 11, London's still going strong.
His style of play, toughness and playmaking ability is why General Manager Terry Fontenot and head coach Arthur Smith knew he was the right fit for the Falcons' ethos.
"We saw certain characteristics," Smith said in a press conference on Nov. 2. "That was part of the mindset that I liked about Drake other than the obvious. I always think the easiest part, when you look at it – all of us in here can look and see if somebody's fast and whether they can catch – those are the easy ones. It's the other stuff, the fit, some of its luck. You may really like a player. Loved Justin Herbert, but had no chance in hell to get him, or whatever it is, and a lot of times, it's about fit with a little bit of luck in the draft."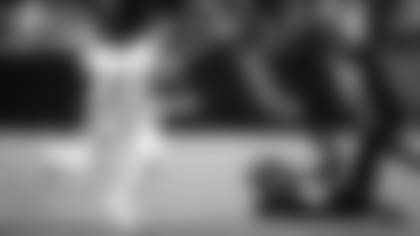 London has the third most receiving yards amongst rookie wide receivers across the NFL, according to StatMuse.
Through his first two games, he led all rookies in both yards and receptions and became the first rookie in Falcons' franchise history to have the most receptions (13) in their first two games.
London is also one of two players this season with zero drops on 50+ targets joining veteran Minnesota Vikings receiver Adam Thielen. NFL.com's Daniel Jeremiah ranked London at No. 10 amongst all rookies in the league.
"London plays in a run-heavy offense, but he still finds ways to make plays," Jeremiah said. "He knows how to use his 6-foot-4, 213-pound frame to wall off defenders and he's very physical after the catch."
And something that doesn't pop up on the stat sheet is a wide receiver's ability to block downfield. That's something London has been doing all season and one of the key reason's why the Falcons' rushing attack has been so productive.
You can read more about it here, where Tori McElhaney broke those efforts down in her Oct. 31 edition of Inside Tori's Notebook.
"With somebody like Drake, there are a lot of characteristics that we liked. The skillset we thought was unique," Smith said on Nov. 2. "That doesn't mean there weren't other really good receivers there. He was just a good fit for us, and you're starting to see that. He's got a bright future if he can stay on this path. If we keep stacking wins, all of that stuff will take care of itself."
The first-year pro is off to a weighty start in his young career and with him continuing this momentum throughout the rest of the season, the sky's the limit for his present and future.
"At the end, I really believe that he helps us be successful," quarterback Marcus Mariota said in a press conference on Nov. 2. "but that's a credit to who he is and the kind of character he has."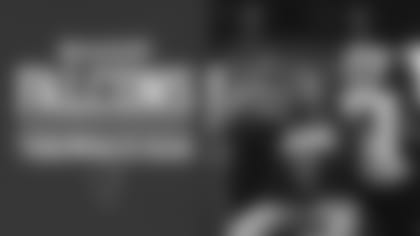 Swaggin' Since 1966
Takin' it back to 1966! Shop the Red Helmet Collection today online or in-store at Atlantic Station.