FLOWERY BRANCH, Ga. – Following Sunday's game between the Falcons and the Panthers – no matter the outcome – you'll see Ricardo Allen and Kawann Short trading jerseys.
Sure, football is the reason the two became friends, but they're friendship goes beyond the playing field. Allen and Short were teammates at Purdue University for three seasons. During their time together in West Lafayette, Short introduced Allen to his wife, Grace.
Short and Grace Allen became friends early on in their college years after taking a class together. During the summer when the football players stay on campus for workouts and summer class, Grace also stayed on campus to work.
One of her summer jobs was working as a nanny and one day when Short had some free time, he asked Grace if she wanted to hang out. Grace invited Short and what she thought was going to be his roommate, Albert, to come over.
But Albert wasn't the friend Short ended up bringing over. It was Allen … but Grace didn't know that.
During the whole time the three of them hung out, Grace repeatedly called Allen, "Albert." It wasn't until when Short and Allen left that she realized she had been calling Allen by the wrong name. Allen had spent time playing with the children who obviously knew his name was Ricardo so when she called him "Albert" they corrected her.
"I remember driving home thinking, well, he might be cute and really good with kids, but I definitely just called him the wrong name for four hours so that's not going anywhere," Grace said.
She was wrong, though. A few days later, Allen messaged her asking if she wanted to go get frozen yogurt.
And the rest was history.
Now, the two are happily married with two children, Luca and Lennon. But had it not been for Short, who knows if Grace and Ricardo would have ever crossed paths.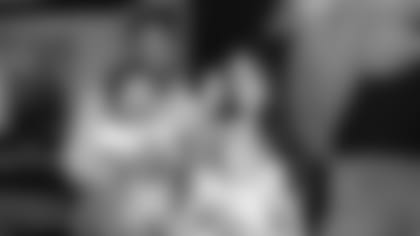 Despite their hectic schedules, the three remain good friends to this day. Every year when Short hosts his football camp in the offseason, the Allen's go to support their friend.
When Allen signed his three-year contract extension in August, Short was one of the first people to reach out to him and congratulate him. Despite not being on the same team anymore, they'll always be teammates at heart and every time they play one another, they're reminded of their journeys to where they are now.
"Just to be able to get out there and watch him and see how much he's developed and for him to see me and show him how hard I've been working," Allen said. "We're not on the same team it's always still cool to watch each other."
Short was drafted by the Panthers in the second round of the 2013 NFL Draft and he's been a key part of Carolina's defensive line that's among the best in the league. Short has played in 81 games, recorded 133 tackles and 31.5 sacks.
Allen knows better than anyone what Short is capable of doing on the field. That's why he jokingly said he's one of Short's biggest fans except for the two times a year their teams face one another.
"I always tell him I want you to do great, but I don't want you to get out there and sack my quarterback because he is really good but I always wish him the best of luck," Allen said. "But I hope I come out with the win … always."