In 2018, the Atlanta Falcons and the Arthur M. Blank Family Foundation agreed to partner with Gwinnett County Schools to fund the first-ever girls' high school flag football league in Georgia.
All 19 schools in Gwinnett County participated. The league was such a success that the field expanded to six counties for the 2019 season, including Cherokee, Forsyth, Gwinnett, Henry, Muscogee and Rockdale.
Heritage High School is one of the 52 schools included in the league this season, and one of eight schools to make it to the state championship tournament. Upon hearing about the new sport, Heritage head coach Brianna Patton loved the idea immediately and instantly noticed how important the sport was for girls on her team.
"They definitely are taking it seriously," Patton said. "They hate when we don't practice because they absolutely love being out there. They love it because they're super competitive girls, and I love it because I've been able to build relationships with them through flag football. They were excited to play [in the state championship] and ready to go out there and see what other teams can do outside of [Rockdale County]."
The Atlanta Falcons announced prior to the start of the championship games that girls flag football will officially be a Georgia High School Association sanctioned sport. That announcement triggered excitement throughout the room, as more young women will be able to compete in the coming years.
Football has been a male-dominated sport throughout its history. However, on Dec. 18, the potential for that to change was on full display. For many of the girls participating, it was nice to see others like them taking the field for a change.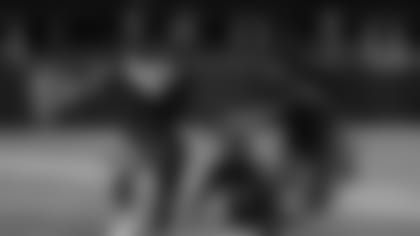 "It's just very encouraging to see all these girls playing," Heritage's Kristyn Goshay said. "During the ceremony that we had earlier, we got to talk to some of the other players, and they seemed very excited to play. The energy here is very high."
Many of the girls in the league had always desired to be able to play flag football and are thrilled to have the opportunity.
"When I was younger, I always wanted to play football," Goshay said. "During recess [in elementary school], I always played football with the boys. Then I started to get older, and it started to get more aggressive, which is why most girls don't play football. But flag football is a safer option for girls, and I really enjoy it."
One of the initial worries surrounding the idea of girls' flag football was how many young women would participate. With more than 800 girls taking the field throughout the 52 participating high schools, that worry quickly became an afterthought.
Goshay didn't think twice about signing up for her high school team; it was seen as a once-in-a-lifetime experience.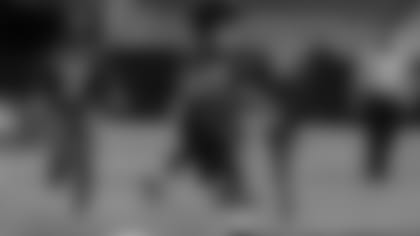 "I was like, 'I have to do it,'" Goshay said. "It just seemed like something that would be fun to do, and it was the first time that our school has had it. I was going to make sure I took this opportunity to participate."
For some girls, this might be the only sport they are a part of, which provides them a way to do more than just learn the rules of flag football.
"Flag football definitely does give them an opportunity to get involved and active," Patton said. "I have some girls that haven't played a sport at all at Heritage, and they came here and have excelled at flag football as well as build a great bond with the rest of the team and learn what it's like to work as a team."
As someone who has now experienced the sport, Goshay provided simple advice for other girls considering the sport next year.
"Go for it," Goshay said. "If you want to do it, then do it. Nobody can stop you from doing it but yourself."