ATLANTA – For the past two years, one day in Atlanta during the NFL season differs from an ordinary gameday experience.
On Wednesday, the forces breaking through the tunnel are not the Falcons. Instead, high school girls flag football teams sprint into the stadium with swinging ponytails and belts tied around their waists to greet their roaring fans. On this day, sparkly nails shine against the brown leather and white laces of the footballs at the Mercedes-Benz Stadium.
For one day, these girls will look up at the scoreboard and see themselves.
The Atlanta Falcons community relations manager, Amanda Dinkel, helps kick off this special day as eight final teams anxiously await their chance to play for a championship.
"This journey for girls flag football over the past few years has been nothing short of incredible. It's because of all of you ladies that are all sitting right here, right now," Dinkel said.
Confetti pops into the air and the room erupts in cheers, screams, and dance moves. The girls find out that the Georgia High School Association (GHSA) has recently agreed to officially make Georgia the fourth state in the country to sanction girls high school flag football as a sport in the fall of 2020.
"Our goal is to be able to find ways that we can make systematic change with our platform," Dinkel said. "We want to go into the community and touch folks' lives. What better way to do that than give girls an opportunity to play our sport?"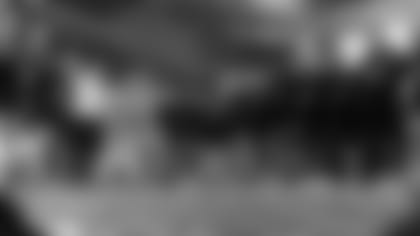 In 2017, the Atlanta Falcons and the Arthur M. Blank Family Foundation approached Gwinnett County Public Schools with hopes that the largest county in the state of Georgia would help pilot their high school girls flag football initiative.
With full funding from the Falcons and the Blank Foundation, all 19 high schools in Gwinnett County participated to help the program take off. This year, 33 high schools from five other counties joined to help it soar, and Dinkel believes there is no slowing down anytime soon.
"I hope you all know you are a complete inspiration for girls in your community, throughout the entire state, and throughout the entire nation. You are the trailblazers for this sport moving forward," Dinkel told the girls.
At the beginning of the push, the high schools advised Dinkel and the Falcons about a possible lack of interest. Two female athletic directors from Gwinnett County helped prepare for this possibility by planning various ideas from interest meetings, to setting up booths, and even organizing for the Falcons to come and speak to the girls.
But, none of these were needed.
"Pretty much every single high school had to have tryouts. Some high schools had hundreds of girls show up, and there's only 20 spots on a team. That was when we knew we had something going," Dinkel said.
Dinkel explained how the Falcons are big believers in the benefits that flag football can bring to the community. She noted that many of these girls have never been part of a team or have even had access to a sport.
"That's the great thing about flag football. It brings together girls from all different types of backgrounds, diversities, body types and experience levels. Anyone can come play," Dinkel said.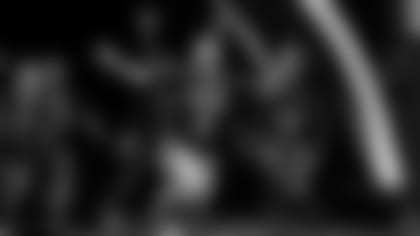 This initiative will help provide opportunities for physical activity while learning new skills and building healthy mindsets. Dinkel has also already seen results that give her work a purpose by proving that real change is happening.
"One of the coolest things I've been able to hear are the smaller stories from the coaches or the athletic directors," Dinkel said. "They've said, 'that girl right there had such disciplinary problems and could barely keep up her in school, but now she's doing great because she's part of a team.' Or, 'now that girl finally has something to talk about with her brother, and she's never been able to have a relationship with him.' It's the little stories. I think this will be life-changing for them."
Angela Camp, a Forsyth All-Star team coach, agreed that she saw change among her players starting from tryouts.
"It has seemed like every single day that a girl's confidence is being built. You can really see that they're coming into their own with their fire, enthusiasm, and energy. It has just been amazing."
Dinkel hopes that the girls see that the Falcons organization cares about grassroots, getting involved, and providing opportunities for the community.
"The Falcons really care about them. This organization is about more than just signing checks. It's not about putting our name on things."
One day has turned into a monumental moment for girls flag football. Even though a winner will be crowned as the season comes to an end, Dinkel believes that these girls have a lot more winning beyond the final whistle today.
"We want to give them a platform to show that females can be a part of this sport, too – they can also have a seat at the table," Dinkel said. "They can be trailblazers themselves, and be a part of something that has never been done before. I know they will set the tone for generations to come."