Here's how Draft experts graded the Falcons nine picks in the 2021 NFL Draft.
Overall Grades
Danny Kelly, The Ringer
Analysis: The Falcons effectively bolstered soon-to-be 36-year-old quarterback Matt Ryan's supporting cast, especially with their first pick. Pitts is the crown jewel of Atlanta's haul: He's probably the most talented non-quarterback in this draft, and the athletic playmaker with rare pass-catching talent will team up with Julio Jones and Calvin Ridley to give this offense one of the league's most frightening skill-position groups. Adding Mayfield in the third round and Dalman in the fourth also gives Atlanta a whole lot more depth on the offensive line. The Falcons are betting on Ryan―their draft sends a clear message that 2021 won't be a rebuild; they're looking to contend.
Vinnie Iyer, The Sporting News
Analysis: The Falcons were methodical in addressing needs under new GM Terry Fontenot after taking a game-changing best player available for their offense in Pitts. Grant and Mayfield can also start in critical roles for new coach Arthur Smith. Their remaining picks thought of depth everywhere on defense and a little more receiving juice on offense.
Luke Easterling, USA Today
Analysis: Kyle Pitts was the best non-quarterback in this draft, so getting him at No. 4 overall was a steal. Richie Grant over Trevon Moehrig and Jevon Holland was an odd choice, but Jalen Mayfield was a good match of need and value in the third round. Darren Hall came way out of left field, but Drew Dalman could quickly become their starting center. Their best value came in the sixth round with one of the best special-teamers in the entire draft, Avery Williams. Some question marks here, but Pitts carries the day.
Doug Farrar and Mark Schofield, USA Today
Analysis: If the Falcons had selected Florida tight end/unicorn Kyle Pitts with the fourth overall pick and shut the draft down after that, they'd probably still get a B- from me. Pitts is the highest-drafted tight end in the history of professional football, but he's also a true Y-iso from Day 1, and he'll be dominant in an offensive scheme run by former Titans offensive coordinator and new Atlanta head coach Arthur Smith. Last season, when they had two or more tight ends on the field, the Titans wound up with 14 touchdowns and just two interceptions. Pitts and Hayden Hurst will make things very tough for opposing defenses already trying to deal with Julio Jones and Calvin Ridley.
But the Falcons didn't shut their draft down after that, and they had some pretty nice picks. Second-round safety Richie Grant Jr. has the man-coverage ability to excel in a Falcons defense that wanted to be aggressive last season, and didn't have the secondary talent for it. And Michigan offensive tackle Jalen Mayfield, who may wind up kicking inside to guard at the next level, is a good developmental pick in the third round. Mayfield has all the power you want, but will have to refine his technique.
The sleeper here might be Texas defensive tackle Ta'Quon Graham, a former four-star recruit who flew under the radar at 6-foot-3 and 292 pounds, but has the strength and quickness off the snap to win against blockers from every gap. The Falcons got a steal with fifth-round tackle Grady Jarrett in 2015, and Graham could be another fifth-round gem.
Chad Reuter, NFL.com
Analysis: Adding pass-catcher extraordinaire Pitts with the fourth overall pick gives a boost to the Falcons' offense, especially in the red zone, where the team struggled at times in 2020. Atlanta made two excellent picks on Friday night, with Grant likely stepping into a starting role at safety and Mayfield a solid projection to guard, an area in which the Falcons needed more depth.
Hall is an athletic and competitive corner worthy of the early fourth-round selection. Dalman is an athletic center with NFL genes. He can compete with 2020 draft pick Matt Hennessy at center or allow Hennessy to move to guard. Graham has the quickness that will help him win inside next to Grady Jarrett. Ogundeji is a long, powerful rusher. He might not have elite speed, but will still get the job done. Getting a top-notch kick returner and willing defender in Williams was excellent, as was the selection of Darby, who has potential as a quick-footed deep threat.
PFF Staff, Pro Football Focus
Analysis: The Falcons take the best non-quarterback in the draft with their selection of Florida tight end Kyle Pitts. He is going to be faster than any linebacker or safety and bigger than any cornerback. He enters the NFL as already one of the biggest matchup nightmares for a defense. His 96.1 receiving grade, 0% drop rate and above-average run-blocking grade in 2020 make him one of the best all-around pass-catchers we've seen in a while.
The fourth-best safety on PFF's Big Board, Richie Grant had exceptional run-defense grades in college and was a stud during the one-on-one drills at the Senior Bowl in coverage, flashing the potential to be an all-around player at the next level. Grant has excellent numbers across the board and is an outstanding overall football player, but he was selected with TCU's Trevon Moehrig — PFF's top safety — still on the board.
Mayfield was garnering first-round consideration at one point. That might paint this as a value pick, but Mayfield's 144th ranking on PFF's Big Board still shows it as a reach. Mayfield's upside was supposed to be his physical tools. However, his Pro Day didn't show much in the way of that to get excited about. Mayfield will likely compete for the starting left guard spot in Atlanta — the lone hole on the team's line right now.
The concerns with Drew Dalman have to do with his pass protection. He has a weaker anchor and posted pass-blocking grades of 71.7, 74.0 and 68.6 in his three years at Stanford while going up against subpar competition. He is nimble, though, and his run-blocking skill set will fit perfectly into Arthur Smith's offense. Dalman recorded a 90.1 grade in that facet in 2020.
Day 3 Grades
Brent Sobleski, Bleacher Report
Analysis: The secondary overhaul continues for the Atlanta Falcons. In the second round, the team chose Richie Grant, who immediately becomes a physical tone-setter for the entire group. Darren Hall will have an opportunity to compete with Kendall Sheffield, Isaiah Oliver and Fabian Moreau to play opposite last year's first-round pick, A.J. Terrell.
Analysis: The 6'1", 299-pound pivot is a tailor-made option for an outside zone-predominant scheme. The first-team All-Pac-12 performer consistently reaches defenders and works to the second level. He can be the vital component of a zone-heavy squad in need of a center who executes crucial interior blocks. 
The Atlanta Falcons moved on from Pro Bowl center Alex Mack this offseason. New head coach Arthur Smith now has options at the position. Previously, Matt Hennessy was projected as Mack's replacement. Dalman is an excellent schematic fit, though. It's no coincidence he landed with a team that will employ an outside-zone system.
Analysis: Texas' Ta'Quon Graham is an enigma. At 6'3", 292 pounds, he's an undersized interior defender who happens to be excellent against the run. In some ways, Graham fits the profile of what Atlanta likes at defensive tackle.
Grady Jarrett was considered undersized when he came into the league in 2015. Marlon Davidson and John Cominsky played defensive end in college. Graham doesn't have great size, but he can definitely hold the point of attack.
Analysis: The Atlanta Falcons waited far longer than expected to address their edge pressure. Dante Fowler Jr. managed only three sacks during his first season wearing the black and red.
Notre Dame's Adetokunbo Ogundeji wasn't a premium pass-rusher during his career with the Fighting Irish. He did improve over time, though. He set a career high with six sacks during his final season on campus.
Analysis: Sometimes a selection is more than it seems. Yes, the Atlanta Falcons needed more help at cornerback even after selecting Darren Hall in the fourth round. Avery Williams will help there, of course.
But Williams' immediate value lies in his capabilities as a special teams demon. He can block punts and serve as Atlanta's punt and/or kick returner. He became a consensus All-American as an all-purpose player.
Analysis: The Atlanta Falcons didn't really need any more weapons, but what could it hurt to select one of the class' best deep-ball receivers in the sixth round? 
According to Pro Football Focus, Darby's 15 receptions of 40 or more yards downfield was the tied for the second-most since the start of the 2018 campaign.
Julio Jones, Calvin Ridley, Kyle Pitts and now Darby form a dynamic set of targets for Matt Ryan to get back on track.
Chris Trapasso, CBSSports.com
Analysis: Hall is a sudden outside corner who had steady production in college. Falcons add more to their secondary, which absolutely was necessary. High-floor player with the athleticism needed to start early.
Analysis: One of the NFL-ready centers in this class. Assignment sound, explosive athlete with great hand work. But like most interior linemen, he needs to improve the anchor. Pro Bowl ceiling.
Analysis: Thick lower half helps him drive blockers back into the quarterback. Slower-footed type but powerful player who can play multiple positions up front.
Analysis: Incredibly long, hand work master who flashes some serious flexibility around the corner. Not a high-caliber athlete but has the length and bend to finish at the quarterback.
Analysis: Return specialist with outstanding vision and good speed. Played in the slot at Boise State and is a little raw in terms of staying in phase. Athleticism is solid.
Analysis: Athleticism galore on film. Dynamic running routes and has serious juice down the field. The only question -- why wasn't he more productive in college.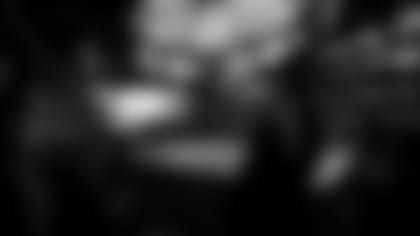 2021 Atlanta Falcons Tickets
Click below to learn more about 2021 Season Tickets and find your seat today!