ATLANTA – As the Falcons get ready for their first game in Mercedes-Benz Stadium this season, fans gathered for the annual Falcons Friday Kickoff Rally presented by SunTrust at Atlanta Station on Friday night.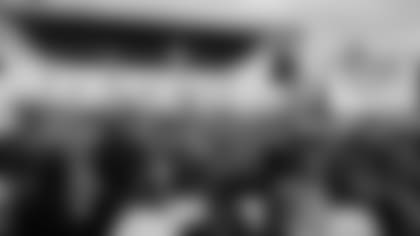 The event kicked off with a fan contests, interviews with former Falcons players Jessie Tuggle, Michael Turner and Brian Finneran and performances from the Falcons cheerleaders and the Brotherhood of the Beat drumline group.
Fans were surprised with appearances from Falcons general manager Thomas Dimitroff and owner and chairman Arthur and Angie Blank.
Dimitroff talked about the expectations for the season, starting with Sunday's game against the Philadelphia Eagles (1-0) on "Sunday Night Football."
Blank signed autographs and took pictures with the fans as he walked to stage where he thanked the fans for their continued support and discussed his hopes for the season.
"The emotion, passion and adrenaline is incredible," Blank said on Friday night. "That's what we're all about. This franchise is really owned by the fans. The players respond to that, so I want to hear that on Sunday. I want to hear it every time we're playing, it means a lot to them. That can make a difference in winning or losing a game. We're excited about having a full stadium on Sunday night. We're excited about the game.
The night concluded with Bonecrusher's performance of the popular celebration dance, the Dirty Bird, before a hype video and fireworks.