FLOWERY BRANCH, Ga. – The Falcons are averaging 164.5 rushing yards per game this season.
That's, you know, pretty darn good. They feature the NFL's No. 3-ranked rushing attack, one that churns out 5.1 yards per carry and is an explosive-play threat.
They'll run wherever and whenever, showing a commitment to the run that supersedes convention. They'll even do it 14 straight times, as they did against Cleveland. Or on every play of a touchdown drive, when they were down multiple scores in the second half at Tampa Bay. No matter what the circumstance, the Falcons have consistently run well.
Scheme plays a big part in that. So do those carrying the rock. None of it works, however, without the guys up front.
"The O-line has been great. So have the receivers working farther down the field," rookie running back Tyler Allgeier said. "We can't do what we do without the guys blocking for us."
The guys blocking have been top notch.
The Falcons offensive line is ranked No. 9 overall by Pro Football Focus, esteem bolstered by this telling stat. The Falcons are second in the league with 2.3 yards per carry before contact.
That's, you know, pretty darn good.
That led me to an exploration of how they became, you know, pretty darn good. I spoke to most every starting offensive lineman. I sat down with offensive line coach Dwayne Ledford for 20 minutes. I listened to Arthur Smith's comments on the matter.
Why is the run blocking so impactful? Everyone asked pointed to one thing: the work.
There was no light-bulb moment. There was no turning point, which us media types like to hype. There was no big team meeting that turned things around. Progress has been made by hiking up a steep hill. They haven't reached a peak, not by a long shot, but they're moving towards it with every step.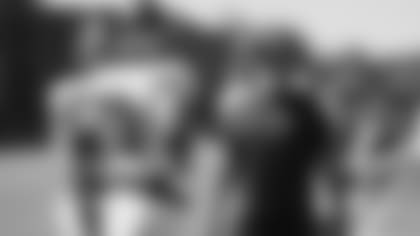 "I think the most glaring thing is probably not the answer you're looking for," Smith said. "It's the consistency, the work habits and getting better at it day to day. It's a lot of the mundane. There's no special pill, no certain exercise, it's just creating those habits, working, understanding and guys getting better day after day. That's really what it's been."
That approach has produced a pair of 200-yard games in five tries, with four games exceeding 150. They're doing that without an elite back, executing well as a unit to create a steady, efficient ground game not seen in Atlanta for some time.
"It's about the everyday preparation for the guys up front," Ledford said. "When it comes to the run game, it's a grind. It's hard work and being good at it takes the right mindset. You have to know it's going to be hard. You know you have to strain. And you have to be working well together. And that includes the tight ends and receivers and the fullback. Everybody has to be right to make the run work.
"When everybody's synced up, it looks really good. When one or two guys aren't synced up, you'll see the hiccups. When you see a successful run play, it's the culmination of a week's worth of hard work. These guys work hard, extremely hard."
Ledford is in his second season as Falcons offensive line coach, and recalls keeping a watchful eye on his team's work ethic early in Year 1. He didn't know if he'd need to institute some tough changes or really motivate his linemen to give maximum effort.
That wasn't the case. Those guys were ready to put in the work, do what was required to get better outside the spotlight.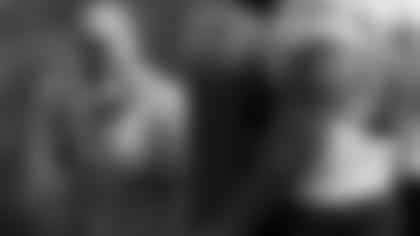 That drive comes from their captain, their tone setter.
Jake Matthews is not a flashy player. He won't fill a notebook with outlandish quotes or trash talk. He is a grinder, a pro's pro who you can trust to be in the right spot, trust to go to work every day, trust that he'll be ready to go on Sundays. He knows what it takes to be successful in this league, at his position.
"It's almost boring," Matthews said. "It's doing the little things right over and over and over again. It might not be flashy or exciting, but it's in the mundane where you can really make progress. …It takes a lot of focus and grind to compete at this level. You can't let emotion get in your way. You've got to bring it every day."
All that hard work is starting to pay off. Their efforts are getting noticed by national analysts, especially those who pay close attention to the game film.
The offensive linemen don't care much about that.
"Man, I take it day by day, week by week, practice by practice, lift by lift," left guard Elijah Wilkinson said. "That's how you have to take it in order to be able to focus each week and execute at a high level. There's no room in the day to ponder what has happened or how good you did or what will happen in the future. You have to focus on the present and be locked in or you'll get beat."
The Falcons run game makes them harder to beat. That has been evident this season, where the Falcons have proven a tough out. They're committed to running the ball well, to being assertive and physical when moving the ball down the field, even when the whole world knows they're going to run.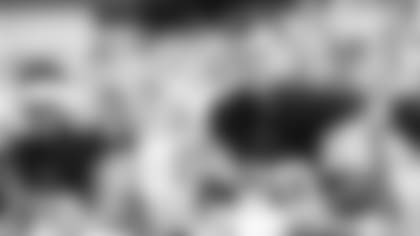 "It's a priority for us," Matthews said. "We establish our goals during the week and moving the ball on the ground is always one of them. Running the ball in the NFL is really hard. If one guy's off, the whole thing's off. It takes a lot of preparation and focus and a willingness to do the not-so-flashy hard work. The good thing about it is that it can wear a defense down. You want to bring it to them. You want to be the aggressor."
The offensive line has been aggressive, knocking even good defensive fronts in the run game. Everyone interviewed, however, was quick to credit the receivers, tight ends and fullback Keith Smith for doing the hard work down the field.
It's that it-takes-all-of-us approach that has the run game going strong. Everyone's bought in, with the hard work validated by quality performance.
"There will never be a compromise for how we work and how we approach our jobs every day," Ledford said. "We can't back off. You have to stay in the moment and you have to keep progressing or we'll get exposed. If you don't grind, you'll get knocked back. You'll get knocked off your course. We're not going to do that."