FLOWERY BRANCH, Ga. — Now that the 2019 NFL Draft is over, it's time to turn our attention toward training camp and all of the position battles that will ensue.
There may not be many new faces in the starting defensive lineup, but there will certainly be some familiar faces returning from season-ending injuries – specifically, free safety Keanu Neal and strong safety Ricardo Allen. As far as projected new starters go (and, yes, I'm keenly aware of the fact that it's still only April), there is one – second-year cornerback Isaiah Oliver.
Let's take a closer look how the lineup could look on defense – we're going with a base 4-3 look – when the Falcons kick off the season against the Vikings on Sept. 8 in Minneapolis: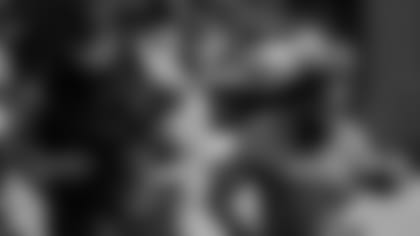 Projected starters
DE – Takk McKinley: Entering his third season with the Falcons, McKinley led the Falcons with seven sacks in 2018. He played in 15 games started eight games, tallying 22 tackles (15 solo), seven tackles for loss, and added 15 quarterback hits.
DT – Grady Jarrett: Jarrett has become one of the top defensive tackles in the league. In 14 starts last season, Jarrett made 52 tackles (27 solo), tallied six sacks, three forced fumbles, eight tackles for loss and 16 quarterback hits.
DT – Jack Crawford: After missing the majority of the 2017 season, Crawford recorded career-highs in several categories while playing in all 16 games with 11 starts. He tallied 35 tackles (19 solo), six sacks, seven tackles for loss, one pass defensed, one forced fumble and nine quarterback hits.
DE – Vic Beasley: Falcons coach Dan Quinn intends to get the most out of the former first-round draft pick who will be entering his fifth season. Beasley played in 16 games with nine starts in 2018, recorded 20 tackles (16 solo), five sacks, three passes defensed, one fumble recovery for a touchdown, seven tackles for loss and eight quarterback hits.
LB – De'Vondre Campbell: Campbell has improved in each of three seasons in Atlanta. In 2018, he recorded a season-high 94 tackles (63 solo) with 1.5 sacks, four tackles for loss and three quarterback hits.
LB – Deion Jones: After getting injured in a Week 1 loss to the Eagles, Jones missed 10 games in 2018. He returned and started the remaining five games of the season, tallying 53 tackles (34 solo), two interceptions (one touchdown), one sack, six passes defensed, one forced fumble and one tackle for loss.
LB – Foye Oluokun: Oluokun was thrusted into action as a rookie in 2018, playing in 16 games (making seven starts). He made 89 tackles (50 solo), two tackles for loss, two QB hits, one pass defensed and one special teams tackle.
CB – Desmond Trufant: Trufant started all 16 games for the Falcons in 2018 and made 66 tackles (55 solo) with one tackle for loss, 12 passes defensed and one sack for a loss of 10 yards. He returns as Atlanta's most experienced corner.
SS – Keanu Neal: After tearing his ACL during the season-opening game at Philadelphia, Neal missed the rest of the 2018 season. He's expected to make a full recovery. In three seasons with the Falcons, Neal has tallied 220 tackles (154 solo) with one interception, eight forced fumbles, three fumble recoveries and 15 passes defensed.
FS – Ricardo Allen: Allen is expected to make a full recovery after tearing his Achilles during a Week 3 loss to the Saints. In four seasons, Allen has played in 49 games with 48 starts while totaling 229 tackles, one sack, seven interceptions and 13 passes defensed.
Key reserves
CB/S – Damontae Kazee: The Falcons will find a way to get Kazee onto the field. Kazee was one of the Falcons' pleasant surprises in 2018. He stepped into a starting role and recorded 80 tackles (58 solo), seven interceptions, one tackle for loss, one forced fumble and 10 passes defensed. His seven interceptions tied for the most in the NFL with Chicago Bears Kyler Fuller and Miami Dolphins Xavien Howard.
DT – Tyeler Davison: Davison comes to Atlanta after spending four seasons with the Saints. He recorded 95 tackles, nine tackles for a loss, 3.5 sacks and three forced fumbles since entering the league and should see action as a key reserve in 2019.
DE – Adrian Clayborn: After playing a year with the Patriots (where he recorded 11 tackles, 2.5 sacks and a forced fumble), Clayborn returns the Falcons rotation, where he played from 2015-17 and was an important part of Atlanta's Super Bowl defense.