Inside of a Suwanee department store, sounds of joy and bouts of giggles and laughter erupted from children and players alike as they meandered down different isles together, stacking toys, games and clothes for themselves and other family members inside their buggies.
That was the scene Tuesday night as Atlanta Falcons fullback Patrick DiMarco and his wife, Kirstin, participated in their first "Shop with a Jock" event in conjunction with Tragedy Assistance Program for Survivors (T.A.P.S), giving children and parents of military families who have lost a spouse and a parent a $150 shopping spree for their holiday wants and needs.
After a brief meet-and-greet between the families and the Falcons players who came out to help support the DiMarco's, parents and grandparents watched in awe as their children and grandchildren were filled with excitement, a feeling that may not always be around during this time of year, and walked around grinning from ear to ear.
"It means a lot to us to know that there are people who care about the families, the children specifically, of fallen service members," said Katie Bagosy, the surviving spouse of fallen hero, United States Marine Corp Sgt. Thomas "Tommy" Bagosy. "To see that it was headed up by somebody in the Falcons and that they have a heart for these kids, it's just very humbling. It's such a blessing to see (the kids) have a really good time tonight and to know that they'll have a really good Christmas."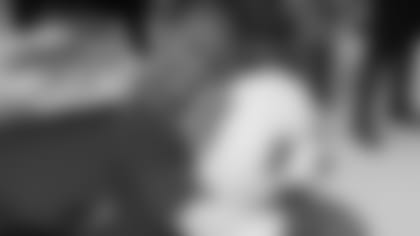 Tuesday's event was meant to honor seven families that have gone through the devastation of war and the excruciating pain of losing a mother, a father and a life partner. While some were lost to combat, others were lost due to an accident, illness, or suicide.
A military loss unfortunately brings much more than grief. It brings a loss of identity, a loss of community and in some cases, teasing and ridicule to those who are younger.
With the help of the DiMarco's, the 14 children, moms and dads who make up the families will have a happy holiday season knowing they haven't been forgotten and that they are cared for.
"Their families have given up so much for this country," said the 6-foot-1 fullback. "They've lost loved ones. I'm just glad to be able to give back to them, say thank you for everything they've gone through, and let them know everyone remembers them and everyone still thinks of them."