FLOWERY BRANCH, Ga. – The Falcons are only a few days away from kicking the 2018 NFL season off against the Philadelphia Eagles, and coach Dan Quinn believes there are some tough matchups for each team in this game.
"We certainly know – let's talk offensively – finding ways to get runs against a good eight-man front, the way they play downhill and get on the edges," Quinn said of the matchups that will be important Thursday night. "For us, at our best, having to defend the whole field. We've got some tough matches, as they do too. I think both teams, the trenches on both sides, are equipped and have their stuff together – both offensive lines, both defensive lines.
"Defensively, the ball, the tackling, you'll always hear us talk about that. But I do like the speed that our defense is starting to play with. Some of that comes from the talent. Some of that comes from anticipation and seeing plays and knowing that now that you've been in the system a few years you have some of that experience."
If this game is anything like the Falcons' 15-10 loss to the Eagles in the divisional round of the playoffs last season, it should be hard fought and tightly contested. It's important to keep in mind, however, that it's a brand-new season and what happened in January will have no impact on what happens Thursday night.
Still, we know the Eagles have talent on both sides of the line of scrimmage. They had the NFL's top-ranked rushing defense in 2017 and held the Falcons to 86 rushing yards in their playoff win. Offensively, they ranked third in the NFL in rushing yards per game last season and have an athletic offensive line that moves well in space.
"There's matchups all over, running back play, the return game, how they feature their runners – I think it's all a factor," Quinn said. "… There's a lot at hand, and it's a pretty exciting time to talk about some of those matchups. Those are just a few that are on my mind."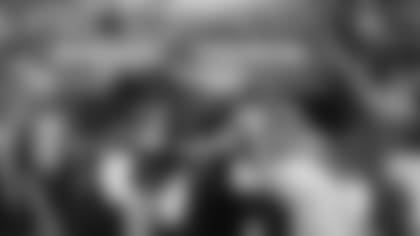 Falcons preparing for Eagles offense, not just their quarterbacks
The most notable storyline for this Falcons-Eagles game is who the starting quarterback for Philadelphia will be. Reports surfaced Saturday that Nick Foles will start for the Eagles against the Falcons as Carson Wentz continues to recover from a season-ending knee injury he suffered in Week 14 last season. The team has not confirmed those reports, however, with coach Doug Pederson saying Sunday, "I haven't made the decision publicly; it's an internal thing."
It will certainly be notable if a decision is made prior to the start of the game, but Quinn told reporters he is preparing for the entire Eagles offense, not just their quarterback.
"For us, going into it, we have to prepare for their offense," Quinn said. "Certainly both quarterbacks may have some different styles, and we'll look at that, and have, but as far as training for the offense, that's the main thing. And what we do know is both of them are equipped to run it at a very high level. It doesn't mean that all of the plays are different, it just means there are some subtle differences when both of them are in at different times.
"We basically want to make sure that the players are prepared to defend the offense and that goes every week of who we have to face. Very rarely would it be such a shift in what a team could do. Oftentimes there might be somebody who comes in who's way more mobile, you may see more of a certain style. But those two, they're both equipped to handle everything. When they're able to handle the whole package all the way through, you better be prepared for the whole offense."
Tackling and establishing the run are big topics for Falcons
As he continued to examine the matchup, Quinn shared a few more specifics on what he'd like to see his team accomplish that they may not have in the Falcons' last meeting with the Eagles. Defensively, pressuring the quarterback and securing their tackles are two things he'd like to see executed on Thursday.
"Well, I thought number one, having the chance to when you can affect the quarterback, that's where it is," Quinn said. "I think we didn't do enough of that. In the run game, in terms of tackling and taking advantage of your opportunities there. They've got a really deep stable, and I think that shows. They play them all, they use them all. But the tackling is certainly going to be on point and will be one of the big topics for us going in, for sure."
On the offensive side of the ball, Quinn said the Falcons need to establish the run to make their play-action passing game as effective as possible. Tevin Coleman led the way on the ground for the Falcons in their last game against Philadelphia, gaining 79 yards on 10 carries, but Devonta Freeman was hampered by injuries and mustered just seven yards on his 10 attempts.
"I think it's two good line of scrimmage teams," Quinn said. "Who can do that better and execute better? Last year I thought [Tevin Coleman] had some runs in the game that looked good. We didn't run it quite as well as we'd liked, but we know that's a big part of what we do and kind of marries up with the play-action and the keepers that going along with that. That's what makes us so difficult to defend."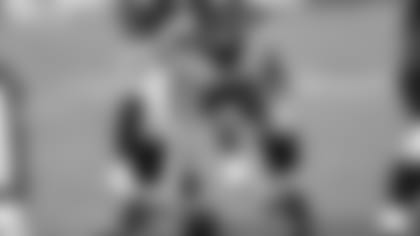 This game will feature 'two of the best centers in the league'
Falcons fans are familiar with the kind of impact a premier center can have on an offense. Alex Mack's arrival in 2016 coincided with an offensive explosion in Atlanta, and he's been a key piece for the Falcons ever since. The Eagles also have a center who is among the best in the league in Jason Kelce. Kelce is one of the most athletic centers in the NFL, and his ability to make blocks on the move makes the Eagles difficult to defend when they're out in space.
"There's unique stuff about them," Quinn said of the Eagles' offensive line. "Both their tackles are really athletic, their center can pull and get out on the perimeter. For those line coaches and people that appreciate line play, these are two of the best centers in the league that know how to get down the field and stay on blocks. You can imagine how difficult that is for a big guy, to make sure you can stay on a 235-pound linebacker, both these guys can block people in space. That's a real challenge, but they're able to do that."