At 28 years old and as a four-year veteran in the NFL, running back Antone Smith has seen most of what he needs to for his game to reach the next level. Need proof? Look no further than his 76-yard touchdown run last week against Miami (that was called back due to a penalty) to see the ease with which he recognized what was happening.
The safety came down to play the run to his side. Seeing this, he knew the line was going to slant the opposite way, so his key objective was to make the safety miss. If he did that, it would be nothing but green in front of him.
The ball was snapped and into Smith's hands immediately. The safety came down, the line slanted the way Smith expected to — one move and gone.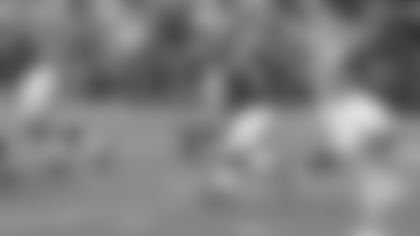 It's that kind of recognition and reaction that has become second nature to the running back who has created a buzz since getting some ball-carrying opportunities last year.
"The biggest thing is, you begin to see things so much that it becomes a part of your game, so learning defenses, schemes and what to expect... you pick up on that and it can help your game speed up even more," Smith said earlier this week. "When the game's kinda fast on you, you kinda play slow. But when it slows down, you just speed up, and that's when everything just opens up for you. With me, things have just slowed down at this point because I know the defenses now. I know what to expect when they've got different fronts."
Combine that recognition ability with his quick reaction and breakaway speed and you've got the makings of a dangerous running back at an age when players at his position start to enter the twilight of their careers. Smith, being a special teams stalwart for most of his career, doesn't have the mileage on him that other 28-year-old ball carriers have, which means he's spent less time in the training room and more time in the film room improving his vision.
But it's not just those recognition skills that have earned Smith the chance to be a bigger part of the Falcons' offense. His speed in the open field helps, too.
Voted the MVP of a Nike camp he attended during his high school years, Smith ran a reported 4.25 40-yard dash. At the 2009 NFL Scouting Combine, he put up an official 4.33. That speed hasn't waned, and a good part of that has to do with his thought process when he finds himself in the open field.
It's a mantra that has been repeated over and over in his mind since his Pop Warner days, and along with the way he approaches the mental aspects of football, it could help make him a breakout star in 2014.
"Don't be caught," Smith said. "I refuse to be caught. I refuse to be caught from behind. I've worked too hard to just get caught from behind. When you get past the D-line, you've got to make something happen and that's just the biggest thing in my heart and my mind. I get past that first line of defense, I've got to score. Everything else is up to me."