Arthur Smith is busy putting together his coaching staff together and on Thursday, the Atlanta Falcons' new coach made a number of critical hires, including his three coordinators.
Smith announced that Dean Pees, Dave Ragone and Marquice Williams will be joining him in Atlanta as coordinators. He also said the wide receivers coach Dave Brock has been retained from the Falcons' previous coaching staff.
Both Pees and Ragone were previously linked to Smith in earlier reports as possible coordinators. Jason La Canfora of CBS Sports first reported that Pees, a longtime defensive coach who has been a part of two Super Bowl-winning defenses in his career, "will be joining Smith's new staff in Atlanta in some capacity."
Last Friday, ESPN's Jeremy Fowler tweeted minutes after the Falcons made the announcement about Smith that a name "strongly connected to Arthur Smith's staff as he takes the Atlanta Falcons job: Bears passing game coordinator Dave Ragone. I'm told there's a good chance he becomes Smith's OC after five years in Chicago."
And as it turns out, both reports were accurate.
Pees will take over as the Falcons defensive coordinator and Ragone has been named the offensive coordinator. During his introductory press conference, though, Smith said that he would be the play-caller on offense.
"We'll take our time," Smith said. "We've interviewed multiple people for coordinator spots and staff, and like I said, we will take our time. We want to be adaptable. That will be a big thing here. We will play to the strengths of our team but we want to be flexible and adaptable, and that's one thing we are looking for schematically as we go through this process of hiring coaches."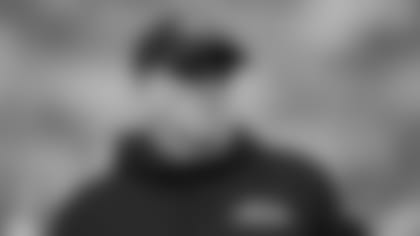 Pees brings proven experience
Pees, 71, and Smith coached together in Tennessee under head coach Mike Vrabel. From 2018-19, Pees was the Titans defensive coordinator while Smith has served as the offensive coordinator the last two seasons. Pees retired in January of 2020 after the 2019 season.
Prior to joining the Titans staff, Pees was on John Harbaugh's staff with the Baltimore Ravens for eight seasons. He was the Ravens' defensive coordinator from 2012-17. The Ravens won Super Bowl XLVII, beating the San Francisco 49ers 34-31, to cap the 2012 season. Pees was originally hired by the Ravens to be the inside linebackers coach, a post he held from 2010-11.
Before joining Harbaugh in Baltimore, Pees left Kent State – where he was the head coach from 1998-2003 – to join Bill Belichick's staff in New England. Pees was the Patriots' linebackers coach for two seasons (2004-05) before taking over as defensive coordinator in 2006, a post he held through 2009. The Patriots beat the Philadelphia Eagles 24-21 in Super Bowl XXXIX.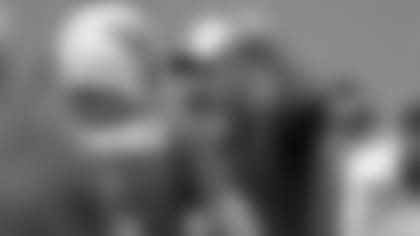 Ragone has worked with Cutler, Cousins
Smith and Ragone worked together in Tennessee during the 2011-13 seasons. Smith was a Titans offensive line and tight end assistant coach while Ragone was the quarterbacks coach in 2013. From 2011-12, Ragone was the Titans' wide receivers coach while Smith was an offensive assistant/quality control coach in 2012 and a defensive assistant/quality control coach in 2011.
According the Chicago Bears, Ragone, 41, is in his fifth season with the team and 2020 was his first as pass game coordinator. He spent the previous four as quarterbacks coach. Before joining the Bears, Ragone spent the 2015 season as an offensive quality control coach in Washington. Some of the quarterbacks Ragone has coached and worked with include Mitchell Trubisky, Jay Cutler, Kirk Cousins, Ryan Fitzpatrick and Jake Locker.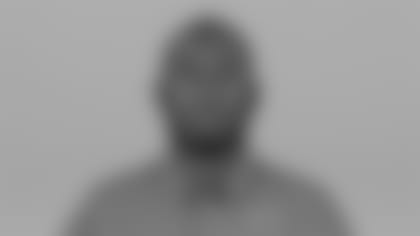 Williams can boost return game
Williams just completed his second season as assistant special teams coach in Detroit. In 2020, the Lions ranked third in punt returns, averaging 12.8 yards per return, and eighth in kickoff returns with an average of 24.9 yards. Jamal Agnew finished third in the league with 783 kickoff return yards this season, and he had a 74-yard punt return for a touchdown in Week 16.
The Lions' coverage units have also been fairly good while Williams has been involved. They've been outstanding in punt coverage, ranking second in 2019 and third in 2020, and they've shown improvement in kickoff coverage, improving from 24th in 2019 to 13th in 2020.
Williams' career in the NFL began in 2016, when he joined the Los Angeles Chargers as an assistant special teams coach. He held that same role for the 2017 season before moving into a defensive assistant role in 2018.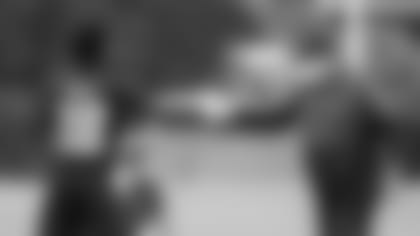 Brock brings stability at receiver
Arguably the most talented position for the Falcons in recent years has been wide receiver. That group, which features Julio Jones, Calvin Ridley and Russell Gage will have some stability under the new regime, as Smith has chosen to keep Brock in charge of the unit. With Brock coaching receivers in 2020, both Ridley and Gage enjoyed true breakout seasons. Ridley finished fifth in the league with 1,374 yards and nine touchdowns, while Gage set career highs with 786 yards and four touchdowns.
Brock had a hand in identifying Gage as a potential weapon at the receiver position, and his evaluation paid off last season. The 2021 season will be Brock's fifth in Atlanta, and he has previously served as running backs coach and an offensive assistant, in addition two his two years as wide receivers coach.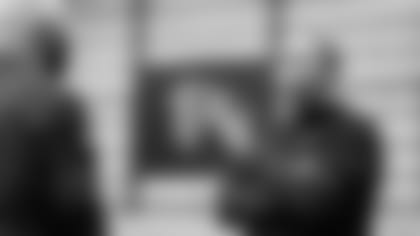 Smith made name on offense
Smith, 38, has spent the last decade with the Titans and has been the Titans' offensive coordinator for the last two seasons, helping revive quarterback Ryan Tannehill's career (he was the NFL Comeback Player of the Year in 2019) and featuring running back Derrick Henry, who has developed into one of the most productive – and feared – backs in the league.
Under Smith in 2020, the Titans offense finished the regular season ranked No. 3 in the league in total yards per game (396.4) and No. 2 overall in rushing yards per game (168.1) as Henry rushed for 2,027 yards and scored 17 touchdowns. The Titans were also fourth in the league in scoring, putting up 30.7 points per game.
From 2019-20, Smith orchestrated one of the NFL's top offenses with the Titans leading the league in red zone touchdown percentage (75.2), ranking fifth in points per game (27.9) and fifth in total offense (379.6). He oversaw the second-ranked rushing attack in the NFL, averaging 153.5 yards per game on the ground.