FLOWERY BRANCH, Ga. — When it matters most, the Atlanta Falcons defense tends to get the job done.
Entering Week 6, the Falcons are ranked fifth in the NFL with a 32.8% third-down conversion rate. Their five opponents so far have only been able to move the chains on 21 of their 64 third-down attempts.
"Our guys do a great job of studying the opponent," Falcons defensive coordinator Ryan Nielsen said. "They do a great job of studying the plan, how we're going to be attacked and how we're going to play certain routes, protections, those type of things. The pressure plan. And they do a really good job of understanding their job and working together. That's the big thing. We have a team mentality, team defense."
The Cleveland Browns are No. 1 with a 22.6% third-down conversion rate (12 of 53), while the Carolina Panthers are second with 29.8% (17 of 57). The New Orleans Saints (31.5%; 23 of 73) and the Los Angeles Chargers (31.9%; 15 of 47) fill in, respectively, before the Falcons round out the top five.
Atlanta's defensive third-down success is notable from a franchise perspective, too, because it has already immensely improved since 2022. At this point last season, the Falcons were ranked 27th in the same category. They held a 47.1% rate, in which opponents converted on 33 of their 70 attempts.
Clearly, the efforts and resources Atlanta put into upgrading its defense this past offseason have paid off so far.
Here's a week-by-week look at all of the Falcons' third-down plays on defense.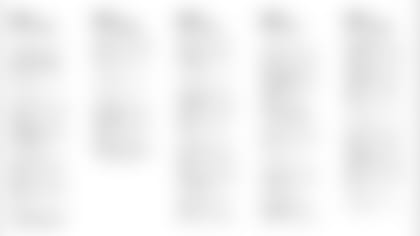 That's a lot, so here's a few quick third-down stat summaries from that, with the most notable takeaways highlighted in bold:
Q1: 4 of 13 (30.8%) | Q2: 7 of 18 (38.9%)
Q3: 3 of 13 (23.1%) | Q4: 7 of 20 (35%)
First half: 11 of 31 (35.5%) | Second half: 10 of 33 (30.3%)
Third-down plays in Atlanta territory: 10 of 29 (34.5%)
Third-down plays in Atlanta red zone: 3 of 9 (33.3%)
The third-quarter, second-half and red-zone percentages are the strongest and arguably the most important. Considering the Falcons haven't held a lead entering the latter portion of a game to this point, the defense is at least giving the offense an opportunity to pull off a comeback, which Atlanta has shown it is capable of doing.
Another clutch note about the Falcons defense is that it has forced more field goals (11) than it has allowed touchdowns (nine). Its third-down attack is to thank there. Of the 10 field goals made after a third-down stop, three came from within the red zone.
"Enormous," Falcons head coach Arthur Smith said of the defense's third-down stops. "Those are the games within the games, right? When teams have a chance to steal momentum and you're able to (stop them). I call them four-point swings. … Those are huge, huge momentum plays."
The Falcons have accomplished 15 three-and-outs in 55 drives. That's always the preferred option. And when opponents have gone for it on fourth down, they've only picked up a fresh set of downs once in five attempts (20%).
It all goes back to the players' preparation.
"They go in on Wednesday when no coaches are there, where we have the third-down wheel set up," Falcons assistant head coach/defense Jerry Gray said. "They go through the third-down wheel, and they write down, 'OK, here's the routes they're doing.' And then, we as coaches, we're putting the plan together, so when we come back on Thursday morning, (we say), 'Here's the plan.' (They say), 'Well, coach, we've already seen that. We're going to do this, this and this.'
"We are trying to be proactive and be a day ahead."
The Falcons (3-2) host the Washington Commanders (2-3) on Sunday (1 p.m., CBS). The Commanders offense is eighth in the league with a 36.7% (22 of 60) third-down conversion rate. That's a better success rate than the Falcons defense has seen this season.
"It's been good, just trying to get it better," Nielsen said of the defense's third-down success rate. "That's our thing: If we can be 30%, well, let's be 25% and so on."