---
---
Derek Carr sprinted to his right on third-down-and-goal, looking for a clear path toward the end zone. The Raiders quarterback never found one, forced to run out of bounds with Chargers defenders bearing down.
Carr came up hobbling, hindered by a strained groin that wouldn't let him continue.
It also put Marcus Mariota on red alert.
Las Vegas' backup quarterback had just one short Chargers series to get ready for action. He ended up with 2 minutes, 26 seconds total game time to wrap his brain around what was to come in a tight game against an AFC rival. There was no time to take in the moment, to acknowledge this Week 15 contest was his first of 2020, just his second since getting benched by the Titans early the previous year.
The restorative time between that moment in Tennessee and this one didn't flash before Mariota's eyes, recalling all he had learned about his game and maybe, more importantly, about himself. He didn't pause to ponder, as he previously had, whether he wanted to keep playing football at all.
Mariota flushed his mind completely, focused only on one thing. Just go play.
"When you have to go out there at a moment's notice, you don't have time to think about it," Mariota said in an interview with AtlantaFalcons.com. "You're just reacting and playing the game you've always played."
Rarely has Mariota played better than he did on that series. After a handoff to open things up, Mariota escaped the pocket and threw an on-the-run laser complete for 22 yards down the left sideline. Then came a handoff, followed by an in-rhythm throw over the middle for 13 and another first down. Mariota then faked a handoff, tucked it and ran around the right end for 11 more. And, after a no gain by a back, Mariota launched a perfect deep shot to Darren Waller for a 35-yard touchdown strike.
Unstoppable. Efficient. Signature Mariota.
The former No. 2 overall draft pick was excellent during that game, becoming the first quarterback since 1958 to accumulate over 200 yards passing and 75 yards rushing after entering in relief. Mariota had 226 through the air, with a touchdown and a pick. He had 88 more on the ground, with a rushing score that tied it late in the fourth quarter.
The Raiders ended up losing in overtime, but Mariota's performance off the bench, nationally televised in primetime, was well recognized.
"I think that this kind of puts an exclamation point on why we signed him," then Raiders coach Jon Gruden said via Sporting News. "Just wish we could've won the game for him."
A win would've been nice. Even the loss had a major impact.
"It gave me a jolt," Mariota said. "It really confirmed to me that I do love this game and I want to be out there."
Carr was able to return the following week, and Mariota didn't head back out there again in 2020. He was mostly a change-of-pace option in 2021, before hitting free agency and joining the Falcons in 2022.
Mariota emphasized that Chargers contest wasn't the only thing that reinforced his passion for the game. It was a flashpoint over a two-year hard reset that included many important moments helping prepare for a rare opportunity to re-establish himself as an NFL starter.
"That was part of my process during those couple years, to figure out if I really wanted to do it," Mariota said. "I'd always loved the game and was really passionate about it, but, was I really willing to go through the ups and downs in my career? I really felt like, in my faith, it gave me an opportunity to look back and say that it was all part of my journey.
"[The Chargers game] gave me a peace of mind in the fact that, when I was out there, it felt like this was what I'm supposed to do. This is what it's about. To get that taste again was awesome. I was excited to get out there and play again. It solidified the fact that I wanted to play football."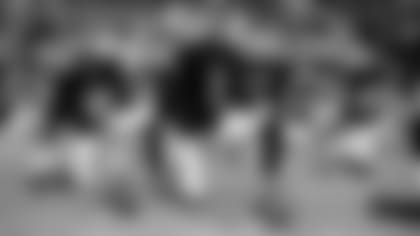 ---
---
Mariota sat casually in the Falcons training facility, relaxed and upbeat. The 28-year-old had just wrapped a Zoom call with University of Oregon beat writers, advancing his alma mater's upcoming game against Georgia at Mercedes-Benz Stadium. He was ever-so-close to an actual weekend off, optimistic and clearly comfortable in his own skin, his stature as leader and starting quarterback, and with the content of our conversation.
He seemed a million miles from a career low point, when he was allowed to walk out the front door five seasons after Tennessee made him the No. 2 overall NFL Draft pick. His mood didn't sour when describing it or some hard times that followed.
It's all part of Mariota's football journey after all, a story with some dramatic turns and an ending still unwritten.
Chronicling it from start to finish would take multiple volumes with sturdy spines, so we'll focus on the invaluable reset in Las Vegas he has identified several times since coming to Atlanta without describing in detail. And, since this was his process, we're going to let Mariota and Mariota alone provide perspective.
---
---
"I was beat up both mentally and physically."
Those were the first words Mariota used to describe his start with the Raiders, who had moved from Oakland to Las Vegas during that 2020 offseason.
Location's important here because Las Vegas is often called the "ninth island" due to its large Hawaiian population. It was a perfect NFL market for someone who grew up and thrived on the Islands themselves. So was Gruden being at the helm in 2020. Ignoring the unknown-at-the-time misgivings that got him fired from the Raiders in 2021, in the interest of staying on topic, Mariota said he respected Gruden's football mind.
All those things made Las Vegas an ideal place to build himself back up. That was going to take some work.
"For one, I think your confidence was a little shot," Mariota said. "I was to a point where I was questioning whether I wanted to play anymore.
"To go there, with Coach Gruden and Derek [Carr] and to be in that quarterback room, it gave me a spark again. I really appreciated it. It was a great time for me. I learned a lot from Derek. I enjoyed being in Vegas and kind of being home again."
His time there wasn't without setbacks. Mariota was placed on injured reserve twice during his time with the Raiders, once in each year there. But he kept working to improve physically, mentally and technically.
That last part should be underscored. Without getting into great detail about it, the Raiders changed Mariota's footwork in ways that he believes helps him to this day.
"They really gave me one foundation on how they wanted me to do it and I went from there," Mariota said. "It really felt like I was getting my feet under me. I was feeling better when I was throwing in the pocket. To be able to take that and bring it here in Atlanta allowed me to feel comfortable in and out of the pocket.
"When the games asks you to extend [the play], I can. But, in this generation of the game, it's about being able to throw from the pocket. Gaining that confidence those couple years really helped."
He was finding greater confidence during a time largely spent outside the spotlight – a rarity for a former Heisman Trophy winner and No. 2 overall pick -- during a period of self-discovery that reignited his passion for football.
Time, as it's known to do, brought greater perspective.
"That reset was what I needed," Mariota said. "Then I was looking for an opportunity to come out and play and show how that reset helped me out."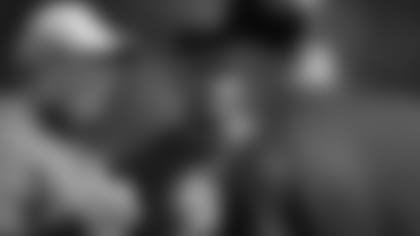 ---
---
Mariota entered free agency last spring set on being patient. He thought that, after a few big quarterback moves were made, the market would open up for someone looking to re-establish himself.
It did. Including, for a second straight time, at an ideal place to start fresh.
"When Atlanta called, I thought it was a great opportunity," Mariota said. "It's a great young team."
Run by a respected young head coach he already knew well. Arthur Smith was a Tennessee assistant during Mariota's time there and they formed a solid relationship. Yes, Smith was offensive coordinator when Mariota got demoted for Ryan Tannehill. No, that didn't deter a reunion. Both men entered this pact in a different place, excited about the possibilities of this partnership.
While Mariota learned a ton during his time away, he knew that Smith, offensive coordinator Dave Ragone and position coach Charles London could help him continue taking positive steps. One of the biggest, Mariota has said, is "playing free."
"From college, you had such a grasp of the system that, when I was out there, I was just playing," Mariota said. "Guys often talk about playing in the zone or whatever. But when I got to the NFL, I was always trying to be perfect. I was thinking too much while I was playing instead of just allowing my natural instincts to take over.
"I think a great example was in 2020, when I was inserted into that game. … For me, being able to embody that on a day-to-day basis is what we're trying to do here. I really appreciate how Art and Dave and Charles are focused on [allowing me] to play that way again."
If Mariota can find and then improve on form from that 2020 cameo, the Falcons will surprise some folks.
It's ultimately uncertain, however, how he'll fare. We'll know a bit more about that Sunday when the Falcons meet New Orleans in the regular-season opener, with Mariota's body of work in this Falcons offense expanding each week.
There was a time not long ago Mariota's second chance might've seemed unlikely. Yet here he is, fully ready because of all his experiences, both good and bad, have prepared him for it.
"I can't wait to play," Mariota said. "Now it has been four, five months of us working together. I'm excited to see where these guys go. I'm excited to see how Kyle Pitts plays, how Drake London plays and all the other guys play. It's going to be fun for me to be able to be a point guard and distribute, while also taking my opportunities and doing things with the ball as well. Again, it's going to be fun. Being part of this group has been so rewarding for me."