Although it's not technically the midpoint of the 2020 season, the Falcons are heading into their bye week which provides a brief period to reflect on the team's performance thus far and the challenges that lie ahead.
There have been several positive and negative trends that presented themselves during the Falcons' first nine games. At 3-6, Atlanta is in tough shape from a playoff perspective, but the Falcons have been playing better under Raheem Morris, earning three wins in his four games as interim head coach.
Atlanta will need to continue to trend in a positive direction to compete against the talented teams remaining on its schedule. So, let's take a look at some of the notable stats from the first half of the season and try to identify which ones are sustainable and which will likely flip.
Offense
290 passing yards per game (NFL rank: No. 3)
Will this trend continue? Yes
With remaining games against some of the league's top-scoring offenses (Kansas City, New Orleans, Las Vegas and Tampa Bay all rank in the top 11), the Falcons will likely find themselves in plenty of shootouts. They've proven they can move the ball through the air so far this season, but they may be required to do so during their final seven games. In any case the circumstances set up nicely for them to continue to be one of the NFL's most prolific passing offenses with Matt Ryan, Julio Jones and Calvin Ridley leading the way.
19 sacks allowed (NFL rank: No. 16)
Will this trend continue? No
Atlanta made strong efforts to solidify its offensive line the past few offseasons, and that appears to be paying off so far this year. The Falcons are middle of the pack with 19 sacks this season, which is three less than what they had through nine games in 2019. Ryan has been sacked more than twice in just one game this season, and the Falcons' sacks per pass attempt rate of 5.4 percent is 12th among NFL teams. Things get tougher after the bye week, though, with two games against both the Saints and the Buccaneers, who rank eighth and second in sacks, respectively.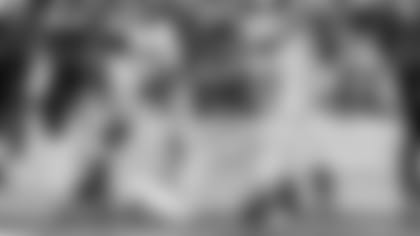 52.94 percent in red zone (NFL rank: 27)
Will this trend continue: No
Despite having the fifth-best offense in terms of total yardage, the Falcons haven't been getting the job done inside of the red zone. In 10 trips to the red zone the past two games, Atlanta has punched the ball in just four times. Unlike the case with sacks, the defenses the Falcons will play in their final seven games aren't steel walls at the goal line. Red-zone performance can be a bit of a fickle stat, and it won't be surprising if things start to even out for the Falcons after the bye week.
Nine touchdowns for Todd Gurley and six for Calvin Ridley
Will this trend continue: Yes
Although the Falcons would like to pick up their red-zone efficiency, they do have two players that have not had any issues getting across the goal line. Todd Gurley currently has nine touchdowns, the second-most by any NFL running back, and Ridley is tied for seventh with six receiving touchdowns. The one thing we knew about Gurley and Ridley entering the season is that they have a knack for scoring, and there's no reason to believe that will change.
Defense
99.7 rushing yards per game (NFL rank: No. 7)
Will this trend continue: Yes[TM2] 
While Atlanta's struggles against the pass have gotten a lot of attention, the Falcons have quietly been superb against opposing rushing attacks. It must be pointed out that the Falcons did not face Dalvin Cook or Christian McCaffrey this season, dodging to bullets, but they have fared well in this aspect of their defense thus far. Heading into Week 9, the Falcons' run defense ranked eighth in DVOA and they have not allowed a running back to reach 100 yards in any game this season. Injuries have hit the defensive line this year, making the team's performance in this area even more impressive. That also points to the success being a product of the entire defense and the coaching being done, which should continue. Things will get tougher from here on with games against Alvin Kamara, Clyde Edwards-Helaire and Josh Jacobs, but teams may be so focused on throwing the ball against Atlanta that this number could remain fairly level.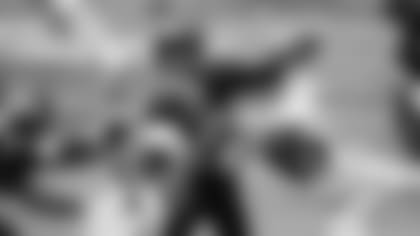 14 sacks (NFL rank: No. 24)
Will this trend continue: No
Like their offensive line, the Falcons have sought to improve their pass rush the past few years. That hasn't panned out as well as it has for the offensive line, but there have been some interesting developments since Morris took over. For starters, Atlanta has been much more aggressive in blitzing defenders in recent weeks. Linebackers Deion Jones and Foye Oluokun as well as safety Keanu Neal each have recorded a sack on a blitz with Morris and Jeff Ulbrich calling the shots. Atlanta will be going up against some good offensive lines after the bye week, but those sack totals might tick up as the Falcons manufacture more pressure.
75.86 percent in red zone (NFL rank: No. 29)
Will this trend continue: Yes
This is one area where the offense and defense line up. Simply put, Atlanta isn't getting it done in the red zone this year. Unlike the offense, though, this one doesn't seem likely to reverse course. With games against Tom Brady, Drew Brees and Patrick Mahomes ahead, the defense will be hard pressed to consistently hold those guys down.
64 tackles for Foye Oluokun
Will this trend continue: Yes
In the lineup as a full-time starter for the first time in his career, Foye Oluokun has been on a tear in 2020. Overshadowing Pro Bowl players like Deion Jones and Keanu Neal this season, Oluokun is making a name for himself. On pace for 128 tackles this season, which would come one shy of De'Vondre Campbell's team-leading total from last season, Oluokun has made play after play this year. If he can string together some really nice games, Oluokun has an outside shot to top Deion Jones' tackle total of 138 in 2017, the largest amount since 2014.