FLOWERY BRANCH, Ga. – What will the Falcons' offense look like under new offensive coordinator Dirk Koetter? That has been a topic of discussion around Atlanta since the team made a change at that coordinator position, and it was a central topic during Koetter's introductory press conference Wednesday.
Real answers won't surface until the players return in the spring, and likely long after that, still. But Koetter did share a few different insights into how he's approaching his return to Atlanta as offensive coordinator, a position he held for three years with the Falcons from 2012-14.
Dan Quinn wants balance and Koetter does, too
The Falcons were the NFL's fourth-best passing offense in 2018, but they were the fifth-worst rushing offense. As he said many times last season, that's not the type of balance coach Dan Quinn is looking for. Koetter explained why balance is so important in the NFL and why achieving it is a top priority for the Falcons' offense.
"I'm going into my 38th year of coaching and I've never met a defensive coach who didn't say the hardest thing to defend is balance," Koetter said. "I believe in that, too. When you're in a first- or second-down situation and the defense doesn't know if you're going to throw it, run it, play-action, bootleg it – whatever you want to do – any defensive coach will tell you that's the hardest thing to defend.
"Since balance is the hardest thing to defend, we will shoot to be as balanced as we can. Now, there's thing like time and score and injuries that can affect that, but we're going to definitely shoot for that."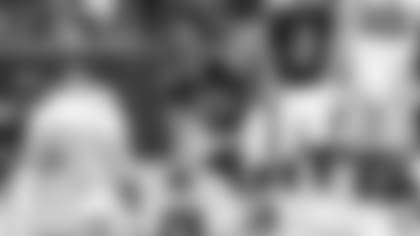 Everything starts up front with the offensive line
Atlanta's inability to run the football consistently last season brought scrutiny on the offensive line, which is an area many expect the Falcons to address this offseason. It's no secret the Falcons have a group of skill players most NFL teams would covet, but Koetter shared why that doesn't mean much if there are issues in the trenches.
"With every team, you can have the greatest skill players in the world, but your O-line and your D-line set the tempo for your team. Injuries are a part of that. Let's not forget the Falcons had two offensive linemen in the Pro Bowl. Everything is a work in progress, but whether it's the run game or whether it's pass protection, really everything starts with the O-line."
The Falcons offense will remain … with a few tweaks
Quinn has remained firm in his belief in the style of offense the Falcons run, and that style doesn't appear to be going anywhere. But changes were made for a reason, and Koetter, as well as new tight ends coach Mike Mularkey – another former NFL head coach and offensive coordinator – will bring new perspective to Atlanta's offense. As they go about evaluating the players and concepts in place, they will have some ideas of their own.
"Everyone in the NFL runs approximately the same stuff, but how you coach the details of it, that really depends on the coaches that are in that room and the players you have. So, what we're doing right now is going through the current system, between Mike and myself we're giving our thoughts and our ideas of what we're seeing. Just 30 minutes ago I came out of a meeting and we're in there going through that playbook and the tape line-by-line and play-by-play. And what you're really doing is your ironing out what is going to be the Falcons offense moving forward. Because when the players get back, it's the Falcons offense."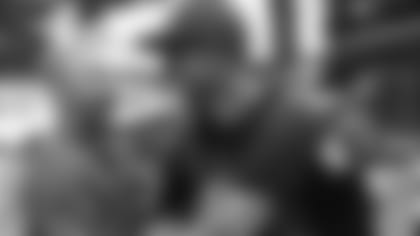 Familiarity with Matt Ryan is a major benefit
In rejoining the Falcons, Koetter is also re-uniting with quarterback Matt Ryan, who he helped earn two Pro Bowl nods in 2012 and 2014. The familiarity between the two will be key in the transition process for the Falcons' offense, and it's clear that Koetter has a high comfort level with Ryan.
"That familiarity is going to be really important," Koetter said. "One of the things I like best about Matt is every quarterback I've ever worked with, they can all tell you what they like. What Matt can do – he did it when I was here the first time – he tells you what he doesn't like and why. Just one of the things I've learned over the years is I might think something is the greatest idea known to man, if the quarterback doesn't like it, it's probably not going to go on Sunday. I think Matt will always have a huge impact on what our final game plan is when we get to that point in the season."
Offense has plenty of skill players to go around
Any coordinator would want the opportunity to coach players like Ryan and All-Pro receiver Julio Jones, but Koetter is also looking forward to working with younger guys like tight end Austin Hooper and receiver Calvin Ridley.
"Extremely excited," Koetter said. "You can see it on tape, how much talent those guys have. Hooper has an outstanding year and gets into the Pro Bowl. I saw something that somebody wrote comparing Calvin's rookie year to some of the greatest receivers in the league right and he was right there. I think Calvin's got huge upside."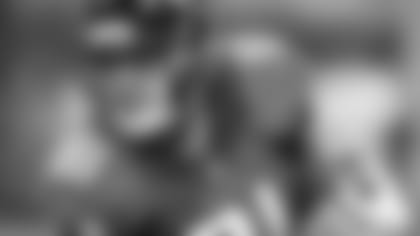 Koetter believes Falcons have a chance to win big
As a former NFL head coach, himself, Koetter was aware of the culture Quinn created in Atlanta. That was a factor in his decision to join the Falcons, a team he views as ready to bounce back and win a lot of football games.
"Obviously coach Quinn has put his stamp on the entire organization, and that's something I wanted to be a part of," Koetter said. "Even from being in the same division and seeing the energy that Dan and his guys have, that's exciting to me. Everyone wants to be a part of something like that. And the chance to win and win big here, I'm looking forward to that."