MARIETTA, Ga. -- Two years into her stint as the first head coach of the Thomas University women's flag football team, Chelsea Parmer can look back on the first days of practice of a fledgling program in the fall of 2021 with fondness. That's not how she felt in the moment, though.
The goal of this one particular practice - one of the very first for Thomas University - was to install six plays. Six. That's it. But in the moment they were six too many.
"We couldn't remember them," Parmer said. "I literally walked off the field in that moment and I'm like, oh my gosh, everything I told them was a lie. We're not going to compete for anything."
Parmer has been the Night Hawks head coach since the program was launched at the beginning of 2021. She was the right choice, having had her own successful career in girls flag at the high school level and later as a flag football coach at Godby High School in Tallahassee, Fl., just 40 minutes south of Thomas University in Thomasville, Ga. There are few who are more connected than Parmer in the world of flag football, particularly in the states of Georgia and Florida. Parmer officially began her position as the head coach of the Night Hawks on Feb. 1, 2021.
Her checklist upon that first day was long because she was tasked with creating something out of nothing.
The first item on that checklist was to find players. So, she did, grabbing a trio of her former Godby High School players. She needed people she trusted to help set her plans in motion. Brittney Delva, Gisele Jones and Shelby Hartley were those entrusted by Parmer to lay the foundation.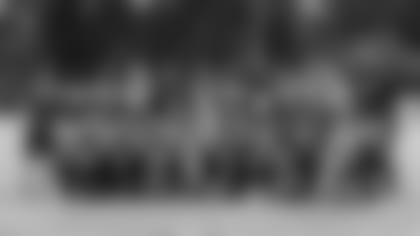 Then, the head coach began building around them, picking up Janae Scott, who was interested in returning to the sport she loved since she was four years old. Scott was at another school at the time, but transferred when she found out there was an opportunity to play flag football at the collegiate level. Then, there was Kiana Acol, who - like Scott - had crossed paths with Parmer when her high school, Crestview, faced Godby. Acol said she remembers Parmer came up to her at a girls flag football jamboree, requesting that she score three touchdowns in her next game. Acol did.
Piece by piece, the team began to form as Parmer continued to pitch to these recruits that she was building a program that was going to compete right away. This is why she remembers that one particular practice in the fall so vividly. She had put a team together that was extremely talented athletically, but many of them were still new in their knowledge of the game. If the Night Hawks wanted to live up to what Parmer said this program would be, there could be no going back.
"We preached all year that we were 365 days behind," Parmer said. "So, we could never have a practice where we took a step back. We had to keep building."
And what the Night Hawks were able to build was nothing short of impressive.
Despite that fall practice when even Parmer was questioning how much this team was able to do in Year 1, Thomas University flag football was thrust into the spotlight when, in their very first game as a program, they defeated the former NAIA National finalist, Keiser.
It was a historic win for Thomas University. It was a historic win for women's flag football, as a newly created program beat a national contender in its very first appearance, ever. None of that compares to what it did for the women who were playing - and winning - that day, though.
"Once we got that win I think the kids really understood that, yes, we're here, and yes, we can complete," Parmer said. "And yes, we can do this."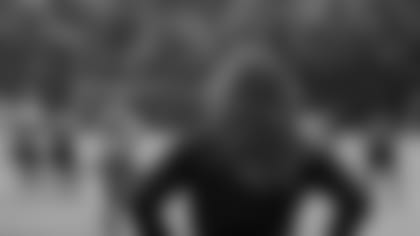 The Night Hawks would go on to win the most games in a season in NAIA flag football history. They would win the SUN Conference championship and would make it all the way to the NAIA flag football finals, which was held at Mercedes-Benz Stadium. Thomas University's near-perfect inaugural season would come to an end, though, in the national championship game when Ottawa University defeated the Night Hawks 24-20.
However, the program, even in its infancy, had done enough to begin catching the eyes of future players like Alexa Wilson. She committed to Thomas University before she ever saw them play - or win - a game in 2021.
She said she knew there was something special brewing in Thomasville, and she wanted to be a part of it. And when they lost in the national title game last year, that only fueled her fire.
"I wanted to be the person who could possibly help them get those few extra points in that championship game," Wilson said.
What's interesting about Wilson's story - now a freshman for the Night Hawks - is that she is a part of a new generation of girls flag football players about to take the field at Mercedes-Benz Stadium this weekend for the NAIA girls flag football finals. For her teammates, Scott and Acol, they didn't think they'd have a chance to continuing playing flag football beyond high school. They fell into the sport at a young age, Acol because it was a way to bond with her dad and Scott because a friend of hers said he was faster than she was and she wanted to prove him wrong. (Note: She did).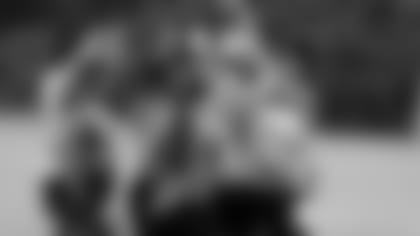 Having grown up in Daytona Beach, Fl., Wilson said she never knew flag football wasn't an option for her. Football was always engrained in her as her father was the coach of both the school's tackle football team and the flag football team. When Wilson wasn't playing flag football, she was her father's signal caller for the boys tackle team.
"I grew up looking forward to it," Wilson said of playing for her high school flag football team. "When I was in eighth grade I was like, 'OK. I finally get to play flag for a real team.' Rather than falling into it, I was waiting for my chance to be able to play."
For some of her older teammates, though, that wasn't necessarily their own thought process growing up. It's this juxtaposition between teammates that illustrates the real growth the sport has experienced in a very short time period.
Three years separate Wilson and Scott in school. Four hours separate their home towns. And yet, their views on the sport were very different growing up.
"I could say this is a dream come true, but I can't because this isn't something that I even knew I could dream of," Scott, a junior, said of playing flag at the collegiate level. "Something like this couldn't happen when I was younger. It was never a thought."
Playing flag football at the collegiate level is more than a thought now, it's a reality. A reality the women associated with Thomas University flag football carry with pride.
There's a conviction Parmer said she feels her players have about growing the sport. It's a conviction they echo, one they will continue to pass on to the next generation.
"I was excited to be a pioneer in the sport because we're some of the first girls to do it at whatever level we're at," Wilson concluded. "It's so important for all little girls who want to play flag."