The NFL season is just around the corner and with it comes one of the true joys that this time of year brings: Fantasy football.
Given how explosive their offense has been in years past, the Falcons often have a handful of players who fantasy fans make it a priority to target in drafts. With many league drafts coming up ahead of Week 1, we spoke with The Ringer's resident fantasy expert, Danny Kelly, and CBS Sports fantasy experts Jamey Eisenberg and Dave Richard.
FANTASY EXPERTS ON TWITTER
The three fantasy aficionados shared some insights on the Falcons players most likely to be on people's minds come draft night. Among the most notable bits of information shared were:
Julio Jones as the top fantasy receiver, so you're saying there's a chance?
All-in on the Calvin Ridley hype – his numbers could "explode."
Hayden Hurst could surpass Austin Hooper's production.
Matt Ryan is a player the experts love to draft.
Todd Gurley could be worth the risk, if you have the stomach for it.
If you're a Falcons fan getting ready for your fantasy draft, you may have a few questions. Fortunately, you've come to the right place for answers.
How feasible is it that Julio Jones ends the year as the No. 1 wide receiver in fantasy?
Dave Richard: One way that could happen is if someone lets Dan Quinn/Dirk Koetter/Matt Ryan know that Jones hasn't notched 10 touchdowns in a season since 2012. How could that be for one of the most talented receivers in the past decade?! That's part of it, but the real key is Jones staying healthy and continuing to do the kinds of things he's been doing his entire career, which is dominate defensive backs on a steady diet of targets from Ryan. If he doesn't finish No. 1, he'll be darn close to it. I'd say 2019 wasn't even close to his best year and he still was third among receivers in PPR points per game.
Danny Kelly: I definitely think there's a decent chance. I think touchdown totals year over year are just so variable. In fantasy football it's one of those stats that people typically will tell you to kind of ignore, because it's just impossible to predict. They are not sticky year over year, and it's just not something you can really bank on. Now, what you can bank on with Julio is he's going to get a ton of targets, he's going to get a ton of yards, he's going to have a good ADOT (average depth of target) – in other words, he's getting targeted downfield so he's getting the most valuable targets. If things change a little bit from the last few years and he gets back to those double-digit touchdowns there's certainly the chance. There's certainly the chance that he'll have double-digit touchdowns this year, I think he's that good of a player. I think the Falcons offense is going to be very good overall. If he plays a full 16 games, he's almost guaranteed to get over 150 targets and probably over 100 receptions. There are so many things about him that are so reliable that you can easily picture him being in the top 5 for receiver points in fantasy, but if he gets 10-plus touchdowns that will push him over the top.
Jamey Eisenberg: I mean, if he could just get those touchdowns up. He's obviously in the conversation every year, it's just a matter of him finding the end zone more than eight times. He just seems to have a force field over that number for whatever reason. He's obviously had the lack of red zone attempts and the opportunities to be that type of a player, but any sort of uptick in that number and he's in the conversation. You know the catches, yards and, obviously, the targets will be there for him. But if he gets to that 10-touchdown range, I think he could be the No. 1 guy even at 31 years old.
Are you buying the hype on Calvin Ridley and what is his ceiling?
DR: I've been buying the hype on Calvin since he balled out at Monarch High School in Coconut Creek, Fla. He's such a special receiver and genuinely in a special spot with the Falcons. Good enough to be a No. 1 receiver anywhere, Ridley really benefits playing opposite of Jones (and now Hayden Hurst) because defenses have no choice but to give him single coverage or play zone defense. Ridley can exploit both, just as he did in 2019 when, after the Falcons traded Mohamed Sanu, he averaged nearly six catches and over 80 yards in six games with three scores. His ceiling is over 1,100 yards and 10 touchdowns.
DK: He was still the WR27 last year, despite missing three games. The offense is going to be good, they are going to be passing a lot, I think. He's just proven in both of his years that he's very reliable, a very good route runner. He's a play maker, he's obviously got Julio kind of helping him out a little bit by drawing the attention of the defense. Right now, he's listed as the WR17 and, to me, that kind of feels like his floor or at least a conservative spot for him. I think he absolutely could finish in the top 12 among wide receivers. If he sees a spike in his targets this year, obviously losing Hooper opens up a lot of targets in the passing offense and Hayden Hurst might not get all of those. So, Calvin Ridley could certainly see 100-plus targets this year. He got 92 his rookie year, 93 last year, he could easily go over 100 this year and probably has a good chance to break 1,000 yards. Julio and Ridley are probably the best bet to be the next teammate duo to both finish as WR1s this year.
JE: I think [Chris Godwin] is kind of the comparison that you've heard a lot of people making, and it makes sense for the young guy to eventually start to push the veteran guy a little bit. Ridley, for two seasons, has certainly shown you flashes of being a dominant force. And, if you look at it, from the time Mohamed Sanu was traded to the time where Ridley left with his injury, the numbers bear out that Ridley was better than Julio during that stretch. So, can that translate to a full 16-game season, was it just a byproduct of Austin Hooper missing some time during that time frame as well? I think Ridley is poised to be an absolute star this year. I'm a big believe in the third-year receiver theory. First year, you're obviously learning the ropes. Second year, you feel a little bit more comfortable. Third year, you're just playing free. We had Matt Ryan on our show, on CBS Sports HQ, and Matt was talking about the offseason workouts. He said that during their time throwing this offseason there was no conversation about "Where do I go here? What do I do there?" and Matt's words were, he was just playing free and not thinking. And when he saw that he was like, oh boy here it goes, this is about to be the jumping off point for him to be potentially awesome. I think that this is going to be the season that his numbers just explode, his production follows and everything sort of comes together. Does that mean he's better than Julio? I don't know, but to be honest, I don't care, because I think both guys have a chance in this offense because of how much they throw to be extremely successful.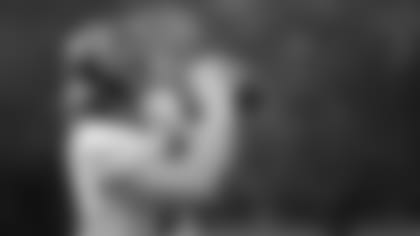 Can Hayden Hurst put up numbers similar to Austin Hooper's from 2019?
DR: Hurst has been the subject of many debates on our Fantasy Football Today podcast (download it from your favorite podcast site today!). When I reviewed his film, I saw a player who was about the same size as Hooper moving a little bit better than Hooper. That's exciting for Falcons fans and fantasy fans alike, but the downside is that Hurst is far less experienced than Hooper. My hunch is that Hurst's production will come down to how defenses take on the Falcons offense. If they're playing man coverage, Hurst could throttle them. If it's zone coverage, Hurst might still be okay but probably not be as dominant as Hooper was. I am nervous about Hurst receiving the 7.5 targets per game Hooper had with the Falcons in 2019.
DK: I think his ceiling could certainly be somewhere close to what Hooper did. The reason I say that, and it's nothing against Hooper, but it's not like Hooper was doing anything that was absolutely extraordinary. His yards per reception wasn't anything outstanding. He certainly had a really good feel for the offense and had really good chemistry with Matt Ryan, but he wasn't like George Kittle where he was running over people and picking up 800 yards after the catch. I think Hayden Hurst has the athletic profile. He has good hands. He was actually pretty strong in yards per route run last year for the Ravens, even though he was the No. 3 guy for them. He still made pretty good use of the routes he was running. So, I think his ceiling, if he gets 90-something targets, I think he could make something out of those targets for sure. I think he could challenge for a top-six finish among the tight end position. Historically, tight end breakout players have been guys who have athleticism and can move. He's got a couple of years of experience now, and so, I think he's certainly in that area where it wouldn't be a shock to see him be one of these top breakout players.
JE: Absolutely. I think we could see maybe even better. I'm sure Matt [Ryan] has talked to you about his expectations for Hayden Hurst. When he talked to us the thing that he said was kind of eye opening. He said he'd never played with a tight end this athletic. When you think about Tony Gonzalez and Austin Hooper and the Pro Bowls that those guys have made and, obviously, Gonzalez as a Hall of Famer, it's just unbelievable to think this guy may be able to do some different things and maybe some things that could be even better. We know the opportunity is there, the targets should be there. He's got to stay on the field and take advantage of it. Injuries and some other stuff plagued him in Baltimore and playing behind a talented tight end like Mark Andrews doesn't help. But this is the chance for him to shine, and I think in Dirk Koetter's offense he absolutely can.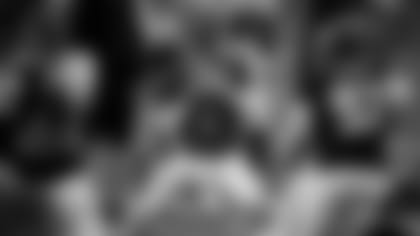 Where does Matt Ryan rank for you among the mid-round QBs?
DR: This is going to sound preposterous to Falcons fans, but Ryan isn't even considered a top-5 fantasy quarterback. It's because the alluring signal-callers for fantasy are the ones who do plenty of rushing on top of passing. Those stats really add up. Ryan relies on his arm to do damage, so in order for him to make up for those rushing numbers he has to throw for a ton of yards. Fortunately, that's something I think he can do this season given the Falcons' receiving corps. That's why he's actually a fantasy bargain -- his average draft position is late Round 6 on CBS, but I've taken Ryan as late as Round 10 before. Supply and demand suggests waiting on a quarterback in Fantasy, and Ryan is one of the guys I love drafting when he falls into my lap.
DK: I really like him, he's one of my favorite quarterbacks in that area, if not my favorite quarterback in that area. If you just look back to 2018, he was the QB2 overall. We've seen his ceiling, he can be really good in fantasy if the stars align offensively. I think this year things are going to be much better for him. Obviously, the offensive line had injuries last year and that was a big factor. The run game struggling last year, too, probably had a little bit of an effect on him. I think, overall, the ecosystem of the offense is going to be this year, and I think that's really going to help him. And, like I've said, he's going to have the volume, I think. I could see the Falcons being in a lot of shootout-type games, and he has one of the top receiver duos in the NFL to throw to. I think, overall, it's going to be a good situation for him to get back up into the top five, potentially the top three among quarterbacks. He's not one of these dual-threat quarterbacks who are taking over fantasy because of the rushing upside. He's not going to have that, but I think the volume of passing and he's one of the few guys who I could see easily leading the league in touchdown passes. I think for where he's going in drafts, I think he's a strong value and he's a guy I'm definitely targeting this year.
JE: It's kind of a pretty clear line for the way that quarterbacks are. There's the top six guys. The two you know at the top, [Patrick] Mahomes and Lamar Jackson, then there's a group of four that all have the chance to be special. Three may be the ceiling if the two guys at the top do what they do, or they can be the No. 1 quarterback, but that's [Deshaun] Watson, [Russell] Wilson, [Dak] Prescott and Kyler Murray. Then there's the quarterback I call the bridge quarterback in Josh Allen, because you know he's going to run, which helps him. Then you get to the throwers. What I mean by the throwers are the guys that don't move but they're going to throw for a high volume, a lot of yards, a lot of touchdowns. Especially when you look at guys like Ryan, [Tom] Brady, [Drew] Brees, their receiving corps are all excellent. So, Ryan, to me, is at the top of that group. Again, if Ridley, Julio and Hayden Hurst do what they're capable of doing then he's going to have the chance for another big year. I think people kind of look at it and say why wasn't Ryan better last year despite the fact that the Falcons led the NFL in passing attempts? If they lead the NFL in passing attempts again he's got the chance to be top 5, even though he doesn't do anything with his legs.
What kind of season do you expect from Todd Gurley?
DR: Fantasy managers have short memories. Many of them have forgotten about Gurley's dominating seasons and are instead nervous to take Gurley because last year wasn't his best season. A smattering of fantasy managers are equally nervous taking ANY Falcons running back because they've seen the run game not meet expectations while the passing game has flourished. Managing Gurley's body and making sure he's at his best for each week should be a priority for the Falcons. That could mean limiting his exposure in games and not putting him in a position where he takes on too much work from week to week. That lowers his potential for a massive year statistically, keeping him from being the league-winner he was as recently as 2018. I think he'll need another 10-plus touchdowns to really matter for fantasy managers again.
DK: Obviously, he's a really tough one because we just don't know the extent of the knee injury and how much that's affecting him. Last year, he looked less explosive than he had the couple of seasons prior. Obviously, that's a big deal and could affect his overall performance. If he does fall, though, there's absolutely value to be had there. The thing, to me, that is the most interesting about him is when he was a fantasy superstar for years with the Rams, he was always catching a ton of passes. That was a huge part of his game and a huge part of his value as a fantasy player. If you look at what's going to happen this year, my prediction would be: He's probably not going to be quite as efficient, he's probably not going to get quite as many red-zone touchdowns as he's had in the last couple of years, but he may make that up in some ways by being a more involved pass catcher in this offense. I think the Falcons will probably get him really involved in the passing game. He's probably pretty appropriately priced. He's RB16 right now, and I think his knee situation is kind of baked into his ADP right now. That feels to me like the right range; he's definitely worth taking a shot on at that spot, because he's got all that passing game upside. He's still going to get a lot of volume, and if he can increase his passing usage I think that will really help him a lot.
JE: You've got to have a little bit of a ticking time bomb feel with him, because if the knee goes it's probably going to be a significant absence. I don't know if it will be a one- or two-week scenario. But I was really encouraged with what Dan Quinn said I think either yesterday or the day before about Gurley's speed to the edge and the speed surprised him, or however he described that. The nice thing is, you look at the guys behind him and it just feels like there's no clear-cut No. 2 guy that the coaching staff is going to say "We have to take Todd off the field because this guy is doing X,Y and Z." But that may happen, Brian Hill or Ito Smith or Qadree [Ollison], if they all make the team, could certainly have the opportunity to factor into this backfield. But it just seems like they're going all in on Todd Gurley, and if he's right then they're going to be right and he's going to have the chance to maybe earn himself a contract after the season depending on how things go. It comes down to value. If you get him in round four or later, I'm all in. If I have to reach for him in round three – and I've seen some cases, because running backs go flying off the board, that he goes late round two – I just don't think that's worth it because of what the risk is. He seems to be a safe No. 2 running back. I think the offensive line, even though the Falcons may not have the best group, is better than what he had with the Rams last year based on how they run block. I think they'll use him more in the passing game than the Rams did last year, I know that's something that Matt Ryan is excited about. He seems to be rejuvenated. He seems to be in a good spot with a chance for a featured workload. The fact that his knee seems to be holding up OK, I'll take my chances on that with the right spot. Again, that's round four for me.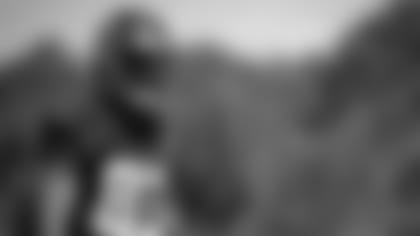 Is there any other Falcons player you like as a sleeper?
DR: I am very intrigued by Russell Gage. The receiver might be the easiest guy for Ryan to throw to because he'll never see tough coverage and has size on his side. I'm even a little worried about him taking TOO many targets away from Jones, Ridley and Hurst. I've taken him in several leagues where there are expanded rosters and points for receptions. I also think whomever wins the Falcons' kicking competition is a fantasy starter given the explosiveness of the passing game.
DK: I think Russell Gage is interesting. He came on strong down the stretch for the Falcons after they traded Mohamed Sanu, and he kind of emerged as the team's No. 3. If you look at his stats down the stretch, he got a solid amount of targets. He got 13 targets in Week 17, the team's final game. I don't know if he's necessarily a guy that you'd really want to put into your lineup, but if there were ever going to be an injury to Julio or Calvin Ridley he's definitely the type of guy that you could throw in as a flex option. He's someone to keep in mind for the last round of your draft.
JE: When you get in some deeper leagues Russell Gage would be the first one I'd look for and probably Ito Smith the second one. Gage, he's got an opportunity. As we saw last year, Ridley didn't finish the year and Julio is 31. If one of those two guys goes down, I don't think the offense changes dramatically unless Todd Gurley really has a turn-back-the-clock season. So, Gage would be somebody that if you have to carry six or seven wide receivers that's the absolutely perfect guy you want to look for because of his opportunity in the offense that he's playing in.