No NFC South rival has played the Falcons more closely than the Tampa Bay Buccaneers.
The Falcons lead the all-time series 25-24 against the Bucs, and although they may not stir the same emotions in the fan base as the Carolina Panthers or the New Orleans Saints, when Atlanta and Tampa Bay meet things tend to get very heated.
One of the chippiest rivals the Falcons have, the Bucs are always ready to bring the fight. But on Sept. 18, 2014, the Falcons knocked the Bucs to the mat so swiftly and emphatically, they could only watch helplessly as Atlanta rolled to the most lopsided victory in the history of this rivalry on national television.
"I talked to the team and told them we have a scar," former Buccaneers coach Lovie Smith said after the game, according to Rick Stroud of the Tampa Bay Times. "Scars don't go away. The rest of our lives, we're going to remember this game."
Few games in the NFL ever seem as blatantly one-sided as the Falcons' 56-14 victory over the Buccaneers on "Thursday Night Football" did in 2014. Were there not so many highlight-worthy plays and record-breaking performances, the Falcons' decimation of the Bucs would have been boring to watch.
But this victory was anything but boring. It was non-stop fun for those inside the Georgia Dome and for Falcons fans everywhere.
"I thought they were going to score 80 points," recalled Falcons play-by-play announcer Wes Durham.
Matt Ryan and Devin Hester both had record-setting performances as the Falcons cruised to their second-largest margin of victory in franchise history. Ryan set the franchise record for completion percentage and quarterback rating with a near-flawless performance in which he completed 21 of his 24 pass attempts for 286 yards and three touchdowns.
That's right, he had as many touchdown passes as incompletions.
There's a special type of irony that accompanied Ryan's ultra-efficient outing against the Bucs. During the pre-game player introductions, Ryan was hit in the eye by part of the pyrotechnics as he ran out of the tunnel.
"I was running out of the tunnel and something shot out and hit my eye, and I was like, 'Oh, s**t, this isn't good,'" Ryan said. "But our training staff helped me out, they kind of flushed my eye out. Maybe it was a good distraction, you stop thinking about everything else and just make sure you can open your eye and see."
While Ryan's performance was nothing short of spectacular, the night belonged to Hester, who broke Deion Sanders' NFL record for return touchdowns with a 62-yard punt return for a touchdown in the third quarter. Better yet, Prime Time was in the building to watch Hester perform Sanders' signature high step into the end zone.
"It's tough to break the record of the guy who is my No. 1 mentor," Hester said after the game. "I'm kind of emotional right now."
That wasn't the only record Hester broke that night, however. He became the first player in NFL history to score a touchdown on a punt return, a rushing touchdown, force a fumble and recover a fumble in the same game.
Hester finished the game with two touches on offense for 45 yards and a touchdown to go alongside his record-breaking punt return touchdown. Not a bad night for the future Hall of Famer.
"My memory of that night is Devin Hester," Ryan said. "Obviously huge for him to break the NFL record. Deion Sanders was in the house that night as well to witness it. So it was cool to just be a part of that. He was such a great teammate, such a great guy. I only spent a short amount of time with him, but he was so positive, so talented. We were all so happy for him when that went down."
Oh, and Julio Jones caught nine passes for 161 yards and a pair of touchdowns, including an acrobatic 40-yard touchdown catch that displayed his laser focus when tracking a football.
"His ability to track the ball over his head and basically catch it behind his head where he can't really see it was unbelievable," Ryan said. "There's not many people on the planet that can do that, he's one of the few that can. But that was an awesome catch."
For as good as the offense was during their 488-yard, 56-point explosion, Atlanta's defense was equally impressive.
Tampa Bay did not pick up a first down until its sixth offensive possession with seven minutes remaining in the second quarter. By that time, the Falcons had already built a 35-0 lead.
Atlanta's offense and special teams weren't the only units putting points on the board, either. Safety Kemal Ishmael abruptly ended the Bucs' second drive with a 23-yard pick-six, the first of his career.
"I remember going over it in practice with the old coaching staff," Ishmael said. "It was a formation that they always run this route in. We ran it in practice … They called the perfect coverage, and I just took my shot. He threw the ball; I remember catching it but I really couldn't see it because the glare was in my eyes, so I kind of like double clutched it. But I knew I had it.
"I pretty much knew if I caught the ball, I'm going to the end zone."
Ishmael's interception was one of five turnovers the Falcons forced in that game, and it's likely Atlanta could have added even more points to its total had it not turned the ball over four times as well.
But when the offense did make a mistake, the defense provided no breathing room for the Bucs. The Falcons allowed just 217 yards to the Bucs, 80 of which came on their second-to-last possession when many of the backups were in the game.
"It was just something we were proud of," Ishmael said of the defense's performance. "That was an earned victory, it wasn't given. We really put the time in, like we do every week, but everything came together."
In the NFL, blowouts such as the Falcons' dismantling of the Bucs are without a doubt the exception and not the rule. Particularly in this rivalry, where the difference in total points scored between the Falcons and the Bucs across their 49 meetings is just 25.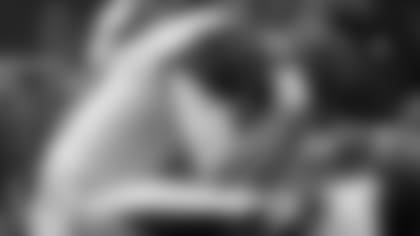 But those monumental beat-downs stick with both teams and both fan bases. As Smith said after the game, those types of losses leave scars that don't go away.
Isn't that what a rivalry is all about anyway, leaving marks of the past on the psyche of a team and a city? In front of a national audience on "Thursday Night Football", the Falcons gave the Bucs a scar they won't ever forget.
"It's Tampa Bay, we play them twice; we owe them," Ishmael said. "We just don't like them. Everybody was just killing them."