ATLANTA – Mercedes-Benz Stadium officials released new information and renderings of The Home Depot Backyard on Tuesday, which showcase the versatility of the 11-acre greenspace as a flex use area for tailgating and parking on game days, as well as an area that will draw a broad range of programming on non-game days.
Completion on The Home Depot Backyard is scheduled for September 2018.  All remaining rubble from the former site of the Georgia Dome has been cleared and the site is currently being prepared for turf installation at the end of June.
Installation of a 35-foot mirrored soccer ball sculpture that will sit on the north plaza overlooking The Home Depot Backyard will begin this week and continue over the coming weeks.
On game days, The Home Depot Backyard is expected to transform into a tailgating location for avid fans to come together and create a fun and exciting experience. Mercedes-Benz Stadium has partnered with the company Tailgate Guys to offer fans access to various gameday packages with amenities such as tents, TV packages, tables, chairs and more.
The packages offer access to bellhop services, an onsite concierge, catering and a boosted tailgating atmosphere before and after the games. Packages can be reserved on a full-season, multi-game and individual game basis while space is available. Fans interested in learning more about The Home Depot Backyard, tailgating package options and how to reserve their spot today can do so here.
"Our fans are always our number one priority and we are constantly looking for ways to enhance the fan experience through new and unique opportunities," says Don Rovak, vice president of sales and service for AMB Sports & Entertainment. "We intend to create a fun, safe and enthusiastic environment in our own space and the partnership with Tailgate Guys allows fans to go as big and as bold as they want and maintain the high quality of service our fans expect and deserve."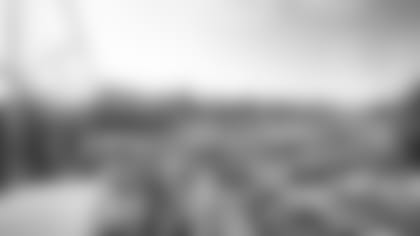 On non-game days, The Home Depot Backyard will offer curated, year-round activations focusing on the community. This fall, focus will be placed on testing a limited number of events within three key pillars: arts and culture, health and wellness and service-oriented activations.
"The Home Depot Backyard will be an asset to the city and its residents creating unique opportunities for locals and visitor alike through access, deliberate programming and permanent areas to play and build a sense of community," Latonda Henderson, director of community activation for Mercedes-Benz Stadium said. "We are so excited to bring this wonderful space to life."
The Home Depot Backyard will feature limited permanent structures allowing the space to be flexible and multipurpose. Amenities will include:
The Home Depot Pavilion: A unique sponsorship activation zone in the southwest corner of the development. This zone will be comprised of a three-pier, dual-level, shaded deck pavilion to both engage the tailgating audience in creative ways on event-day and offer additional amenities like picnic areas for the public on non-game days.
Sports field: A regulation size sports field will be a flexible space that can be used for soccer, flag football and fitness programming.
Biking and walking paths: A half-mile of new walking and biking paths will connect Atlanta's westside neighborhoods with downtown Atlanta.
Playground: A destination playground will support a variety of ages, abilities and interests.
Public restrooms: Permanent restrooms will be accessible to guests during hours of operation.
Pedestrian bridge and ADA accessible ramp: Bridges and ramps will be conveniently located and will provide multiple entry points and access for guests of all abilities to participate.