Brooks Reed certainly has the long, flowing blond hair similar to the hammer-wielding fictional superhero most often seen in comic books.
But the name fits for more reasons than looks alone.
"He's a man of few words, but he packs … he packs a punch," Falcons defensive coordinator Marquand Manuel said while explaining why the nickname fits for Reed.
When it comes to Reed's playing style and how he handles himself off the field, it's definitely a case of more walk than talk.
"A lot of people misunderstand him because he doesn't talk," Manuel said. "He has a motor that talks about everything that we do – and we talk about effort and energy. From the standpoint of him bringing everything and sacrificing everything every day, his effort is what separates him apart from everyone."
And those traits are ones that Falcons coach Dan Quinn covets.
On the eve of training camp, Quinn listed two areas where the Falcons must improve in 2018: Turnover ratio and consistency.
The latter, Quinn explained, isn't so easy to measure and it's certainly not something that's done overnight.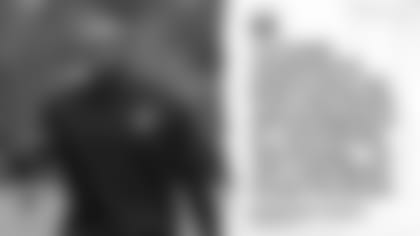 "That's the hard part about consistency," Quinn said. "It's a sexy word to talk about, but it takes a while to prove that, 'Hey, this guy is doing it day after day after day.'"
When you think of Falcons players who produce week in and week out, names like Matt Ryan, Julio Jones or Deion Jones probably come to mind for most casual fans. And rightfully so – they're great players who, in turn, have garnered lots of attention because of their production and accolades.
But you'd better include Reed's name on that list, too.
"Game after game, he's shown he is rock-solid consistent," Quinn said. "Not only a role on defense but on special teams as well. He's a real important part of what we do, and it's men like him that add to the team the toughness, the resiliency. And we've got a number of them just like him."
There's the spotlight and then there's Reed
Reed doesn't have the gaudy stats; he tallied 39 tackles, four sacks, six quarterback hits and six tackles for loss last year. Nor is he an in-your-face trash talker with elaborate or choreographed sack dances.
When players are posting workout videos on Twitter, Facebook and Instagram during the offseason, don't expect to see any on Reed's newsfeed or timelines, either.
In that sense, it's easy to understand why some fans and the media in general might overlook Reed and what he brings to the defense.
Reed doesn't spend a lot of time under the spotlight because, well, he avoids it.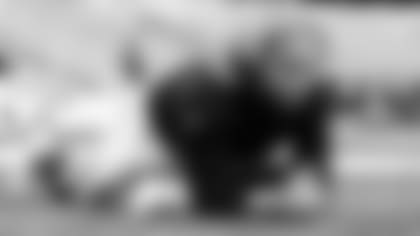 "I've never been like a guy who embraces the media and stuff like that," said Reed. "I've never really loved it. Even as a kid in high school I'd get off the field and didn't want to do interviews. I never liked being in the spotlight."
Before signing a five-year deal worth a reported $22 million with the Falcons in 2015, Reed was a second-round pick (42nd overall) of the Houston Texans in the 2011 NFL Draft. He grew up in Tucson, Arizona, played at Sabino High School before going on to play at the University of Arizona. He was a first team All-Pac-10 selection for the Wildcats in 2010.
"It's kind of always who I've been, more on the quiet side," Reed said. "I'm more of a lead-by-example type. I try to be humble about where I am. I know the type of team that DQ wants and I try to really embrace that. And just go out there and embrace my role on this team."
From quiet guy in 'the dungeon' to Thor
Reed says that when he meets people that don't know he's an NFL player, they sometimes find it hard to believe that he's a defensive end for the Falcons.
"When they get to know me a little bit and then they find out that I play D-line, they're like, 'What? You're too nice. You're not mean enough!" said Reed as he chuckled. "I'm a pretty even-keeled guy off the field."
Reed then explained the process he puts himself through every offseason. The 6-foot-3, 254-pound defensive lineman said there is no proverbial switch to flip. It's not that easy.
"It takes practice, really, in putting yourself in tough conditions and training your mind and your body," Reed said. "Once you learn how to do it once, you keep doing it every year. You know how your body is supposed to feel when the season comes."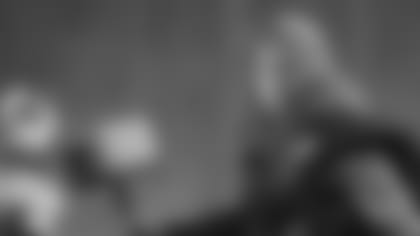 And then there's that massive chip on his shoulder he carries with him.
"I don't really care about putting it out there – what I do, how I train, how hard I train," Reed said. "I put myself into the basement – the dungeon – and just put work in and sweat. And that's kind of what helps me carry myself and my mentality through the season with a chip on my shoulder."
Reaching 'that place' and preparing for battle
Reed said that while it takes him a long time to warm up, he's developed a routine that works for him on gamedays. Part of it includes stretching alone with the headphones blaring music.
When asked about his song list, Reed said it was "a wide array of stuff" that includes heavy metal, rap and even classical music. The mixture of songs usually amps him up pretty good, but it's nothing that gets him "too wild."
"That pregame is to get your mind ready and mentally prepare for a battle," Reed said. "There is a place that you really have to take your mindset to in order to get that competitive level on Sundays.
"There's a lot of people who can't get to that place."
While Manuel and some of his teammates refer to Reed as Thor, Quinn prefers to call him one of his "dogs" on gamedays and during practice. And that's a high compliment coming from the Falcons head coach.
"He one-hundred percent is," Quinn said of the dog moniker. "His attitude on gameday; he goes down full-speed to cover a kick and he's ready to go rush on third down. Those moments, he has 'the look' especially not just on gameday but especially then."
That "look" was on full display in last year's season-opening win over the Bears in Chicago. On fourth-and-goal on the 6-yard line with less than eight seconds left in the game, Reed clinched a 23-17 win for the Falcons when he came in hot from the left side and sacked Bears quarterback Mike Glennon for an 8-yard loss.
"Sacks come and go and they come in bunches, especially the walk-off sack," Reed said. "I try not to let that stuff get to my head. As soon as you think you're on top of everything, you get humbled. That's what I learned early on in my career."
Reed: We all want to win a Super Bowl
Reed said that he's trying to be a better leader for the Falcons' defensive line, especially with the younger players because he said it will pay dividends down the road.
"We all want to win a Super Bowl," he said. "We want to be the best defense. We have really high goals as a defense – we understand it's going to take a lot of work, dedication and sacrifice.
"It's always easier to say and set goals, but they mean nothing unless you put the work in."