Fans of the Atlanta Falcons won't have to look far for ways to be close to their favorite team in 2019.
Now more than ever, the organization is invested in making it easy for every member of the community to feel like a part of the team, no matter where you live in the city.
The energy and atmosphere of Mercedes-Benz Stadium can now be felt inside local neighborhoods on game days, as the Falcons have select bar partners focused on making every NFL Sunday a memorable experience.
Each week, one of six partnering bars will host a Falcons watch party, allowing fans from every corner of the city to gather together and support the team. The 2019 bars participating in the program are The Corner Pub, The Beverly, Buffalo Wild Wings, Grind House, Pour Taproom and Pin & Proper. Fans will be able to sync the bar schedule to their calendars so they will never be out of the loop come game day.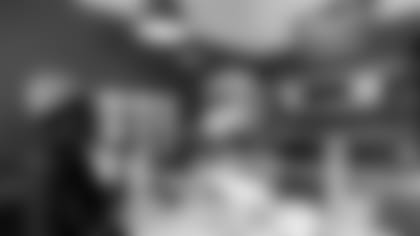 In addition to bringing a stadium-like atmosphere out in the community, the Falcons will also have the Bird Gang – an enthusiastic street team focused on creating unforgettable experiences – at various festivals and events such as Taste of Atlanta each weekend throughout the season. The Bird Gang will often be accompanied by Falcons cheerleaders and Freddie the Falcons, himself, at these events and the street team will host The Bird Walk heading into the stadium before each home game.
Of course, the party doesn't just start on Sundays. Falcons Friday is back and bigger than ever. Each Friday throughout the season the team is encouraging every fan to show off their Falcons pride on social media with the hashtag "Falcons Friday."
The Falcons are also bringing their Friday Night Lights experience to five local high schools throughout the season. Partnering with Metro-Atlanta high schools, the Falcons will send a team legend to speak with the home team after their Thursday practice, and on game day Falcons cheerleaders and Freddie the Falcon will be in attendance. The game will also feature giveaways at the gate and 92.9 The Game will broadcast the game on their radio station.
The Falcons Friday action will also reach our younger fans. The Falcons Friday School Program will reach more than 300,000 students in partnership with local elementary schools throughout the season. Every week, Freddie Falcon will make an appearance at a local school to engage and interact with the students as they get fired up to watch their Falcons on Sunday.
The Falcons have big goals for the 2019 season, both on and off the field. The fans are one of the most important things driving this team to success, so wherever fans are proudly repping the Red and Black, the Falcons will be right there with them.