FLOWERY BRANCH, Ga. -- Lauren and Emily Gibbons walked into the dining room at the Atlanta Falcons training facility for an event that has unfortunately become commonplace in their lives.
The Tragedy Assistance Program for Survivors, or TAPS as it is colloquially referred, provides support for the families of armed service members who have lost their lives. In Lauren and Emily's case, TAPS has been a part of their lives since their father, Thomas, was killed in a Black Hawk helicopter crash on Jan. 30, 2003, in Afghanistan.
Lauren was 3 years old when her father died; Emily, only 9 weeks old.
"One thing that definitely sucks is having to learn who he was from other people and not being able to understand who he definitely was myself and get my own personal intake on him," Lauren said. "That's one thing that was definitely hard. Learning all of these different stories about how great he was or what he did from other people, and I was never able to be a true part of that. It sucks being able to know that I was there but not being able to truly remember who he was."
Although Lauren and Emily haven't been to a Falcons-hosted TAPS event before (this is the third year the organization has hosted such an event) they are regulars at the national TAPS seminar in Washington, D.C.
In TAPS, the Gibbons have found a new family, relying on the support of those who intimately know the pain of loss.
"It's definitely a family. Whether it be the mentors or the head figures like Bonnie or someone like that, we keep in touch with our family," Lauren said. "Even when I come to these things and I don't know people, I feel like I do know them."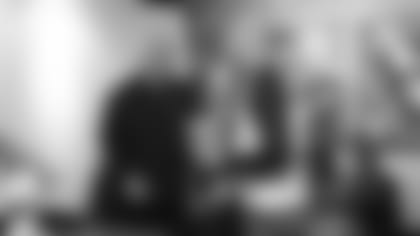 Since Dan Quinn became the Falcons' head coach in 2015, the organization has become heavily involved in supporting military families. TAPS is a program close to Quinn's heart, and he was glad to welcome the families during a dinner to open the four-day weekend with the Falcons.
"There are so many heroes right here in this room right now," Quinn told the families seated before him. "And if you just look around to all the other men and women that are here in this room, each and every one of you choosing each day to have that mindset – being strong, brave for your kids, for your parents, for your sibling, for your fallen loved one and for yourself.
"We circle this weekend because we get to be in your presence. That's a really cool thing for us because we gain perspective, we gain toughness and we gain appreciation for you."
As part of the NFL's Salute to Service initiative, the Falcons hosted 64 TAPS families. They were housed in dorms on the Falcons' campus, attended a walkthrough on Saturday where they got to meet and spend time with a player, and they attended Atlanta's game against the Dallas Cowboys at Mercedes-Benz Stadium on Sunday.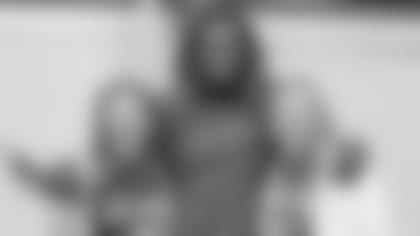 This is just one way the Falcons seek to honor those who dedicate their lives to serving in the military, but it's a reminder that families are impacted by that dedication as well.
Lauren and Emily lost their father, but Bob Boland, who shared a dinner table with them, lost a son.
Zachary Boland went off to basic training in 2015 to fulfill his dream of becoming a Marine. While going through basic training, Zachary came down with pneumonia. Not wishing to be seen as weak, Zachary did not report his illness.
"One night he went to bed, and he died immediately in his bunk," Bob said. "When you send your kid off to basic training, you don't expect to have two Marines come knocking on your door one night."
Seated next to Bob was another of his sons, Nathaniel, who had recently completed basic training for the Marines Corps and is now stationed in Arizona. The meal was the first they'd shared with each other in a while.
For parents coping with the loss of one son in the military, the prospect of having another follow in his exact footsteps was not comforting.
"We had to go through the same thing the following year, when [Nathaniel] decided to join," Bob explained. "His mother was not overly happy, but she supported [him]. We had kind of a strange case of déjà vu, going through the same thing."
There was some good that came from the Boland's loss, however. Shortly after Zachary's death, Bob shared the story with a reporter from the The Washington Post, who wanted to write about the role that failing to report an illness had.
Bob has since become involved with helping other families through the process of sending their children into the military, and he became acquaintances with a man who had a special interest in meeting him. When the moment was right, he had a story to share.
"That guy said he's talking to his son before he signed up for boot camp," Bob recalled. "And he said, 'Hey, if you get sick are you going to tell somebody?' And [his son] said, 'No, I'm not going to tell anybody. I'm just going to muddle through it.'
"Well, his son goes to boot camp and he gets pneumonia, and he got really sick. And he told his dad, 'Dad, I probably would have had the same thing happen, but because you told me about this kid, I finally told the senior drill sergeant that I was sick.' And they immediately put him in the hospital."
There are too many stories off loss and grief among families of military members. Those stories connect people like Lauren and Emily with Bob and Nathaniel.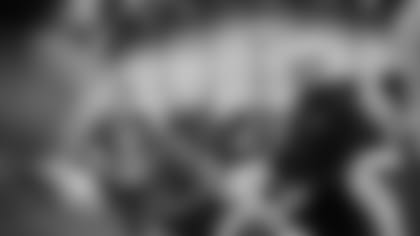 The TAPS program is a lifeline for those with similar stories. It is a community that embraces a family in an incredibly dark time, letting them know that they have several thousand shoulders to lean on. In that community, there is strength. And, as Lauren believes, the community is made of some of the strongest people around.
"It's definitely a feeling that you never want to feel," said Lauren. "But it's a feeling that I think the people who do feel it are the people who deserve to feel it and they're the people who are humble enough and strong enough to feel that feeling. It's a feeling that not many people ever get to know. And so, TAPS, they know that feeling."