ATLANTA -- As I traveled through the West End of Atlanta around 3 a.m. on Saturday night, I, Kobe Scales, found myself reminiscing about the West End of the past. I saw a West End that I have never known, one that for people my age seems like it could be referenced in a historical textbook.
The West End of Atlanta, "Chocolate City" as Ted Cottrell refers to it, was once home to many of the regoin's most prominent Black lawyers, doctors, business men and women, and the first black athletes to ever play for the Atlanta Falcons.
A significant contributor to the success of Black people in the West End was the establishment of The Atlanta University, founded in 1865. Atlanta University became one of the major higher-learning institutions for Black people. What started out as one school, eventually grew into what we know today as the AUC (Atlanta University Center).
By the 1970s, the West End was occupied with a population over 80 percent African American. Many historical landmarks from that time have fallen, such as The Underground Atlanta, which was mentioned frequently throughout our interviews with former Falcons players who represented the franchise in the late 1960s and early 1970s for a story detailing that time in the city and the franchise's history.
Although many landmarks have fallen, few still remain intact. Considering the amount of times that Cottrell mentioned The Busy Bee Cafe -- "I used to eat at the Busy Bee about three times a week," the former Falcons linebacker said. -- I imagined it to be a fan favorite of the time. Oddly enough, The Busy Bee Cafe is still standing strong today as a fan favorite of our time, carrying the culture and tradition of the West End, telling stories and serving the best soul food in town. If you aren't from Atlanta and need what feels like a home cooked meal, visit the Busy Bee Cafe.
While interviewing Rudy Redmond, Lee Calland, and Cottrell, I learned more about the place that I now call home in 3 interviews than I've learned in just as many years living here. After talking to Redmond, Calland and Cottrell, there is a newfound appreciation for the West End of now and what it used to be 40 years ago.
For the Black athletes, life on the field was very different from life off the field. In the earlier years of Black athletes being able to play in the NFL, there were just a few of them. Throughout the interviews SeMaj Musco and I conducted, we learned about a lot of "firsts." We also learned about hardship in the financial and social aspects of the league.
Lee Calland explained that when he first got to the league there may have only been four Black players on each team. To go along with that, Ted Cottrell told the story that every team had to have an even number of black players for travel, and rooming purposes. No Black athlete could room with a white athlete.
Rudy Redmond told his story about moving from the West coast to the East Coast and the cultural shock and differences that came along with that. "It's just that I'm a California kid coming to Georgia. Certain things kind of stood out to me," said Redmond. Rudy also had to work to become a better player, learning that the pro level was much different from any other level.
Through it all, I do not believe that any of the players would have chosen a different life path. Professional football was their calling and they answered. Each of them, for different periods of time, went on to do other things in their later years. All of their journeys, however, started with football.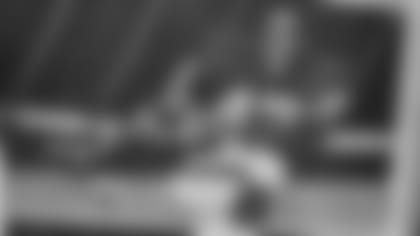 Rudy Redmond: From the West to the South | By SeMaj Musco
The 1969 Falcons defense was headlined by star cornerback Ken Reaves, but rookie cornerback Rudy Redmond held down the other side. In 12 starts as a rookie, Redmond intercepted five passes and recovered two fumbles, a solid showing by any measure. Although a crucial part of the early Falcon's history, Redmond's legacy extends far beyond the football field.
Redmond was born in Spokane, Wash., but moved around frequently as a child due to his father's service in the Air Force. Redmond started a life of activism and advocacy early, becoming an active part of campus while being a star football player at the University of the Pacific.
"I was the president of the Black Student Union and we had a march at the president's office and were demanding Black studies and that kind of thing," Redmond said. "Jim Brown and Kareem Abdul Jabbar were instrumental in my mindset at the time because they were talking the talk that resonated with me."
Redmond brought this mindset with him to the NFL and worked with different organizations to push back against some of the injustices of the times.
"When I was in Detroit, I was President of the NAACP; I was involved in education issues, and I went on to work for the governor of the state of Michigan," Redmond said. "I worked in his transition team, and was appointed to a position in his office at the time."
The Falcons organization also intervened and assisted when necessary. One particular instance remained ingrained in Redmond's mind from his playing days. Redmond was traveling from Atlanta back to California when he was stopped by an officer.
"On the road, there was an accident and a state trooper was directing traffic around the accident and he motioned me," Redmond said. "I thought he said for me to go forward and I did, but apparently, I misunderstood because he jumped in his car and came after me and [once pulled over] he's, 'N* this, n* that', and I'm like, 'what?'".
The incident and subsequent racist tirade from the trooper landed Redmond in jail in Ruston, La. Redmond was traveling with his family, including a baby in the car, on a three-day trip. The family was on their first day out and needed help in order to continue the trek.
"I called the Falcons and they got me out of jail," Redmond said. "It really was an experience for me because of how easily I was put in jail had I not been an Atlanta Falcon, because they hired local attorneys. They did a lot just to get me out of jail. That's the only reason, because they would have thrown the book at me."
While the incident was jarring for Redmond, it helped reinforce the ideals that he had long been living with. Redmond did the work from the ground to try to improve and educate his community. He credits football as a part of being able to do the work he has done.
"There's nothing special about me in the sense of, I'm not learned in having the research at a mind, although I know the research about education," Redmond said. "Just be more active in your community. Football opened so many doors for me. I'm retired now, well traveled, my kids are well educated, have great jobs and all of that is because of the experience I had through football, the good and the bad, and most of it was good."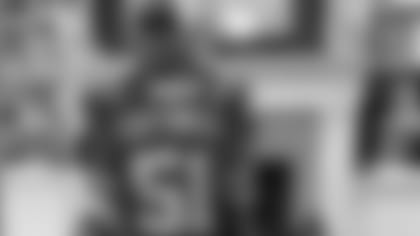 Ted Cottrell: Find Your Calling | By Kobe Scales
Ted Cottrell, a man who has given a life of service to the National Football League, was drafted in 1969 by the Atlanta Falcons out of Delaware Valley University. Cottrell would only play for one season before going on to be a coach.
In his short time spent in Atlanta, Cottrell grew to love the place that he calls, "Chocolate City."
"I've told all my friends back up in Chester, Penn., my hometown, come to Atlanta," Cottrell said. "… I showed them around and they would just be amazed by what they saw. How well the Blacks were doing."
Cottrell loved Atlanta so much that after almost 30 years, when his career was over, he and his family moved to Tyrone, Ga., just 20 minutes south of Atlanta.
Cottrell's favorite words may be "fair" and "respect."
When asked what advice he would give to the younger generation, he repeated "respect", saying, "Respect others the way you want to be respected. Respect the game. Respect what you're doing. Respect your people. Respect your neighbors. Respect your parents. Respect is a big word."
This may be because in what feels like a lifetime of service to the NFL, Cottrell did not receive much fairness or respect. What would be looked at as a great coaching career by some of his peers, Cottrell was often overlooked, likely because of the color of his skin.
After his short stint as a player, Cottrell coached at Rutgers as a defensive line coach and defensive coordinator from 1973-1980. Cottrell then went on to coach in the NFL from 1981-2008.
Often considered an innovator of the 3-4 defense, in 1999 his Buffalo Bills team was the No. 1-ranked defense in the league. In the 2002 season, Cottrell coached the Jets to the playoffs, holding Brett Favre to 17 points in the last game of the season. In the wild card game the next weekend, Cottrell's defense held Peyton Manning to zero points. Cottrell's Jets in those playoffs are the only team to have ever shut out the legendary Manning.
In the 2007-2008 season, Cottrell's Chargers led the NFL in takeaways(48) before Cottrell was fired and would go on to retire for good.
Great coaching and lack of opportunity would eventually lead Cottrell down a road of activism within the league.
Cottrell was an activist for minority hiring, something that often rubs people the wrong way. This is another reason he may not have been treated with fairness. He helped organize what would be known as the Fritz Pollard Alliance, a group of black leaders lobbying for the progression of minority coaches being hired in leadership positions.
When asked about the progress of minority coaches being hired in today's times Cottrell had this to say.
"There's a lot more black players, that has really progressed," he said. "But Black coaches in general, managing people in leadership positions, there's none, none. It's terrible."
When asked about his experience looking for a head coaching job, Cottrell explains that he had a total of eight head coaching job interviews. He only believed that two were legitimate. The rest of the interviews were simply to satisfy the "Rooney Rule".
In interviewing Cottrell, the story to be learned is perseverance. Life may not always go your way, which can be discouraging, but never give up. Cottrell found his calling in coaching and did his best no matter the circumstances. All while standing up for what he believed in, being true to himself and what he knows is right.
Cottrell carried himself with class, never disrespecting himself, others or the game of football, a game which we all love. He's still living his life of service by mentoring young men even after his coaching days are over. He has impacted many lives and will continue to do so.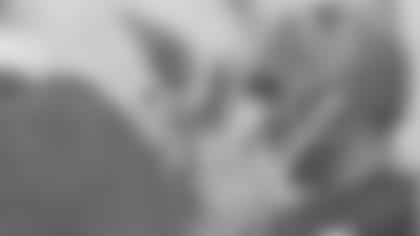 Lee Calland: Knowing your worth | By Kobe Scales & Semaj Musco
In 1963, when Lee Calland entered the NFL, the only positions that Black athletes often played on defense were cornerback and defensive end. The most Black athletes on one team at the time were seven, on the Kansas City Chiefs. And, per Calland's recollection, no rookie had ever started at cornerback in the NFL.
Calland was the first with the Minnesota Vikings.
"But money was something that you didn't talk about," Calland said. "And I talked about it, I asked one of the guys, because I was the first cornerback, first rookie starting cornerback in the NFL, in its history."
Throughout our interview it became apparent very early that, if nothing else, Calland knew his worth. In the many stories that were told about his playing career Calland, would not play for less than he was owed.
This often rubbed many people in the front office of organizations the wrong way, because of his ability to stand up for himself in negotiations. Calland told a story of a contract negotiation with Jim Finks where he told the then Minnesota GM, "I've started for you guys for three years now, played for you three years as a starter now and I said I'm not going to do that."
This was in response to Jim Finks and the Vikings organization giving him the same contract they gave him as a rookie.
Because of this negotiation, Calland was traded to the Falcons, where he once again refused to play for the same money he made as a rookie. With a new contract, Calland went on to play for three years under head coach Norm "Dutch" Van Bronklin, who Calland says, "loved him so much."
Money and self-worth were a recurring theme in the latter years of Calland's career. Calland would eventually end his career in Pittsburgh after playing for the Rooney family. When Calland heard rumblings of the Rooney family possibly selling the team, Calland said, "And I remember telling Dan, Dan Rooney, I said, because we didn't get along at first because of the money thing… I said that the Steelers should always be a Rooney family."
After a long career in professional football, Calland would go on to coach. Calland only wanted to coach at HBCUs. He even coached at Morehouse College as the running backs coach for a short period of time.
Calland believed that helping HBCU students was more impactful than going anywhere else. Turning down a chance to coach at Ohio State University, Calland said, "That's one of the things that I wanted to do when I finished playing football… It was the only avenue that I knew that a Black man could actually make some money and start his life in his career and help his family with."
Calland did exactly what he set out to do, placing 16 HBCU students in the NFL during his coaching career.
"I was very fortunate because I think I got 16, at least 16 kids that actually played pro ball," Calland said.
With a degree in teaching, and a passion for making sure that he was respected and treated worthwhile, it was only right that Calland would spend his days post football coaching young Black men.