Julio Jones is undoubtedly one of the best wide receivers in the NFL. And now, after agreeing to terms on a new contract extension on Saturday with the Atlanta Falcons, he's going to be paid like one.
There's no real way to determine who the very best wide receiver in the league is, although I took a stab at that debate last season, but a strong case could be made that Jones deserves to be recognized as such. So, let's take a look at that argument.
For the purpose of this article, I'm really going to be focused on the past five seasons, which is a big enough sample size to show continuity but also a narrow enough to reflect players who remain relevant. Some of the names at the top of the list shouldn't be a surprise to many NFL fans, and general consensus of the game's best receivers would likely include Antonio Brown, DeAndre Hopkins, Odell Beckham Jr., Mike Evans and Jones.
Here are the stats those five receivers have compiled during the previous five NFL seasons:
Table inside Article

| Player | Games | Targets | Receptions | Yards | Touchdowns | Yards/Game |
| --- | --- | --- | --- | --- | --- | --- |
| Julio Jones | 77 | 813 | 524 | 7,994 | 31 | 103.8 |
| Antonio Brown | 76 | 859 | 576 | 7,646 | 59 | 100.6 |
| DeAndre Hopkins | 79 | 807 | 476 | 6,635 | 45 | 84.0 |
| Mike Evans | 77 | 717 | 395 | 6,103 | 40 | 79.3 |
| Odell Beckham | 59 | 622 | 390 | 5,476 | 44 | 92.8 |
Jones' numbers speak for themselves in this argument. The only knock, and it's the one critics most frequently point to, is his lower touchdowns total. That argument is understandable given the relationship most NFL fans have with fantasy football, but it's one that most who have a deep knowledge of the game will say is overblown.
There are a few primary reasons why Jones has a lower number of touchdowns compared to the other receivers on this list, and the first is that teams simply play him differently. Jones is such a dangerous player that he often warps how defenses line up, and that is only exaggerated inside of the red zone.
The play below shows just how much attention draws from opposing secondaries. On that play Jones lined up on the left side of the formation and ran pretty much straight down the field. Fellow receiver Mohamed Sanu lined up on the right side of the formation and ran an in route just behind Jones.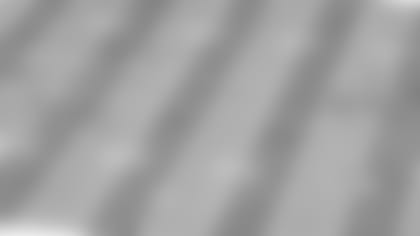 Typically, the player running deep down the field might be able to draw the attention of the safety, but Jones occupies four(!) of the five Tampa Bay defensive backs. This clears the lane for Sanu, who scored a touchdown on the play.
Sanu is also a good example of the other key point against the touchdown total knock against Jones; the Falcons simply have enough other good options to rely on force-feeding the ball to one person. Jones, himself, has said multiple times that he's okay with sacrificing his own numbers for the benefit of the team. So, while defenses are busy keeping eyes on Jones, the Falcons are equipped and willing to take advantage of other favorable matchups.
Jones' other numbers over the last five seasons are unassailable. Among players with at least 300 receptions during the past five years, Jones is third in yards per reception with 15.26. And neither T.Y. Hilton or Evans, the two players higher than him in that category, have more than 400 receptions while Jones has 524 in that time. Simply put, Jones does as much as virtually any receiver in the NFL when he catches a pass.
No other receiver averaged more yards per game since 2014 than Jones' 103.8, and Brown is the only other player to average better than 100 yards per game. Jones' catch rate of 64.5 percent is 29th among all NFL receivers, despite the extra coverage he often receives.
There's also the historical argument to back up Jones' claim at the top of the NFL receiver hierarchy. Eight seasons into his NFL career, Jones has 10,731 receiving yards, which is the most by any receiver in the league's history during the first eight years of a career. He was also the fastest player in NFL history to reach the 9,000- and 10,000-yard milestones.
On top of those career landmarks, Jones has proven capable of taking over a single game like no other receiver before him. Jones has gained 250 or more receiving yards in a game three times during his career; no other receiver in NFL history has ever had more than one 250-plus-yard game.
People often measure the totality of a player's stats to determine the quality of a player's career. But eight years in, Jones has proven himself as one of the very best the NFL has ever seen. And he's not finished yet.
WR Julio Jones and Atlanta Falcons fans are all smiles with the news of his new deal.