Welcome to Straight from the 'Beek! The Falcons are enjoying their fourth Victory Monday of the 2018 season after handling the Redskins on the road Sunday. Next up is the Cleveland Browns, but you've got plenty of questions and comments in the meantime. Just remember that all opinions here are mine unless otherwise noted.
Sloane from Melbourne, Australia
Beek. What a win! Great to see four quarters of football. No matter what sport you watch or which team you support, how could you not well up watching the team celebration for Julio Jones' TD? The man's selflessness and what he means to this team just erupted – and I couldn't be prouder of everyone at the organization. #riseupdownunder
Matt: No question about it, Sloane, it was an awesome reaction and celebration following Julio Jones' 35-yard touchdown reception. As the football world knew heading into the Redskins game, Jones, who finished with seven catches for 121 yards, had yet to score a touchdown through the Falcons' first seven games despite putting up monster numbers. The offense, too, has been extremely efficient since the Week 1 loss in Philadelphia and that's something Jones has noted throughout the season – and his touchdown drought. Regardless, he finally got his and I think the entire offense ran into the end zone to congratulate and celebrate with him. If you missed it, here it is below. Good stuff:
Nicholas from Delhi, CA
BEEK!!! Call me crazy, but today's win was what we needed. Just read your 4-4 article and couldn't agree more. Last year we hit the skid late. This year, early. I also agree that The Brotherhood gets better as the year goes on, as it is showing now. Defense finally did their part. Showing up all four quarters is exactly what the doctor ordered. The next-man-up mentality is strong in Atlanta. Now, eight to go with games against Dallas, Carolina, New Orleans, and Green Bay. I like our chances with the other four, but as always one game at a time. Can our defense keep us in these games, or will it be like our three-game skid and lose it in the end? #RiseUp
Matt: First off, glad you enjoyed my postgame column. The Falcons were sitting in the same exact spot last year after eight games but, boy, what a difference it is this time around. Let's be honest, Nicholas, no one knows for sure how the second half will ultimately shake out. No one knows what'll happen with other teams, injuries, nothing. All the Falcons can do is take it one game at a time and next up is Cleveland, on the road again. In fact, they'll be playing five of their next eight on the road – a tall task indeed. The beautiful thing right now is that the Falcons control their own fate right now – and they'll continue to as long as they keep winning. Everything is on the table, too, and that is all you can ask for at this point. The defense should continue to improve, as long as there are no more setbacks (knock on wood). Deion Jones is expected to return, too, in Week 11 for the Cowboys game in Nov. 18. But all that truly matters right now is beating the Browns in Cleveland.
Travis from Kaiserslautern, Germany
Hey Beek. Great win! Moving forward ... I think the ultimate trap game is next week against Cleveland. Coming off an impressive win and going into another road game against a team that is in transition (new coach, new off coordinator, rookie QB, etc.). I keep thinking about those two losses last year against the Buffalo Bills and Miami Dolphins. What do you think?
Matt: Great to hear from you, Travis! Here's my three cents: With everything that this team has gone through and had to overcome just to reach .500, I really don't think they'll be taking anything for granted – or overlooking an opponent, for that matter. The Falcons have countered that three-game skid with a three-game winning streak and are well aware of what the Saints and Panthers are doing in the NFC South. I think this team will be zeroed in on the Browns and knows how many close games Cleveland has been in this season. The Browns have lost four straight games and I expect the Falcons to get their best effort.
Ray from Asheville, NC
Beek, that was a great win against the Redskins! It was great to see the Falcons keep the metal to the pedal and finish off the Redskins with a convincing win! The defense is looking so much better and "communication" is certainly a key to their success. Dan Quinn is a true innovator and motivator. I wonder if he will continue to have his team arrive early to the visiting team's city like they did in D.C.? I'm so proud of how the team has "no quit" and continues to improve its ways in every facet of the game. Look out dog pound, here we come! Ray
Matt: Hey, Ray. Yes, it was easily the Falcons' best performance of the 2018 season – and it could not have come at a better time, in my opinion. Metal to the pedal, pedal to the metal … whatever works! Haha. The Falcons change up their travel schedules and sometimes do arrive in visiting cities an extra day early (distance and weather also plays a role, too). You're right about the defense, too. They were put in an awful tight spot with all of the early season injuries but have continued to fight through it. That early slate of games against the Eagles, Panthers, Saints, Bengals and Steelers was a factor, too. Can the Falcons become road warriors and stay in contention? We're about to find out. But at least we're talking about it and things are looking up. That's a good place to be.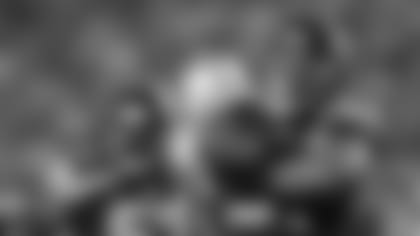 Cailin from Atlanta, GA
I think We need to get Bruce Irvin because Vic Beasley did not look good against the Redskins. Dan Quinn and Bruce Irvin would be on the same page about getting to the quarterback if he were to sign him. What do you think?
Matt: In case you missed it, the Raiders continued to clean house and are expected to release defensive end Bruce Irvin. Reports first surfaced about it over the weekend. Irvin, who is 31, had one year remaining on a four-year deal signed in 2016, but Oakland owes him nothing after this season. Irvin had just three sacks, a forced fumble and four QB hits this season. Where will he end up when (or if) he clears waivers? Good question, but some think he may end up in New England or possibly even in Atlanta. Don't forget, Irvin was Seattle's first-round pick – 15th overall out of West Virginia – in the 2012 NFL Draft and he played under Dan Quinn, who was the Seahawks defensive coordinator. Quinn always says he's looking for players who can rush the quarterback and I understand why a lot of people would connect that dot. Stay tuned on that front.