ATLANTA -- Jasper Jewell started telling a Richie Grant story, one even the Falcons safety hadn't heard. He remembered meeting the Atlanta Public Schools athletic director earlier this year through a mutual friend while training at Walden Athletic Complex, but he had no idea what happened next.
He found out Tuesday evening at the annual Rookie Club Dinner, an event where the Falcons newest players discover how to use their platform to impact the community. Jewell was among the evening's final speakers, describing how much it means to Atlanta student athletes when the Falcons come around.
He had an anecdote ready to prove that point. He talked about his encounter with Grant, which went so well he told his student athletes about it later in the summer. He didn't expect much of a reaction from the kids, considering the second-round NFL draft pick wasn't a local product and hadn't yet played an NFL down. He was wrong. The kids went crazy over the fact Grant had trained at their facility, Jewell told those on hand at Mercedes-Benz Stadium's AMB Lounge, and knew a ton about the safety's college career.
Grant was floored, trying to wrap his head around the fact that, just being down there, working in their neighborhood, made an impact on those kids.
"I didn't expect that at all," Grant said after the event. "It really hits you that you can impact kids, just by being you, by representing that Falcons logo. But they also knew my name and so much about me, which was a reminder of just how many people watch what we do."
It wasn't just a powerful moment. It was an indirect call to action.
"Immediately after I heard him say that I thought, 'I've got to go back to my hometown. I've got to get in front of those kids,'" the Walden Beach, Fla., native said. "I've been low key about how I give back or working with kids but, after hearing that story tonight, maybe it's time to take it to another level."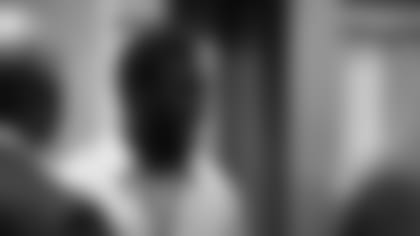 That's exactly what this Rookie Club Dinner is designed to do. It introduces the 2021 NFL Draft class and the undrafted players who made it, even to the practice squad, about the best ways give back and how the Rookie Club conducts charitable events throughout the year.
Owner Arthur Blank discussed how the Falcons can help facilitate a player's charitable interests and the importance of connecting to the Atlanta community.
Current Falcons Mike Davis, Mykal Walker and Foye Oluokun talked about how and why they've become so active with kids, especially, and how they found the right charitable calling. Former players, including Harry Douglas, spoke to rookies about what they did in the community.
Then Jewell and Juliet Veal, family service manager for Children's Healthcare of Atlanta, drove home how much it means to the kids themselves.
"In our urban, inner-city school district, you see a little bit of everything," Jewell said. "You see the haves and the have nots. For the haves, they're excited to meet someone they see on TV. For the have nots, it's truly amazing. Some of those kids don't even have TVs. They don't access to these games. To hear that an individual took the time out of their schedule to meet one of our kids, it's an amazing feeling for those student athletes."
Jewell also recalled attending Davis' football camp at Douglass High School earlier this summer, saying it was a powerful event for everyone involved. Davis, after all, grew up right there on the west side of Atlanta.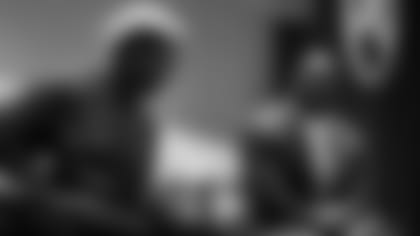 He got out and made it big, but always remembers his roots. That's why he comes back to work with kids from his area, doing so even when playing across the country. Those connections, Davis said, are as meaningful to him as they are to those neighborhood kids.
Davis trailed off as a genuine smile spread across his face, his mind clearly picturing an interaction he was about to describe.
"Man. It's a great feeling," he said. "Anytime you can put a smile on a kid's face, you just know how much of an impact that can have. You never know what that person's going through so, to be out there and able to do that, or just be in their presence, you never know how much that can mean."
It means so much for Davis to do so while representing Atlanta's team. The kids can see him locally and he can be more active in and around Atlanta. The running back loves it here, being connected to his hometown full time. That was clear talking to him Tuesday night. He loves the responsibility of being a voice and a source of positivity for those who look up to him.
"It raises the bar high," Davis said. "It's a freaking great feeling to be home, in front of our fans and the kids. It's so awesome to just see a kid smile. It goes a long way. I just want to show the kids that it's possible to do great things, that I understand what they're going through. I want them to follow their dreams and know that, as long as you continue to work hard and keep your faith, you can achieve them."