Be sure to catch Matt Tabeek, D.J. Shockley and Dave Archer every Monday afternoon on Falcons Audible podcast. Listen and subscribe to it on _iTunes_, _Google Play_ or _watch it here_ on AtlantaFalcons.com.
Welcome to Straight from the 'Beek! The Falcons are preparing for a showdown on the road against the Pittsburgh Steelers – a place they've never won at (the two teams did play to a 34-all tie there once in 2002) – and you've got plenty of questions. Just remember that all opinions here are mine unless otherwise noted.
Brian from Atlanta, GA
I am a little confused about fandom: NFL teams put on unique, remarkable demonstrations of physical virtuosity, intellectual acumen, and unscripted drama. When it comes to the Atlanta Falcons, all four games this year have come down to the absolute last play of the game. (The Bengals game might have been the antepenultimate play, but six seconds here or there does not refute my point.) Depression owing to our civic totemism would make more sense if, I suppose, we were losing games by 40 points and there was no justification or incentive for investing that time and emotion. But these games are thrilling, desperate, passionate affairs. Obviously, the meta-narrative of the Falcons as tragic figures (and perhaps Atlanta teams generally) is compelling and, apparently, addictive. I consider these Sunday afternoons to be somewhat unmerited gifts to fans, highlighting the singular merits of sport. I'm not an apologist for losing; I am an advocate for great, competitive games. We are getting those. I grew up in the '80s. I did not get those kinds of games. The Quinn era has been a great pleasure, and I remain a steadfast supporter of this team. I only wished that tickets were a little less costly.
Matt: Brian, I can't tell you how refreshing it was to read your email this morning. You get it. This league is designed for parity and this team is extremely competitive – the players here fight to the end – and it makes for wildly entertaining football. Now, that said, every team would prefer to win every game – whether it be two touchdowns or two points, because the only stats that matter in the NFL are the ones in the wins and loss column. Some fans get so angry at me when I point out the Falcons were one play away in each of the three games they lost … but it's true. The fans react to losses by calling for people's jobs, including mine! It is an odd thing at times, but if fans weren't emotionally invested in their teams then we wouldn't be having this exchange. If you go back and look at the Falcons' 2017 season, the postseason and the first four games of this season, the amount of games decided by a touchdown or less is remarkable. And the amount of times this team has led into the fourth quarter is even more astounding. If this team can learn to finish off opponents, it could turn into something special. Thanks for writing in, Brian.
Dan from Oxford, AL
Hi Beek. A story for you, if I may. At the Battle of Guadalcanal during World War II, the Marines were outnumbered by the Japanese 10-1 and were in danger of being completely overrun. Gunnery Sergeant John Basilone picked up a .30 caliber machine gun and a lot of ammo and stepped into a breach in the line. He and the other Marines simply refused to quit. They held the line, killing so many of the enemy that the Japanese had to withdraw. John Basilone won a Congressional Medal of Honor that day. The moral of my story? No, football is not life and death. But combat, like life and like sports, has a common denominator. IF you have any courage and intestinal fortitude in you then you simply do not quit. We shall see what this team is made of. We will also see what the coaching staff and also the Falcons "faithful" are made of. As a former Marine and a Vietnam veteran myself, I learned what it meant not to quit. I won't quit on this team now ... Go Falcons!
Matt: Another terrific email with spot-on perspective. I didn't think I'd be sharing this here in SFTB, but here goes it … My biological father, who I met later in life, was a World War II veteran who served in the Pacific. His name was Dwight Penfield (everyone called him Bud) and he shared some amazing stories with me, many about the about the war in the Pacific before he passed away in 2009. You're right, combat and war are very different from civilian life and sports – no question about it. But when things don't go your way, you fight through it – especially when you believe in something. Great message, and thanks for writing in, Dan. And just to follow up, in case you're wondering, I was adopted and my birth name was Matthew Penfield. What would I have named this mailbag, Straight from the 'Field?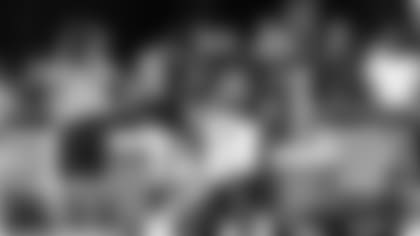 Justin from Flowery Branch, GA
Hey Beek! First time writing in but big reader/supporter of SFTB since the beginning. I love this team so much. I live minutes away from the training facility in Flowery Branch. Anyway, my question for you is, have the Falcons ever started 1-3 and made it to the playoffs? If so, what year? I must admit man, I'm getting nervous. We are such a talented team and I know Dan Quinn says he won't use our injuries as an excuse and it's the next brother up, but so far it feels like we are being walked all over and giving opposing QBs too much time in the pocket/not working well on the defense side of the ball. I would love nothing more than the Falcons to turn this around, rise up and show everyone what I know they can do. Thanks for all that you do and keeping us calm when there's trouble at home. Cheers!
Matt: Thanks for being a loyal reader, Justin. Appreciate you, man. Yes, the Falcons began the 1978 and 2002 seasons with 1-3 records and still made the playoffs. The Falcons also started the 1980, 1991 and 2011 seasons off with 1-2 records and made the playoffs. And if you recall, they started last year 3-1 but followed it with a 1-3 stretch. The good news, if there is any about starting 1-3, is that the Falcons have been competitive in all three of their losses – and had a chance to win them all late. So don't worry, Justin. There's plenty of football left to be played. Don't succumb to all of the Negative Nancys who want to preach gloom and doom, either. This is a good football team.
Jason from Stone Mountain, GA
What's going on, Beek. Longtime fan here writing in again. No question here, just comments really. After the first quarter of the season I can say I'm pretty scared as a fan. After these three major injuries on defense, our defense just is not looking the same. Now I'm not trying to be pessimistic or anything, but I feel like it's just not going to look good for us for the rest of the season, considering the fact that we have one of the harder schedules in the league. But please as a fan can give me some kind of word of encouragement or optimism on how the Falcons can salvage the next half of the season.
Matt: First, stop worrying. The Falcons have had a chance to win every single game they've played this season. They could easily be 4-0. If they were getting blown out every week, I'd have much different words for you. But the reality is that they're 1-3 – and you're concerned. No one likes being 1-3, especially the coaches and players around here. They're determined to start closing out those games and start stringing some wins together. If they can do that, they'll be fine because there are 12 more games to go – three quarters of a season. That's a lot of football, Jason. Also, they'll start getting players back from injury. Takk McKinley returned last week and delivered a three-sack performance. Devonta Freeman is supposed to return this week, along with Derrick Shelby (possibly). The soonest Deion Jones can return is Nov. 18. The offenses is clicking on all cylinders and the defense should only get betters as they make adjustments, learn on the fly and guys start returning. Hope that helps.
Travis stationed in Europe
Hey Beek! It's been some tough weeks and we have some tough Atlanta Falcons fans, just like in Philly and New York. I like it! I could not see the games the last two weeks and it's driving me crazy over here, lol. I like that fact that we are going on the road to play the Pittsburgh Steelers. It seems all the chips are stacked against us and the games on the road have a unique way of bringing teams together. A lot of fans were tough on Steve Sarkisian (including me), so kudos to him and the offensive staff. OK, Marquand Manuel, it's time to show why Dan Quinn hired you as the defensive coordinator! Our next three teams have a combined three wins and then we have a bye week ... so let's see what happens starting Sunday against the Steelers. Question Beek! What is the mood like in the building(s) with the staff and the behind-the-scenes employees when the Falcons are going through a losing stretch such as this? Thanks man.
Matt: Thanks, as always, for writing in, Travis. Always good to hear from you, and thanks for your service. Well, you missed two wildly entertaining nail-biters. Both came down to the final seconds, and both ended in Falcons losses. You're right about the offense – they've been on fire and converting 85 percent of their red-zone opportunities. The injuries have really hurt the defense but having Takk McKinley definitely helped. Also, switching to more man-to-man and less zone helped the unit at times. It'll be interesting to see how they mix things up against the Steelers. The next three teams the Falcons face have four combined wins, by the way. As far as the mood around the building goes, it's upbeat and positive. Most of us understanding that there are 12 games to go and that a lot can happen. Remember, the Falcons also had a 1-3 stretch last season and things worked out just fine. Anything can happen in this league, but the team – and the building – are locked in on the Steelers game. As Dan Quinn said on Monday, "the sky is not falling" around here.
Be sure to catch Matt Tabeek, D.J. Shockley and Dave Archer every Monday afternoon on Falcons Audible podcast. Listen and subscribe to it on _iTunes_, _Google Play_ or _watch it here_ on AtlantaFalcons.com.