Welcome to Straight from the 'Beek! Following a disappointing showing in New Orleans, the Falcons (4-7) now have just five regular-season games remaining and are currently on the outside looking in when it comes to the NFC playoff picture. In short, there's a lot of work to be done and you've got plenty pf questions in the meantime. Just remember that all opinions here are mine unless otherwise noted.
Dwight from Patuxent River, MD
Hey Beek! Hope everyone out there had a wonderful Thanksgiving (minus the post-turkey heartbreak). Your article hit it right on the head. The problems hardly stem from Ryan, Quinn and the coordinators. We are losing the battle in the trenches (both sides), we simply can't tackle, and we are slipping into the same quagmire that plagued us last year ... dropped passes (33-plus last year vs. 11 in 2016) and turnovers. That's not Ryan's fault. He can't secure the football for Ridley (or Jones) after a perfect pass any more than Sarkisian or Quinn can catch it for them. It's about execution. Period. The plays are there. Everyone knows it, even if they don't want to admit it ... We just "dropped the ball" ... a lot. People want a scapegoat, right? So, fire 'em all, right?! Thank God we have an amazing owner who does not see it the same way these angry fans do. His postgame statement was also spot-on and my money's on Mr. Blank's assessment of the real issues as he's more genuinely invested than any of us. But there is a real problem. Individual execution. Beek, my question, this problem with tackling and blocking and securing the ball and, and, and ... is this a coaching issue at the individual position(s) level? Is it a player issue? I believe in our players ... I know Blank, Quinn and Dimitroff do as well. I realize that the players they are competing against are NFL players, too, but we watched Saints defenders TACKLE ... consistently. We've seen it all year ... on the other side of the ball. We don't yet I know we can. How do these individual problems get fixed? If they don't, we'll surely see a change at a level that I don't think is the problem. We have a great deal still left to play for. Rise Up!
Matt: Hey, Dwight. Sometimes a player just makes an outstanding play – like Marcus Williams did (see below), lunging through the line to swat the ball out of Matt Ryan's hands while dropping back.
But protecting the ball is something that is preached and coached around here by this coaching staff day in and day out. Dan Quinn's mantra is "ball, brotherhood and battle." But in the end, it comes down to the player – his technique, practice habits and a mentality. Turnovers are game-changers, momentum-shifters – especially when they happen in the red zone, which happened three times against the Saints. That's tough to recover from. Compounding things in that game was the Falcons' inability to get the run game going. As I noted in my postgame column, it was especially evident in short-yardage situations. Twelve different times the Falcons needed just 1 or 2 yards for a first down and they converted only three, gaining a total of 9 yards. Three of those 12 plays were runs that gained 3 yards – two were stopped for no gain, the other was a 3-yard run by Mohamed Sanu. Things just snowballed from there. The Saints pinned their ears back and came after Ryan, sacking him six times. The Falcons must shore up the offensive line, which (keep in mind) has been affected by injuries – they've lost Andy Levitre and Brandon Fusco with season-ending injuries. As far as the turnovers and guys missing tackles, well, that's just bad technique and poor execution. I know those things don't sit well with the coaching staff, either. Thanks for writing in, Dwight. Hope you had a great holiday weekend, too.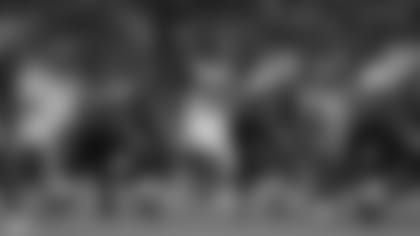 Paini from Sacramento, CA
Hey Beek! First-time writer and long-time reader. This column is everything us fans need to answer all the questions the common mind would have. Every time I've wondered what is going on you've been great at addressing it before I could write. So, thanks for SFTB and I hope you keep it going! Postseason appearance or not, I feel we truly have a great team! Our offense, personnel-wise, is rivaled only by some seeming Super Bowl contenders, in my opinion. I can't believe the amount of fans calling for players the likes of Matt Ryan, Julio Jones, or Devonta Freeman to be outed! Stay strong, true fans, and let the struggle weed out the fake ones! My one question is this: What do you think of bringing Ricardo Allen back down to corner and running Damontae Kazee and Keanu Neal at the safeties? Kazee has proven to be a starter and I feel the weakest link in our defense right now is Brian Poole. Do you think we could benefit from Ricardo Allen playing corner again? And if so, what would the likelihood be? Because my faith in Brian Poole and Isaiah Oliver goes as far as coming into the game with certain packages only.
Matt: Glad to finally have you here, Paini. First and foremost, let's hope that Ricardo Allen (pictured above) and Keanu Neal are healing well and come back 100 percent. Assuming there are no setbacks (knock on wood) with those two, I would think they'll assume their starting positions when they return. But, like I've said since the preseason, Damontae Kazee is a playmaker, ballhawk and a difference-maker when he's on the field. It's going to be up to the Falcons to find more ways to get him on the field and it's going to be very interesting to see how they approach that once spring rolls around. It'll also be interesting to see what happens in free agency and the draft, too, and I think that will definitely have an impact on what the back end of the defense looks like heading into the 2019 training camp. I think Isaiah Oliver was thrown into the fire this season and learned a ton on the fly – and I expect he'll be a different (and much improved) player because of it come spring and summer. It's just my opinion, but I think there's a good chance that secondary will look differently, but not the changes you're proposing (moving Allen), Paini.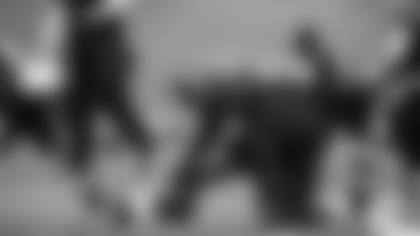 Bryan from Kennesaw, GA
Hey, Beek, I have two questions. First, in a game that the Falcons needed to win, why was Deion Jones inactive, when we need consistent play from our linebackers. And second question, why was Deadrin Senat inactive against a Saints team that is known to run the ball. We needed as much help inside as possible. I'm beginning to question some of these coaching decisions and play calling. Just a pissed off die-hard Falcons fan.
Matt: Hey, Bryan. Regarding Deion Jones (pictured above), the Falcons aren't going to jeopardize his health in any way as he continues to come back from his foot surgery. According to Dan Quinn, Jones has looked good and continues to come along in practice but apparently he isn't game-ready quite yet. If Jones was ready to go, the Falcons would play him. It's as simple as that. As far as the decision to not play Deadrin Senat (pictured at the top of the page) goes, this is what Quinn said following the Saints game: "He actually played a little bit better against Dallas, but it was more of a factor of how many pass rushers we could get up and get going. He's been up for about 15, 16 snaps and we wanted to add the fullback back into it. It was just a coaching decision on what we thought would be the best to win the game. It was no stretch on him. I told him that, too, from a performance side of things."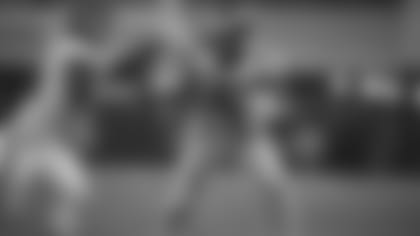 Steven from Savannah, GA
Why won't the Falcons ever draft a big, fast, punishing running back with their first pick in the draft? We could have drafted Todd Gurley a few years ago and look what he has turned out to be.
Matt: Hey, Steven. Let's revisit the 2015 draft for a moment. The Falcons already had Devonta Freeman on the roster and ended up drafting (in order) Vic Beasley, Jalen Collins, Tevin Coleman, Justin Hardy, Grady Jarrett, Jake Rodgers and Akeem King. I'd say they more than solidified the running back position at the time with Freeman and Coleman – plus they wanted a pass-rusher, and got one in Beasley (who went on to lead the league in sacks the season after his rookie year. They also advanced to the Super Bowl that same year and no one was complaining about the running backs that season as Freeman went on to rush for 1,079 yards and score 11 touchdowns. He also caught 54 passes for 462 yards and scored two more times. Anyone can play Monday morning quarterback and second-guess those picks the minute a player gets injured and misses substantial time. And for what it's worth, that same season I was referencing – 2016 – Todd Gurley rushed for only 885 yards and scored six times on the ground. Don't get me wrong, I love the kid and think he's a tremendous back, but let's not overlook the facts and keep things in perspective. Thanks for writing in.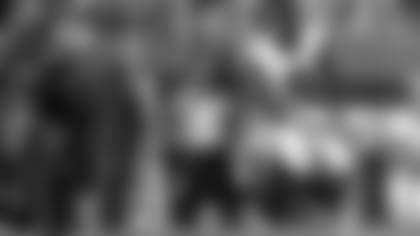 Johnny from Johns Creek, GA
Hello, Beek. I want to know if there is hope in the Atlanta Falcons' future? I really love to support them but the way they are playing I find harder and harder to support. Coworkers are laughing at me every time they lost. Also, why don't the Falcons organization do like other winning organizations find players that can help them win the game. Thank you for your time.
Matt: Hey, Johnny. You should support the Falcons if that's your team, man. Laugh back at them and remember, it's just a game. The Falcons are a winning organization, too. They were the only team in the NFC to return to the playoffs last season, Johnny. It's not an easy thing to do, especially in the salary cap era. But the Falcons have remained competitive despite their success – and that's because they've drafted well, kept their core players intact and haven't overspent in free agency. There's a small margin for error every single weekend in the NFL – just look at the scores. And, as far as players go, there aren't many players better at their respective positions than Matt Ryan, Alex Mack, Keanu Neal, Deion Jones, Julio Jones and Grady Jarrett. And that's not enough, look at who they have drafted in recent years ... Calvin Ridley is looking pretty good, wouldn't you say? I could go on, but I think you get the idea. I'm not sure who your coworkers are rooting for, but you need to have your facts ready the next time they try to bust your chops! If you need any more, just let me know.
George from Duluth, GA
Be honest, is the Falcons' season over?
Matt: I'm always honest, George, and the season is not over! Right now with five games to go, the Falcons are on the outside looking in. They are currently projected to be the No. 11 seed in the NFC. The best they could finish is obviously with a 9-7 record and there are a number of scenarios where they could still get into the postseason. And all you need to do is get into the dance, George. Would you like to be a higher seed? Sure. Would you prefer to play a home game? Sure. But all that matters is getting in, and style points do not matter. And as long as there is a chance, the coaches and players will not throw in the towel.