Welcome to Straight from the 'Beek! The Falcons have a bye week and return to action on Nov. 4 when they travel to Landover, Md., to take on the Redskins. In the meantime, you've got plenty of questions. Just remember that all opinions here are mine unless otherwise noted.
Let's see what you've got today.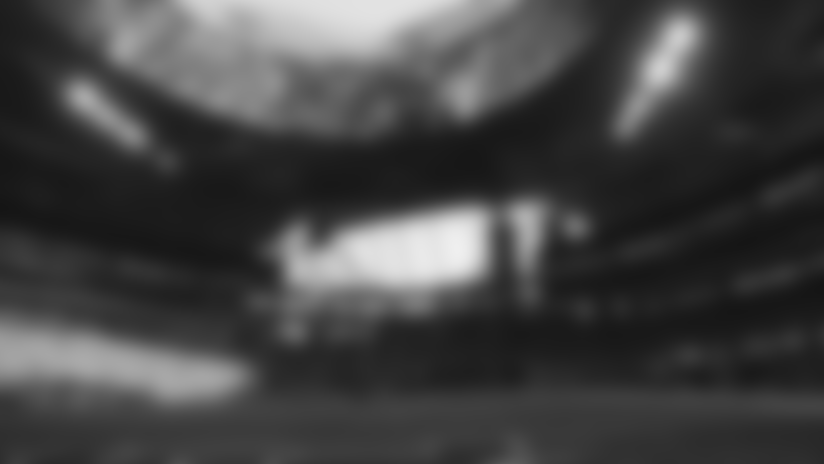 Kenneth from Houston, TX
Do you think the Falcons will turn their season around after the bye week and make the playoffs or win the division? Would be nice to be the first team in the Super Bowl playing in their own home stadium.
Matt: Kenneth, I think the Falcons are in the midst of turning their season around right now. They've won two straight and head into the bye week with some much-needed time to heal and get set for the second-half push. Now, the second half of the season won't be easy with six of their final nine games on the road. So, if they're going to return to the postseason for a third straight year, they'll have to be road warriors. At 3-4, they have a lot of work to do, but it can be done. If they can head into New Orleans on Thanksgiving Day with a 6-4 record, they'll at least give themselves a fighting chance. A win there would not only mean improving to 7-4, but they'd also be 3-1 in the NFC South and 5-2 against NFC opponents. That's a pretty good place to be, in my opinion. But none of it happens without first taking care of business on the road against a tough Redskins team that currently 4-2 overall and 3-1 at home.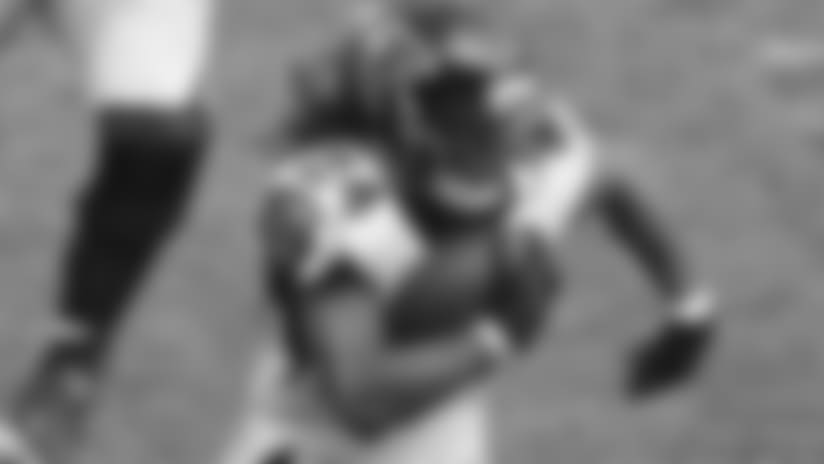 Rob from Canton GA
What's happening, Beek. I got one big question to ask you and also the front office of the Falcons. What are we going to do about Devonta Freeman? When he is healthy, he is a good running back. The problem he is never healthy. Dan Quinn even held him out of preseason and how did that go? I know we are stuck with him with his contract but if we lose Tevin Coleman because we can't afford to keep him then you can kiss our running attack goodbye. I know it is a crapshoot every time you sign a player to a big contract and keep your fingers crossed. With Freeman's injuries in the past I think we went the wrong way of signing such a big contract. Just my opinion. Now, what is your opinion on this matter and do you see daylight at the end? Thanks.
Matt: I totally get your frustration but I also think you're looking too far down the road, Rob. The Falcons still have a little more than half a regular season to go and it's all hands on deck – including the running backs. If there's one thing that we've learned so far it's that they've needed all three running backs the last two seasons because those guys take a pounding. It's the nature of the position, to be honest. There's a reason, too, why guys like Emmitt Smith and Adrian Peterson – backs who dominate for more than a decade – don't come around very often. That said, there's still a chance that Devonta Freeman (pictured above) could still return this season and if the Falcons are in a position to make a playoff push when it's all said and done, they're going to need him. I think it'll be interesting to see how the rest of the season plays out and what the Falcons decide to do with Tevin Coleman, too. It wouldn't surprise me at all if they draft another running back in April. Freeman has definitely had some bad luck with a string on injuries, no doubt about it. Hopefully he can healthy soon and return to being one of the premiere running backs in the league.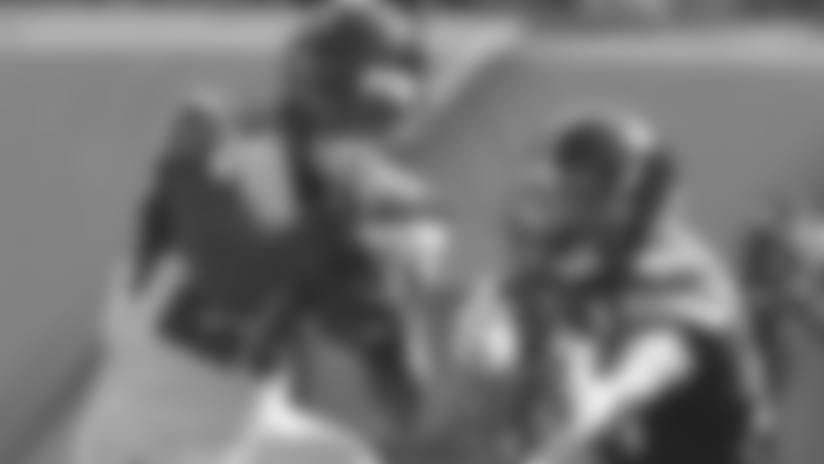 Greg from Asheville, NC
Hey Beek! So with Devonta Freeman basically out for the season, what about Brian Hill being slowly transitioned into a power running role? The Falcons obviously see something in him as they've put him on the practice squad, twice. We seem to have finesse and speed with Tevin Coleman and Ito Smith. It would be nice to have a short yardage guy available when needed. I do understand we'd lose a player putting him on the active roster, but it seems to be a dire need at the moment.
Matt: I don't know if you guys remember the early days of SFTB but I was actually pretty high on Brian Hill (pictured above) at one time – especially when he was playing college ball at Wyoming. Hill was a fifth-round pick of the Falcons in the 2017 NFL Draft. At Wyoming, Hill ran for 4,287 yards and 35 touchdowns on 775 carries, including a combined 3,491 yards and 28 touchdowns in his final two seasons. That's some serious production. For whatever reason, though, it hasn't translated to this level yet. Like you noted, Greg, the Falcons obviously see something in him. If there was ever a time for the light to go on for Hill it would be now. With Freeman out, the Falcons are one injury away from needing another back to step in. If he gets the call, can he step up? That's the question – and let's hope he can if called upon.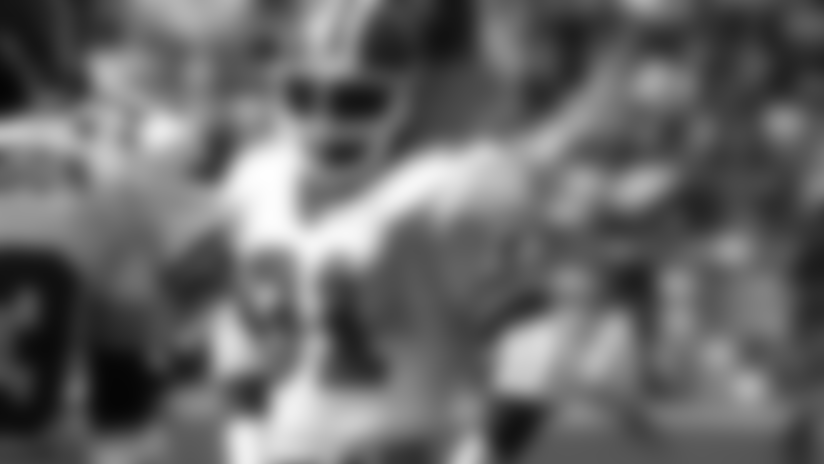 Todd from Scottsdale, AZ
Howdy, Beek. Big fan of your column and I try to read it every day. Appreciate the work and honesty you put into it from a Falcons fan for over 40 years who grew up wearing Steve Bartkowski, William Andrews, and Jessie Tuggle jerseys! I keep reading how you think that the Falcons will not make any major trade moves since "they like their core group of players." I agree with this assessment in regard to all of our units except the O-line. Alex Mack and Jake Matthews are our only "core" players here in my opinion. Andy Levitre was average and Brandon Fusco graded out as one of the worst guards according to Pro Football Focus. The Raiders are a dumpster fire and have recently stated "everyone is on the block." The Raiders best lineman in my opinion is Kelechi Osemele who is 29 and probably doesn't want to stick around there for a rebuild. He is in the third year of a five-year $58.5 million contract but if you look at our roster/money situation this can be done and he would be an asset for years to come compared to other talked about deals like going after Cardinals CB Patrick Peterson (which probably isn't financially doable). With a bye week coming up wouldn't this be the perfect time to bring a quality guard like Osemele in?
Matt: Thanks, Todd, and glad you're enjoying SFTB. Really appreciate your loyalty, too – that means a lot to me. Anytime a reader gives me a reason to post a picture of William Andrews, one of the best running backs of his time before a devastating knee injury cut his career short, I'm going to jump all over it. So there you go (above). As far as your points regarding the offensive line are concerned, the one area where the Falcons have not excelled is in the run game. They haven't given the Falcons running backs a whole lot to work with – the fact that only one back has eclipsed the 100-yard mark once all season long says it all. And not surprisingly, they won that game. They've got to get better at running the football if they want to make another postseason push and it all starts up front, in my opinion. As far as trading for Kelechi Osemele goes, I'm not so sure that would solve everything, Todd. Yes, he's a solid player and fairly young (29) but he's also missed games this season with an apparent knee injury and, as you noted, he wouldn't come cheap. I think the Falcons will look within and possibly around the league at some practice squads, but I don't see them pulling the trigger on a high-priced offensive lineman midway through the season. That's just my opinion.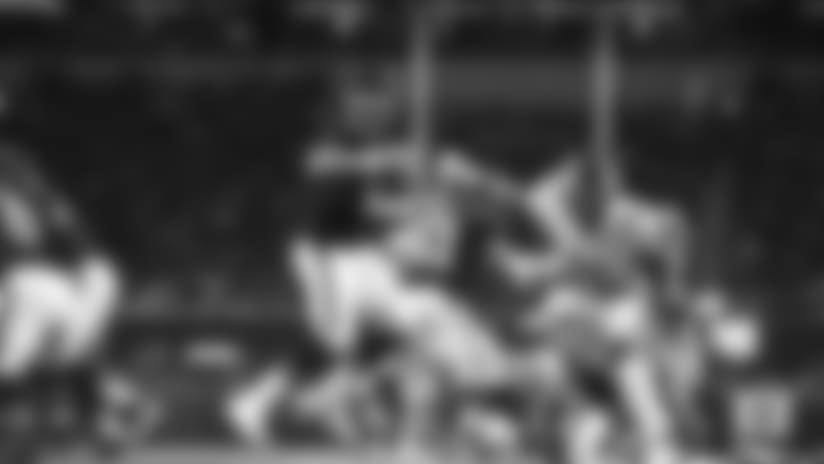 Charlie from Cedar Rapids, IA
Hey, Beek. I've been reading SFTB for a little bit over a year now. I love how you always have an answer to any question us Falcons fans could ask. After going to the Atlanta vs. Cowboys game last season where Adrian Clayborn had an outstanding six sacks in one game, I noticed all of the empty seats around me and throughout the stadium. Even on TV it's pretty noticeable, so what's up with all the empty seats? Thank you for doing what you do, Beek.
Matt: Thanks, Charlie! As you probably know since you were at that game, there's a lot to do and see at Mercedes-Benz Stadium. And I think a lot of fans spent a ton of time walking around the concourse last season when it opened up – there's television monitors all over the place, so when you're grabbing some food or refilling your drinks, you don't have to be in your seats to catch the action. That said, there's still a lot of people walking around during games this season – they're standing at the overlook or one of the restaurants or bars. Do they account for all of the empty seats? Probably not. I know the majority of those seats are sold, but I can't tell you where they are during games. It is noticeable, so you're not wrong there, Charlie.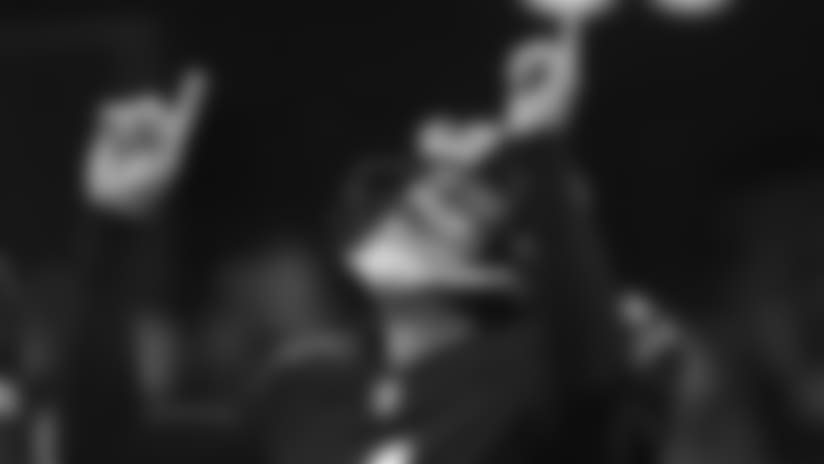 Sherrod from Athens, GA
Beek ... I was wondering if you could weigh in on "Italian ice" and what is next for him.
Matt: What a great story Giorgio Tavecchio is, huh? In his regular-season debut for Atlanta in prime time on national TV, Tavecchio made all three of his field-goal attempts, including a 56-yarder that proved to be the difference in the Falcons' 23-20 win against the New York Giants on "Monday Night Football." It's hard not to root for guys like that. Those kicks Tavecchio made on a big stage with the game on the line will go a long way with the coaching staff and his teammates, too. Losing Matt Bryant was a big blow for this team but having Tavecchio step up like that is key. Kudos to the Falcons for bring him in during the preseason to see what he can do, too. That move obviously paid big dividends on Monday night and the Falcons were lucky he was still available when they signed him after Bryant injured his hamstring against the Buccaneers. No one knows for sure how long Bryant will be out and Atlanta will continue to lean on Tavecchio until he returns.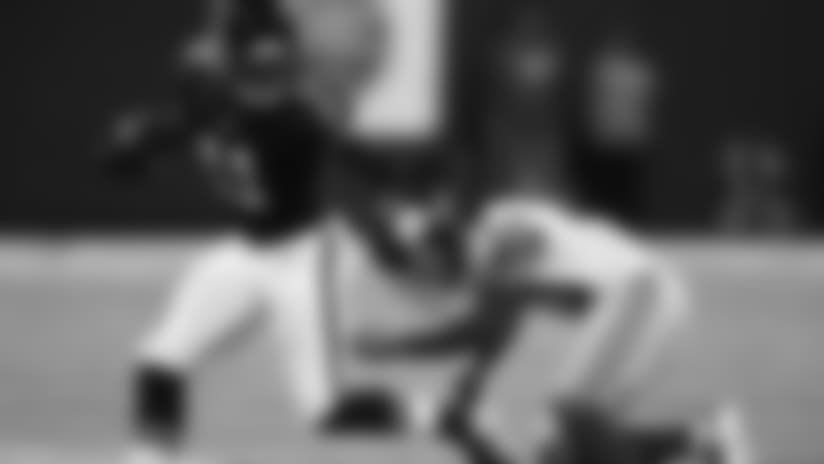 Doug from Kennesaw, GA
There have been several articles commenting on how much time Austin Hooper spent with Matt Ryan during the offseason and how much it helped them. Perhaps Julio Jones could get his season going a few games earlier if he gave that a try also rather than arriving at season start. What say you?
Matt: Yes, much was made about how hard Austin Hooper has worked during the offseason to improve his timing and trust with Matt Ryan – and it's obviously paying off for Hooper and the Falcons now. But how can you argue with the results we've seen so far regarding Julio Jones? Jones is second in the league with 812 receiving yards on 53 catches. Adam Thielen leads the NFL with 822 yards – 10 more yards – but he's done it with 67 receptions. Jones has continued to put up monstrous numbers in 2018 and that's with Calvin Ridley added to the lineup (who is tied for second in the league with six touchdown catches). Jones has yet to taste the end zone, but his teammates are and that's really all that matters. I'm not sure what your beef is here but missing a few series in the preseason hasn't really affected his production, outside of touchdowns. And those will come, I predict.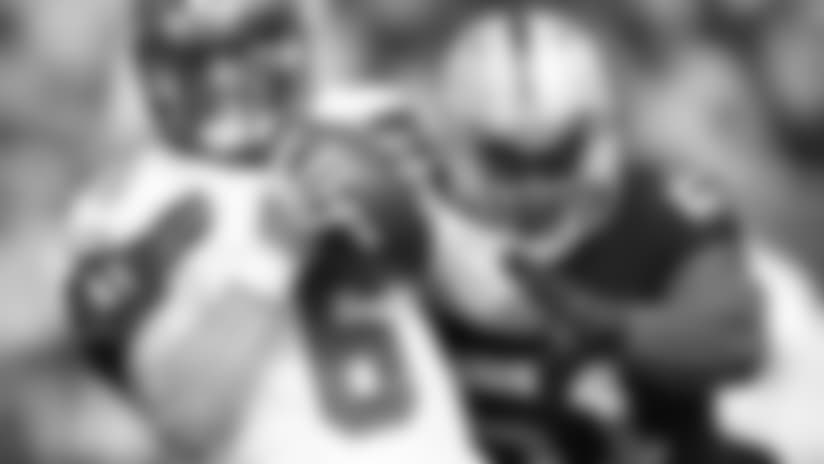 Kevin from Sierra Madre, CA
Hi, Beek. I just saw the podcast you and Dave Archer had and, by the way, Dave was an alright quarterback when he played for the Falcons and probably would have been better had he a stronger offensive line to protect him. My question is, you mentioned the trade deadline and also the Raiders. I would not trade for Karl Joseph as they would probably want a first-round pick, but I would consider Bruce Irvin as Dan Quinn knows him and he would surely want to play for a contender. What is your opinion on Bruce Irvin joining the Falcons if we could get him?
Matt: Hey, Kevin. Thanks for watching Falcons Audible podcast! Appreciate that. Hopefully you've subscribed to it and have also given us a nice five-star rating. I'm also so glad you've brought up Karl Joseph and Bruce Irvin – two outstanding defensive players out of West Virginia University, my alma mater. Am I biased some? Sure, but I think both players are terrific and could help any team, if they were indeed traded. But that's all speculation at this point. Both are former first-round picks and Irvin was selected by the Seahawks and played under Dan Quinn before he took over as head coach of the Falcons. I know rushing and getting to the passer a huge priority for Quinn and his defense, but I just don't know if the Falcons are willing to part with any draft picks and deal with the salary implications a move like that would entail right now, Kevin. Irvin is 30 years old and can still get to the quarterback, there's no doubt it. I'm sure the Falcons are chewing on a lot of different options as they address some of their injury situations – some of the long-term variety. It'll be interesting to see if what they do with the trade deadline approaching (Oct. .30), but I honestly don't see them making any major moves.