Welcome to Straight from the 'Beek! The Falcons are coming off a tough home loss to the Cowboys but have a short week to prepare for the Saints, a team they'll face on Thursday night. In the meantime, you've got plenty of questions and comments – so let's get right to them. Just remember that all opinions here are mine unless otherwise noted.
Gus from Gaithersburg, MD
Beek,
For all the fans that think that you're too optimistic or biased when it comes to your email responses, I have to say, they need to read your articles more often. On Friday, I think you let out your frustration, disappointment and pain in your column about 'Falcons fan missing the key question'. I salute you sir. I read that piece and realized that you, too, hurt as we do, care as much and more and more importantly, are as frustrated as we are.
I personally think we need to take this season for what it is and what it actually has showed all year long. Look, it just wasn't our year, it happens but, I rejoice in the fact that in the offseason, the defense will get healthier, maybe some key pieces will be moved or replaced. On offense, I think Calvin Ridley is a key future piece; again with some movement for the better I can see us making a big statement next year. I love my team and will always support them. I think the potential is there and we will win a Super Bowl and Matt Ryan will be the QB. I don't care what anybody thinks. I read my fellow Beekers' emails, and it's nonsense to think Ryan is the problem, it's a team sport. I also read the emails regarding the uniforms, wtf? Really? Vic Beasley has been dormant for two seasons and your best question is regarding the uniforms? C'mon man!!!
In closing, Russell Wilson said it best at the Georgia Dome post-game conference a few years back when we beat them in the playoffs: "I was sad the way the season ended but then I realized we have great talent and a great staff and I smiled knowing we will get stronger next year." The Seahawks won the Super Bowl the following year. Besides, we always do better when we have no expectations or aren't thought of being worthy, hence 2016 or other years when we followed a stinker year with a great one.
I'm out for this season, Beek. Best of all to you and Happy Holidays.
Matt: Don't leave just yet, Gus! Seriously, thanks for reading – and the kind words, Gus. I appreciate it, man. There's no question that it has been a tough year – the injuries, the close games – all of it has left so many Falcons asking the "what if" questions here. Now, as the season heads into the final stretch, the Falcons find themselves sitting at 4-6 and in an uphill battle for that final wild-card berth. The good news is that it's still there for the taking. And I'm not ready to go into offseason mode just yet, either. I love your positive (and realistic) outlook, Gus, but I think it's too early to start talking about next year, free agency, and the draft. There will be plenty of time to do that. There's a game coming up and it's not just any old game, it's the rival Saints – who are playing as good as any team in the league right now. If the Falcons are going to have any shot of making the playoffs, they'll likely have to run the table – and that's not going to be easy. It starts with the Saints game on Thanksgiving Day.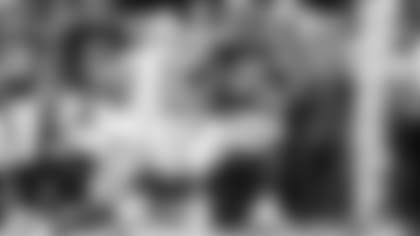 Wesley from Greensboro, NC
OK, Matt. Love your posts.
After the Dallas loss we still "could" go 10-6. However, at this point I would be happy with an 8-8 season. You mentioned in a previous post prior to the Dallas loss that we should wait for the end of December to really assess where this team is going moving forward. Even if we get all of the key players back next year on defense, would you not agree we need a run stuffer and a big name pass rusher via the draft or trade? The offense has had its ups and downs but overall has kept us in games. The defense, even in the Super Bowl year just couldn't stop teams when it mattered the most. So, what is your take now?
Matt: Here's my take, Wesley. You're right, the Falcons can still reach 10-6 if they win out and beat the Saints, Ravens, Packers, Cardinals, Panthers and Buccaneers. That, mind you, doesn't guarantee a playoff berth but it would at least give them a chance. Is it realistic to think they can pull it off? It'll be tough. Looking at that slate, particularly the games in New Orleans and Green Bay, 4-2 record seems likely. Would that cut it the way the NFC is playing out? Who knows, but I doubt it. I'm not ready to go into all-out draft mode, but I still love that time of year – it's like Christmas in the springtime. And it wouldn't bother me at all if the Falcons used their top four picks on defensive and offensive linemen. Games are won and lost by dominating and controlling the trenches. My biggest question mark heading into the 2017 season was offensive line (and the depth) and heading into this season it was the defensive line (and depth). But since you asked, that's where I'd love to see those early picks go.
Ray from Asheville, NC
Beek,
It's another disappointing loss and my heart is heavy for the players, coaches, and fellow fans. I still believe in this team and think we can salvage the season, but we've got to win out! What do you think are the most important keys to a Falcons' win in New Orleans? Can we, and should we, expect Deion Jones to be a difference-maker for our defense? What kind of adjustments do we need to make offensively and defensively? Not throwing in the towel yet.
Matt: There's no question that the last two games have been difficult – and for different reasons. Regardless, the Falcons are sitting at 4-6. To reach 5-6 they'll have to knock off the Saints (9-1), who are arguably the hottest team in the league right now. After they were stunned at home by Ryan Fitzpatrick and the Bucs in their Week 1 opener, they've reeled off nine straight wins. They're scoring a ton of points, too – averaging 37.8 points per game. Regarding Deion Jones, he's apparently getting healthier with each passing week, which is good news. Whether he'll be ready to go against the Saints is still up in the air. As soon as we know, we'll let you know here in AtlantaFalcons.com. The Falcons, as you know, took the Saints into overtime before falling 43-37 in Week 3. I expect it to be another high-scoring game, but I think the Falcons' defense is playing than it was earlier in the season because A) they're getting healthier and B) guys have adjusted, settled into their roles and gotten so much more game experience together. The Falcons will have contain Alvin Kamara (who is equally dangerous as a receiver coming out of the backfield) and Michael Thomas, their best receiver. Not easy assignments. Drew Brees is so good at getting the ball out of his hands quickly, and that's why sound coverage will be crucial. The key will be making Brees blink, hold the ball a little longer, check down – and then try to pressure him or disrupt him back there in the pocket. Again, not easy. But if you can accomplish that in key spots during the game, that's huge.
Ronnie from Atlanta, GA
I see we just lost to Dallas Cowboys that was a very important game. Is there any way possible for us to still get into the playoffs this 2018 season? I am a true fan and I'm praying we still have a shot at going to the playoffs.
Matt: Hi, Ronnie. Yes, it was an important game for the Falcons. Why? Because right now the Falcons are on the outside looking in. Had they won the last two weeks, they'd be sitting at 6-4. With Carolina (6-4) and the Vikings (5-4-1) the projected fifth and sixth seeds right now, Falcons fans can only wonder what might've been had they beaten the Browns and Cowboys. Now, at 4-6, the Falcons sitting behind those two teams, plus the Seahawks (5-5), Cowboys (5-5) and Packers (4-5-1). The good news is that the Falcons will face three of those teams ahead of them in the next seven weeks – the Saints, Packers and Panthers. To be really honest, though, I think Atlanta needs to win out, finish 10-6 and hope they're in the mix when it's all said and done. Hope that helps.