Welcome to Straight from the 'Beek! The Falcons are getting ready for a critical home game against the Buccaneers on Sunday and you've lots of questions in the meantime. So, let's get right to them. Just remember that all opinions here are mine unless otherwise noted.
Reginald from Atlanta, GA
Hi, Beek. I have been a Falcons fan since 1966 and season ticket holder since the 1990's – and for whatever the reason, we just can't seem to get over the hump. We have good teams but never great teams. And it does not look like we are going to get any better. But I will never give on them, and we will "rise up" one day hopefully soon.
Matt: Hey, Reginald. First, let me just say that the Falcons are lucky to have loyal fans like yourself. I love it when longtime fans write me with their stories and early memories of going to Falcons games at the old Fulton County Stadium. Those teams had the best uniforms, for the record. Look, I get where you're coming and totally understand your frustration, Reginald. The Eagles finally got over that hump last season and won their first Super Bowl – and they've been around for 85 years (they were established on July 8, 1933). The Falcons have gotten close – they've reached the Super Bowl twice. Let's hope that third time is coming soon and is indeed the charm. For what it's worth, there are now 12 franchises that have never won a Super Bowl:
Bengals
Bills
Browns
Cardinals
Chargers
Falcons
Jaguars
Lions
Panthers
Texans
Titans
Vikings
The Browns, Jaguars, Lions and Texans have never reached the Super Bowl. Hang in there, Reginald, and thanks for reading Straight from the 'Beek!
Roderick from Lithonia, GA
Hey, Beek. I read a piece from ESPN about a suggested trade between the Falcons and the Raiders. A sixth-round pick in 2019 for safety Karl Joseph. Your thoughts? There was also a suggestion to move one of the running backs to the Eagles for one of their edge rushers. I don't love that move but can you touch on that as well. Thanks, Beek. You're the best!
Matt: Hi, Roderick. I just read the piece and before I comment on the proposed move, I'll say this much about Karl Joseph: he's easily one of the biggest hitters I've ever seen play, especially for his size. Joseph reminds me of Damontae Kazee in some ways but hits harder. I watched him play at West Virginia and there's a reason why he was the 14th overall selection in the 2016 NFL Draft. Now, he's under contract with the Raiders and this is obviously just total speculation by Bill Barnwell ahead of the Oct. 30 trade deadline. I get why he suggested it, but the Falcons have been fairly consistent when it comes to their current roster and sticking with the players they have now. They'd also like to re-sign a number of players moving forward and, so, anyone move that they'd potentially make would have salary cap ramifications and alter any of those current plans. And based on what we've heard, the Falcons really like a number of their core players on the roster – and would like them to remain Falcons. Same goes for the running backs. It'll be interesting to see how that all plays out. But it's clear the Falcons need all three of them right now – Devonta Freeman, Tevin Coleman and Ito Smith. Let's see how the season plays out, Roderick. Stay tuned on both fronts.
Clint from Evans, GA
Hey Beek, did you survive the hurricane? We took a direct hit here in Evans, Ga. Good news the Beek Nation is alive and well. Beek my question is, did Tampa have to leave early and get out of harm's way due do the storms that hit them? Also, how many emails do you average from the Beek Nation on a daily and or weekly basis?
Matt: Glad to hear you're OK, Clint. We're fine here, and thanks for asking. I know several Buccaneers players have made comments publicly about supporting the victims of the storm but have not heard anything about them having to alter their travel plans. That's not something they'd typically share anyway. As far as emails go, it varies. I tend to get more whenever there's big news and following games. I can get anywhere from five to 55 in a day – it just depends.
Rebecca from Woodstock, GA
Hi, Matt. Been reading your column every day and can relate to a lot of the concerns most LOYAL Falcons fans have. I truly believe our Falcons will turn this season around. No one wants to win more than they do and, win or lose, they will always be my team. It sounds like possibly Grady Jarrett may play Sunday against the Bucs. Do you have any insight on whether he will or not? The game that is played on Nov. 4 – I will be in Gulf Shores, Ala. I'm in doubt as to whether I would be able to watch the Falcons play. Would you be able to advise me on whether there is a station that would carry the game? I will be upset if I miss a game. Thanks again for all you do for us FALCON FANS.
Matt: You're quite welcome, Rebecca. As I've said from the very first Straight from the 'Beek mailbag, this space is for you – the fans. Time will tell with these Falcons, but they do have an interesting stretch of games coming up leading into Thanksgiving. Regardless, they must win Sunday against the Bucs. All I know regarding Grady Jarrett is what Falcons coach Dan Quinn told us on Thursday, that he's improving and looks better as the week goes on. Quinn would not rule him out yet, so that's good news for the Falcons. As far as that Redskins game on Nov. 4 goes, be sure to check out AtlantaFalcons.com every single week because we put together a "how to watch" post for every single game where we list the TV networks, radio stations and how you can even catch the game online, Rebecca. This week's is right here.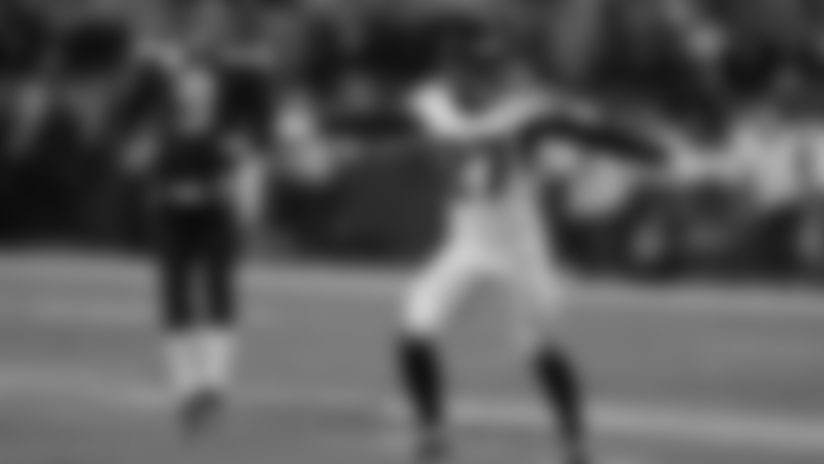 Tim from Leinefelde, Germany
Hey, Beek. Regards from Germany. I think that not our whole defense plays bad this year. I see developing Takkarist McKinley with 5 sacks (in just 4 games) and Damontae Kazee. Kazee has 2 Interceptions and had other big plays (e.g., the hit for the interception of Deion Jones ). Do you think he could start as free safety next year and we could trade Ricardo Allen? What do you think about that? What do you think of our running game this year? I do not see Devonta Freeman developing since our magic season 2016. Of course, he has a lot of injuries but I think he did not reach 1,000-plus rushing yards last year and this year.
Matt: Hey, Tim – great to hear from you! You're right, there have been some bright spots with this team, one that could easily be 4-1 right now (but I promised I wouldn't go there anymore). When Takk McKinley has been in the lineup, he's made a difference, especially with the pass rush. And Damontae Kazee has been making plays since the preseason started. No, I don't think you'd want to trade a player like Ricardo Allen, Tim. If this stretch has shown Falcons fans anything it's that he's been sorely missed back there, especially when it comes to communication and getting players lined up right. The running games has struggled to get on track and, to me, that's been a big reason why the Falcons haven't won more games. The Falcons have managed to surpass 100 rushing yards just once this season – when Tevin Coleman led the way in Week 2 against the Panthers – and that was a game in which they ran for 170 yards and two touchdowns. Oh, by the way, that's the one game they've won. Devonta Freeman has missed three games this year (and is hurt again), but hopefully he can nip the injury bug, get on a roll and strong some 100-yard games together. If the Falcons can run the ball, it not only opens up the offense, it consumes the clock, too (and keeps the defense off the field). Thanks for writing in, Tim.
Jonathan from Panama City, FL
Hey, Matt. Don't really have a question, just wanted to say "Rise Up!" for this Sunday's game against Tampa Bay. Hurricane Michael destroyed everything here in Panama City and I'm going to be without power for some time and I won't able to watch the game this Sunday unfortunately, but I just wanted to say I wish the Falcons good luck and hopefully get a win for us here in Panama City, Florida, this Sunday. #RiseUpDirtyBirds #Panhandlestrong
Matt: Wow, so sorry to hear about that Jonathan. That's tough to hear, but it sounds like your spirit is strong and you have a positive attitude! Let's hope the Falcons can knock off these Bucs, string some wins together and make Falcons fans everywhere feel a little better. Hang in there, brother.