Welcome to Straight from the 'Beek! Alright, folks. Training camp is about to kick off and you've got plenty of questions. So, let's get to them (you can submit your own right here). Just remember, all opinions here are mine unless noted otherwise.
Barry from High Point, NC
Hey Beek! The last two weeks were hard to survive. No football and no Beek? The world was a dark and foreboding place. Welcome back. Now for something that concerns me. Matty Ice has held a passing camp for three years in a row. I love it! It can only mean that the passing game is going to be that much better. Recently I learned that several players have held several different camps focusing on their particular needs. Again, I love it. However, I am a little concerned that these camps (particularly the passing camp) may be a little outside NFL rules. Is there any chance that someone (meaning the Falcons) could be fined or lose draft picks because of these camps? Are they legal?
Matt: Without pulling out the rulebook or guidelines from the NFLPA here, I'm going to keep this one simple. When a handful of players get together in the offseason to work on conditioning, lift weights, passing routes, etc., they're not breaking any rules. If a couple of quarterbacks get together – they can be from the same time or from different teams, doesn't matter – to throw some balls to receivers (or anyone else, for that matter), it's not illegal or breaking any sort of rules. However, if the team gets involved – and by that, I mean coaches or anyone from the coaching staff – and is running things, organizing drills, coaching players up, etc., that's a problem. And it's good to be back, Barry. Thanks for writing in.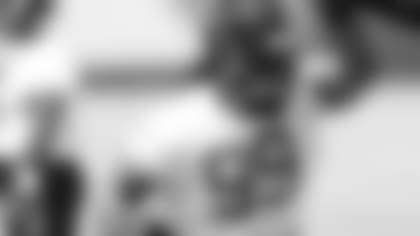 Frederich from Vienna, VA
Hey Beek! Great to see you're back. Hope you enjoyed some R&R. Anyway, on to the question: Out of our three biggest free agent signings (Terrell McClain, Brandon Fusco, and Ron Parker), who would you say has the potential for most impact? Additionally, who do you believe has shown to be the best out of the three in years past? Also, any word on how Terrence Magee is looking? I know he was in the "keep an eye on them" category in the running backs article, do you see him making the final 53? Thanks again!
Matt: Hey there, Frederich. I can understand why a lot of people might not get too excited about an offensive lineman signing, but getting someone like Brandon Fusco – who has been a solid and durable player in this league. I mean, he's started 80 games during the last seven seasons. If anything he brings depth, experience and stability to the line protecting franchise quarterback Matt Ryan. But, all of that said, I think the Terrell McClain signing might be the biggest of the three you singled out, Frederich. Up until that point, I was concerned about the depth and experience up from t along the defensive line. I also think McClain will thrive in this defensive scheme versus the one he was in while playing in Washington. If you want proof just look back at his tenure in Dallas in Rod Marinelli's defense. McClain was very active in the Cowboys scheme and flourished. That's how he landed that big deal with the Redskins – and also why the Cowboys made a strong push to re-sign him when he became a free agent again. I think he'll do well playing alongside Grady Jarrett, Jack Crawford and rookie Deadrin Senat, too.
Jerry from Statesboro, GA
Hey Beek! Thank God you're back. It was rough without you. I know The Beekers are worried with the Julio Jones situation, however, I'm not worried because he attended the Matt Ryan camp with the other receivers. My question is what newcomer has flashed in practice thus far? Rookie or veteran. Is there another Grady Jarrett-ish or Ricardo Allen-ish draft pick in the bunch? Takk has been getting media buzz. I say he surprises the league this year. What do you think?
Matt: It's always good to hear from you, Jerry. And, yes, I missed reading all the emails from the Beekers, too. I'll be honest with you guys and preface my comments about any young player or draft pick with this: it's early – and it's tough to gauge just how good a player is going to be until it's live, full contact and the lights are on (meaning, in game situations). Didn't certain players flash or catch my eye? Sure. Calvin Ridley looked every bit the part of a first-round pick. Remember all the scouting reports about Isaiah Oliver, how he was tall, has long arms and can run with just about any receiver? He looked the part, too. And then there were some younger players who didn't contribute a whole lot last year, but have looked great during OTAs and minicamp – tight end Eric Saubert definitely comes to mind. And I'll throw veteran Jack Crawford in there, too. We saw through training camp and the early part of the season until he was injured, but he looks like he's back, healthy and in decent shape – which could be huge for this defense. And as far as Takkarist McKinley goes, yes, the expectations are that he'll continue to build on his rookie campaign, maybe even have a breakout season. He'll certainly get more opportunities this year and that bodes well for this defense, too.
Hey Beekmeister, glad to see you are back! I have heard of coaches being referred to as "quality control" coaches. What does that title mean and what are the job responsibilities of a quality control coach?
Matt: Quality control coaches are generally younger coaches and it's more of an entry-level position into the profession in most cases. Those guys can be found on offensive, defensive and special teams staffs, too. They'll do a lot of the charting of plays, statistical analysis, assist in breaking down film as well as help with scouting opposing teams (or units). It's a lot of practice and prep work – but all very important stuff when it comes to the big picture. A lot of eventual head coaches began as quality control coaches, by the way. Hope that helps. And in case you're wondering ... if you check out the Falcons coaching staff (click right here), you can see that Aden Durde is listed a defensive quality control coach.
Hey there, Beek. If Julio Jones should hold out and miss parts or even all of training camp, how will it affect the team?
Matt: No one knows for sure if Julio Jones is going to miss any camp, yet. Yes, I'm aware of the reports that are out there, but keep in mind that they're just that – reports. No one has heard, read or seen Julio Jones say anything about missing camp yet. At least not that I am aware of. But to your question, Mark. Look, the players and coaches understand that this is a business and to quote Falcons coach Dan Quinn, sometimes football and business intersect. And it's really no one's business but Julio's and the Falcons to work out. And I'm sure they will eventually. Until then the players will bust their tails and make the best of every single opportunity they receive on the field and during positional meetings. And when things are worked out, I'm sure Jones will step right in and pick up where he left off. He's a savvy veteran who works hard to stay in shape – he's one of the best receivers in the game for a reason. He works hard at his craft and his teammates and coaches know that and respect that. Hope that helps, Mark.