Welcome to Straight from the 'Beek! The Falcons are preparing for an important NFC South showdown against the Buccaneers on Sunday and, in the meantime, you've got plenty of questions and comments. So, let's get to them now. Just remember that all opinions here are mine unless otherwise noted.
Damian from Chicago, IL
Hey Beek! I saw something that really bothered me online, and it's something that fans do on a REGULAR basis and it ticks me off. Drew Brees broke the all-time passing record on Monday night (as you know) and Vic Beasley tweeted out a congratulations to him. I get that Brees plays for the Saints and Vic is a Falcon and that we're supposed to "hate" each other, but it really is annoying to see some fans cross the line and attack Vic on Twitter because of that. These players are human beings just like us (but with a little more money and athletic ability). It's not just Vic, it's if Matt has a bad game, if Le'Veon decides to hold out, etc. Why do people feel the need to hide behind their social media accounts to attack these athletes, when they know good and well they wouldn't say a word to their face. If anything, they'd probably ask for an autograph or selfie. I guess this isn't really a question, but more of a plea for us fans/human beings to do better. Thanks for all you do, Beek, and for giving us this space!
Matt: I'm really glad you wrote in, Damian. As much as we use social media to stay in touch with family and friends or, like me, use it for work, there is a nasty and ugly side to it all. And quite frankly, it disgusts me sometimes. The nasty comments, the bullying ... it's ridiculous. I've watched social media ruin friendships and read about far worse things online as a result of a mean-spirited tweet or an ugly Facebook post. You're right about people – and so-called fans – hiding behind a Twitter handle taking vicious shots at people. I have a zero tolerance for that stuff. Some people just don't get it or realize that this is just a game and, in the end, we're all human beings with friends, families and feelings, too. I thought what Vic Beasley did was classy – and a ton of former and current players congratulated Drew Brees, who IS one of the best to ever play the game, not to mention a terrific human being. My advice is to just ignore, block and/or unfriend these people whenever you see it happen. Who has time for that garbage? I don't. Life is too precious to waste time on these obviously unhappy and troubled people. Stand up for what is right and make a positive difference, Damian. And thanks again for writing in.
Jimmy from Fredericksburg, VA
Can we stop arm tackling and put pads on people and lock up basic fundamentals?
Matt: I hear ya, Jimmy. You can tell Falcons coach Dan Quinn isn't happy at all about it. Quinn was asked about the missed tackles again this week and he said that it is "not a unit-wide epidemic." Quinn added that the Falcons have "got to get it shored up on some of the men that need extra work and extra attention." He said that they have "devoted extra time during individual or extra time in our Plan D portion" to work on tackling. Let's hope it becomes a non-issue moving forward, Jimmy.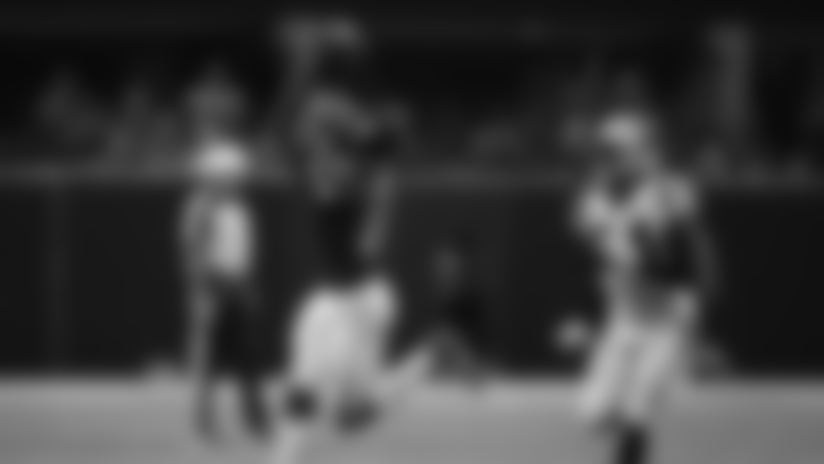 Scott from Sharpsburg, GA
Hey Beek! I have been following SFTB for a long time and love the format! I am a seat license owner and longtime dedicated Falcons fan. Win or lose. I was thinking about what-ifs and our situation and this crossed my mind. Julio Jones is double-teamed every game because of his ability and athleticism, he can out-catch anyone. Lately though the double team has made him only a decoy for Ridley and Sanu. So ... what are your thoughts on using him once in a while on the defense as a safety? He would be an interception beast and have an opportunity to score without being double teamed. Can you imagine the confusion and fear that a move like that would have on our opponents? I'm sure it would never happen but it would definitely be worth the cost of admission! Keep up the good work!
Matt: Hey, Scott – and thanks for being a loyal reader! Appreciate that a lot. I think if it were the last play of a game and all the Falcons had to do was prevent the opposing team from completing a Hail Mary type play, you might see Julio Jones standing back there deep in coverage playing center field. Otherwise, I wouldn't count on seeing that, Scott. I think we can all agree that Jones is one of the best receivers in the game and he's a touchdown waiting to happen whenever the ball is thrown his way. The best thing that can happen is Calvin Ridley continues to develop and become more of a consistent threat – that, along with Mohamed Sanu, will put a ton of pressure on opposing defenses because if they choose to double Jones, the Falcons must make them pay. Thanks for writing in!
Kent from Rochester, IN
Hey Beek. You know the old saying, tough times don't last, tough people do. Our brotherhood is strong enough regroup from this. Now I know that blitzing too much can hurt, but could we do it more? And why is Vic Beasley still dropping back in coverage? If we need a pass rush, what we need is the front four to get that push. Rise up fans, this team needs our support.
Matt: Hey, Kent. The Falcons could certainly blitz more, but keep in mind that when you send that extra man (or two), you're vulnerable on the back end and susceptible to giving a big play if you do not get to the quarterback – or, at the very least, move him from the pocket and disrupt his timing. So there's a risk involved. Is the risk worth the reward? Sometimes, but not always. That's why the coaches get paid to make those decisions. Regarding Vic Beasley, he's asked to do more than just pin his ears back and rush the quarterback sometimes … but I think we'd all love to see him start piling up some sacks here. Just like turnovers, sacks sometimes come in bunches – and the Falcons could use a bunch right now.
Gary from Virginia Beach, VA
Hey, Matt. After how we played against the Steelers, we really looked unprepared as a team. Issues stopping the run, not being able to protect Matt Ryan, missed blocks from the running backs and special team blunders. That's a total team breakdown and not representative of who we are ... so ... I put that one on the coaching staff not having the team ready to play. DQ said in the presser we have the talent in house to turn things around and I believe him. But they have to be coached and put into a position to accentuate their strengths and once again, I put that one on how the coaches game plan our guys. On a plus note, I really, really think everyone has a different focus going forward and I feel good about the game Sunday. I think Julio has a breakout game and may rack up a 300-yard day. Stay the course and take it one game at a time and we will still be fine. If you think I'm on the naive side, let me know.
Matt: Hi, Gary. There weren't a whole lot of positive things anyone could say about the Steelers game except for maybe the day tight end Austin Hooper had. Although it was a close game until late in the third quarter, things went south in a hurry. I don't think you pin that solely on coaching, though. I put it on everyone, the players included, Gary. And finally, yes, you're right about Sunday against the Bucs – you can only win one game at a time. And if the Falcons are going to turn things around, it must start against the Bucs. I won't talk about how important the next five games are because they won't mean nearly as much with a win on Sunday. It's that big of a game. I just hope all of you Falcons fans out there show up and are extremely loud. The team could use that energy – they feed off it.
Daniel from Eugene, OR
Hello, Beek. My question is, what happened to the "Brotherhood"? When it was at the forefront of everything the team stands for, everything the Falcons are about, there was more passion more energy, even more focus.
Matt: Hey, Daniel. The Brotherhood is alive and well and, to be honest, it's probably stronger than it's ever been in a while because of everything going on outside the walls here. Adversity sometimes has a way of galvanizing people and teams. Let's see what happens Sunday against the Buccaneers. You can't win nine or 10 games at once … it'll have to come one at a time. Thanks for writing in.
David from Del Rio, TX
Hey Beek!! Just want to drop a comment. The Falcons will Rise Up from here forth ... you will remember this post. Falcons are coming back. We are gonna beat the Bucs, by big points. It is time. Watching the vids. From the players I see, there is determination NOW, something I didn't see in past weeks. Watch, just watch. David Johnson, my name is, and you will remember this post as you see the Falcons win on Sunday. Motivation starts now!! Keep an eye on Jones, because he is coming back into this game!!! Later Beek!!
Matt: Alright, we've all noted this post and thanks for writing in. We're going to spruce up that name of yours and start calling you David "Nostradamus" Johnson if you're right.