Good morning and welcome to Straight from the Beek! There's a lot happening in Flowery Branch these – the players reported on Monday and there's a buzz in the building as the team prepares for the NFL Draft and the coming season. And you, meanwhile, have plenty of questions. So, let's get right to them. Just remember that all opinions here are mine unless otherwise noted.
Chris from Richlands, VA
Hey Beek. Love your column. Really like your consistency and how you infuse so many stats and facts into your opinions. What do you think about Jerry Tillery? I know he didn't start many games. That does worry me. If we could catch him in Round 2 (granted we do go O-line in the first), do you think he would pan out and fit into our locker room?
Matt: Thanks, Chris. Jerry Tillery is an interesting prospect. He's got the size at 6-foot-6 and 295 pounds. And he definitely has talent – he was an Associated Press second team All-American last year at Notre Dame after tallying 28 tackles and seven sacks in 12 games for the Irish. The knock on Tillery, if there's been one, is that he's been inconsistent at times and, according to this scouting report, early on he had some issues (he was shown on TV kicking and stepping on USC players during a loss once). Is he a fit for the Falcons? Well, some think Tillery is more suited to play in a 3-4 scheme but if you can play and get to the quarterback, I think good coaches find a way to get players like that on the field and put them in a position to succeed. I have no idea what the Falcons scouts think of Tillery. Now, are all players choir boys? Heck no, but you can't hurt the team with your actions, either. Tillery is projected to go in the first or second round, and that sounds about right to me if there's a run on defensive tackles. If Tillery gets with the right team and scheme (and he harnesses that aggression), I think he could end up being one heck of a player on the next level. Thanks for the question – and for reading, Chris.
Lisa from Flowery Branch, GA
Hey Beek, do you see a surprise pick at 14 happening? I mean a guy that's not on the O-line or D-line?? Not that I want a pick like that, but I can see it as a possibility. Something I feel might happen is a cornerback (Byron Murphy) at 14 and then trade up in the second for someone like Jerry Tillery. I really want Ed Oliver, but I don't see it.
Matt: The Falcons surprised me somewhat last year when they selected Calvin Ridley, but that was also because I thought he'd be off the board by the time they picked, too. As far as picking a cornerback with the No. 14 pick … hmm. I think the Falcons must come away with a corner in this draft, but I don't see them taking one that high. So to answer your question, no, I don't see it. I do think Byron Murphy might be the best corner in this draft – it all depends on what you're looking for when you compare Murphy with Greedy Williams and Deandre Baker. If there's any surprises with that 14th overall pick I think it'll be because the Falcons have traded up. And if you're going up, you might as well go as high as you can to secure the guy you really want, in my opinion. My dream scenario would be the Falcons somehow snagging defensive tackle Quinnen Williams. But Williams could realistically go No. 1, too.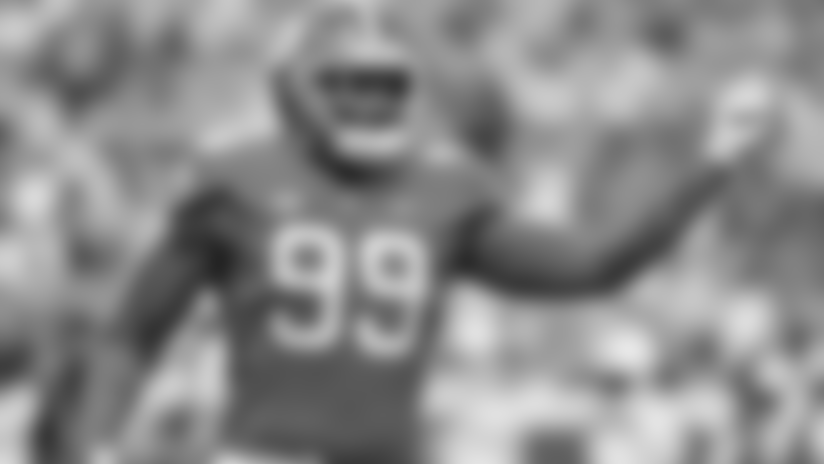 Grant from Bellville, IL
Hi Beek! I've been loving the moves the Falcons have been making to beef up our defense. Adding Adrian Clayborn and Tyeler Davison are great moves to help solidly our defensive line. My question is, after seeing these free agency moves, do you think we should still take a defensive tackle at No. 14? Or should we pick up the best offensive tackle prospect that is up for grabs instead? Matty Ice plays at his best when he has time to throw and for his receivers to get open. Just curious for your feedback. Thanks again!
Matt: You make an excellent point, Grant. And it's one that Falcons owner Arthur Blank made very clear recently at the league meetings in Phoenix when he said, "This is my 19th year as an owner and one of the things I've learned is that Matt (Ryan) plays much better vertically than horizontally. I don't think we're complete in terms of the offensive line. I think it'll be an area of great scrutiny and activity during the draft." The Falcons have addressed some needs and added depth in free agency so far, and that should allow them to be much more flexible with those first few picks. I think if Jawaan Taylor, largely seen as the best offensive line prospect in this class, is still available at 14 he will get some very strong consideration. The other offensive linemen who rate high are Jonah Williams, Andre Dillard and Cody Ford. There's a good chance that two or three of those guys will be there at 14. If defensive tackles Quinnen Williams, Ed Oliver, Rashan Gary (he can play both inside and on the edge) and Christian Wilkins are there, they'll also get some consideration. The top defensive ends – Nick Bosa, Josh Allen, Montez Sweat, Clelin Ferrell and Brian Burns – would have to be in the mix, in my opinion. I just rattled off 13 names for you. The Falcons pick 14th. Here's why I know one of those guys will be available: because up to four or five teams that pick ahead of Atlanta will consider drafting a quarterback – the more that do, the better for Atlanta. The Cardinals, Raiders, Giants, Broncos and Dolphins have all been linked to quarterbacks throughout the draft process. To answer your question, I think the Falcons will go defense with that first pick, Grant. And if they don't land Williams or Oliver, I think the pick will be Sweat, Ferrell or Wilkins.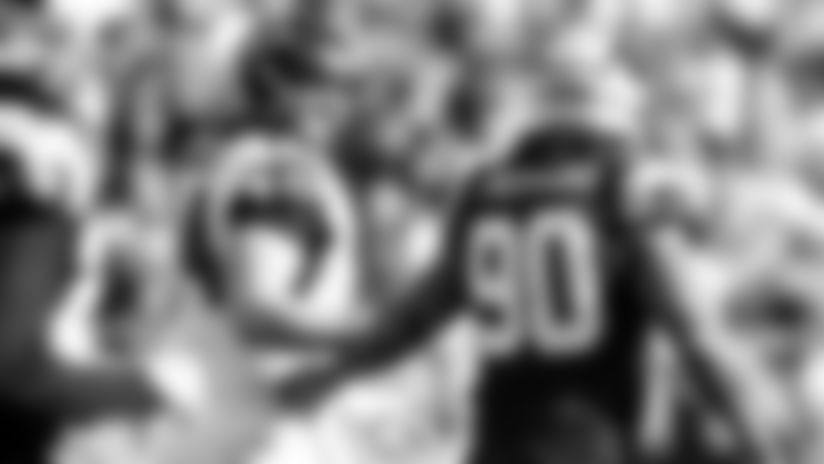 Bernie from Clinton, ME
Hey Beek, please make me feel better about our OT position if the Falcons don't take one of the top OT prospects (Taylor, Williams, Dillard, Ford) with their first pick. I think the pick absolutely has to be one of these guys because, if not, we won't have anyone capable of making an impact in year one. I know the entire offensive coaching staff visited Tytus Howard but he is not the answer for this season. He's just another guy the Falcons will develop. I'm sick of these second-round or later projects who don't pan out.  I'm just really nervous about Ty Sambrailo being handed the starting position by default. He came in late last season and took over for Ryan Schraeder. While he did a decent job, it was late in the season. He was still fairly fresh and held his own. But what if he cannot do that for a full 16-plus games? Who is the next man up? Matt Gono? I like him, but certainly not sold on him. Howard? Nope, he won't be ready for that kind of responsibility. We must have someone who can come in and compete with Sambrailo right off the bat. I think Taylor would win the job outright, which would make Sambrailo a perfect swing tackle. Then, I would feel very good about the OL as a whole. I'd feel good with one of the other guys mentioned above, as well. But, anything less than that terrifies me because I don't feel like we have any solid depth. No one who can step in and now. It's a huge gamble to think Sambrailo can do the job based on four decent games last season because if he fails, we're toast. Also, we've been extremely fortunate that Jake has been so durable for us. What if something happens to him? So, while I get that we need other positions, none is more important than this one. We need a top tier prospect who can play right now. If this offense can run at its full potential, we're back to 30-plus points per game. I'm sick of seeing the OL hold it back. It would be nice to watch Ryan actually be given time to let plays develop before throwing the ball. Please ease my mind. What is the plan at RT if we don't get one of the top OT's AND if Sambrailo is not the starting OT that we're hoping he can be?
Matt: Well, Bernie, I don't think you're going to like my answer too much above. I'm not discounting the Falcons taking an offensive lineman with their first pick at all. But if they do go defense at 14, do not discount the Falcons moving back up into the first round or packaging some picks for another second-round pick – and, at that spot, they could address some other needs (offensive tackle, cornerback, etc.). And I could see them doing that if they did take an offensive tackle at 14, too. Offensive linemen take time to develop and adjust to this level of play, even the best ones. Remember they have nine picks and I don't see them using them all. Here are all of the picks:
Round 1, No. 14 overall
Round 2, No. 45 overall
Round 3, No. 79 overall
Round 4, No. 117 overall
Round 4, No. 137 overall (compensatory)
Round 5, No. 152 overall
Round 5, No. 172 overall (compensatory)
Round 6, No. 186 overall
Round 7, No. 230 overall
And I'll just say this, Bernie. No one has to remind the Falcons coaching staff about 2018 – the injuries, the inability to run the ball consistently or the fact that Matt Ryan was sacked 42 times. At the end of the day you have to trust in this staff and the Falcons' player acquisition process. MAILBAG
Do you have a question about the Falcons that you want answered? Ask a question here and it could be posted on AtlantaFalcons.com.