Welcome to Straight from the Beek! We're into the thick of the offseason, folks. The first wave of free agency has come and gone – the Falcons were very active – and the NFL Draft is less than a month away. Meanwhile, you've got plenty of questions and comments. So, let's get to them now. Just remember that all opinions here are mine unless otherwise noted.
Willis from Montgomery, AL
Hey Beek! I have been following the Falcons since high school and that's been a long time. I feel this season for us will be a very exciting one with the current free agency pick-ups and the upcoming draft opportunities. Like any fan, my hope is for not just a Super Bowl appearance but a Super Bowl win! My question is, what do you think our overall record will be this season and why do you come to your conclusion? Rise Up!
Matt: Wow, Willis. We haven't even made it to the NFL Draft yet – rosters are going to change significantly between now and Week 1 of the 2019 season. Normally I defer on making a season prediction until at least the preseason and tell readers to ask me again come August … but I'll play along. I think the Falcons' offensive line is going to be better next season and I think Devonta Freeman will have solid comeback type of season, too. I also think the defense will be better and much more consistent – mainly because they'll be healthier. I think having Dan Quinn calling the defense will be huge for this unit. I think those three to four factors alone will spell three more wins than last year. How does a 10-win season sound to you on this late-March day? Thanks for writing in.
Brandon from Woodstock, GA
Hey, Beek. I enjoy reading your comments. Do you think the Falcons will overcome last season and be back in the heat of things?
Matt: Yep, I honestly do. Check out my answer above, Brandon.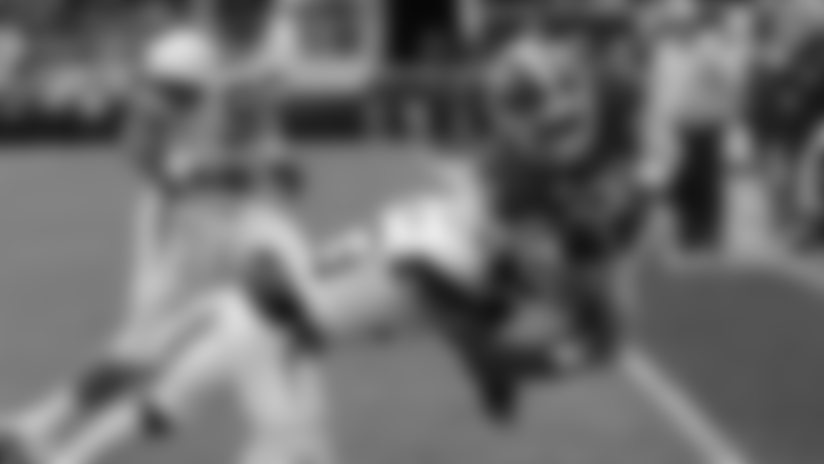 Jonathon from Donalsonville, GA
Hey Beek! Second-time writer here! Question I got is, since Tevin Coleman is with the 49ers now, what's your thought on the Georgia Bulldogs running back Elijah Holyfield in this draft class? Do you think he will be a third- or fourth-round pick? And if so, what do you think of the chances of us drafting him in one of those rounds? Thanks!
Matt: I think because of his slower 40 times and what some think was a "sluggish" performance at the combine, Elijah Holyfield will end up as a Day 3 pick (rounds 5-7) or undrafted free agent. That said, I think he had a solid career at Georgia and definitely think he'll end up on an NFL roster. What kind of career he has will ultimately depend on where he lands and what kind of offense he plays in. I think the Falcons will add more running backs to the roster ahead of training camp – and it wouldn't surprise me if they ended up drafting one on Day 3 (they do have nine picks at the moment).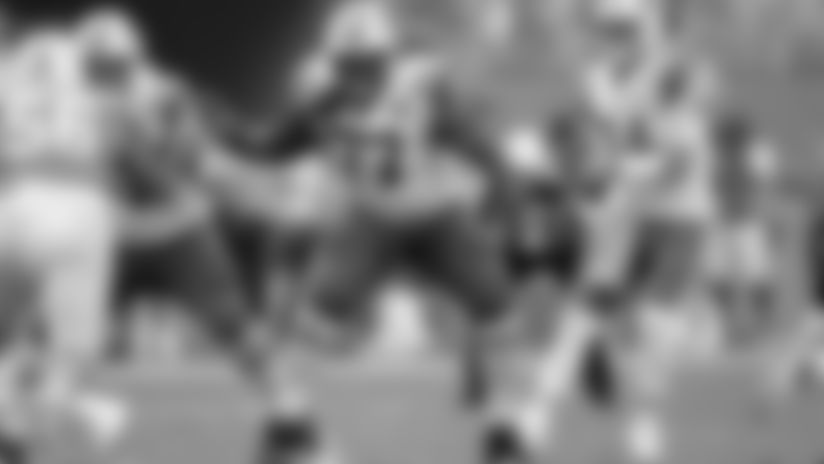 Matt from Greenville, WI
Hey Beek, listening and reading everyday about who we need to get, why we need them and why we seem to have salary cap issues every year. First, all these are above my pay grade, especially the salary cap issue, so I have no comment on that except I believe we have fared pretty well with what we have done. I would, however, like your thoughts on the offensive moves we have made so far. Did we get what we could afford for what we wanted to spend, or do you think we got good players at a good price that we couldn't pass up? The other question you hear is we could move up or down in the draft. My personal thoughts are staying where we are at or moving back and grabbing good, hungry players that are eager to play. Just my 2 cents. Thanks.
Matt: I like what the Falcons have done. So far. They still have a ways to go. The offensive line was a problem spot last season with both starting guards ending up on injured reserve and the play overall in the trenches was inconsistent. The Falcons struggled to run the ball and Matt Ryan was sacked something like 42 times. Not good. The Falcons were very active early on in free agency and signed a left and right guard – James Carpenter and Jamon Brown. Both players are big and should be penciled in as starters. I still think they need to address the right tackle position and add more depth to that line, but it was a nice start. Starting offensive linemen take time to develop; it's a much different game in the trenches in the NFL than it is in college. As for what the Falcons do in the first round – move up, down or stay put – I think they stay put. If a player they absolutely love starts to fall though, they have some ammo with nine picks to possibly move up. And for what it's worth, most fans who responded SFTB Question of the Day this week want them to stay put, too.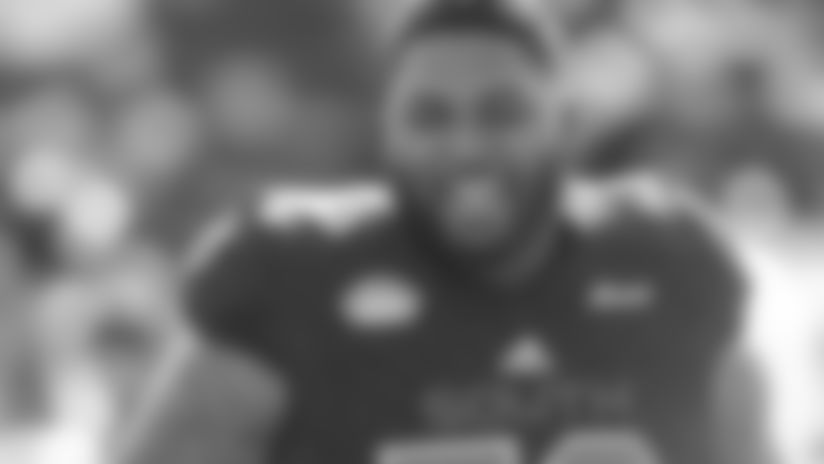 Adam from Hamilton, NY
Hello Beek! Big time fan of the Q/A from Canada! Just wondering what you personally thought of the Falcons upgrades on the OL? Do you think ATL could bring in some competition for Ty Sambrailo in the draft? I've seen them look at Tytus Howard who looks like he'd be a guy that would fit the new mold of being physical on the OL. Also, do you think the rumors of the Falcons looking to find a trade partner to land DT Ed Oliver are true? I would love to have him here, he has that alpha male mentality that would add to guys like Deion Jones, Grady Jarrett and Keanu Neal who are similar. Love the articles Beek, even if they do have some silly questions!
Matt: Lots of good stuff here, Adam. I don't think the Falcons will come away from this draft without one or two offensive tackles. If they don't take one with their first pick (in two of my four mock drafts I have them doing that, by the way), I think they'll use one or two of those eight other picks on a tackle. You can have all the skill position players in the world, but if you can't protect the quarterback, block or run the ball, it won't matter. And as Dan Quinn likes to say, you can't hide in the trenches. If you can't play, you'll be exposed – in a hurry. The Falcons are certainly doing their homework on a number of prospects, including Tytus Howard (see tweet below). There's a lot to like about Howard, including his 6-foot-5, 322-pound frame and the fact that he's a natural athlete (he's a former high school quarterback and basketball standout).
As far as the rumors go, Adam, it's draft season; there are rumors and smokescreens at every turn. Look, the Falcons certainly have some capital to move up with nine picks. They also have some pressing needs they need to address. Who knows what will happen. Like I mentioned above, if a player they covet starts to slide or they do decide to move up to snag a player they covet (and have that willing trade partner), it wouldn't surprise me. It will depend on how things shake out early on in the draft. For now, though, it's all just a bunch of rumors and speculation. I think after Ed Oliver's pro day on Thursday, he's pretty much solidified himself as a top-10 pick though.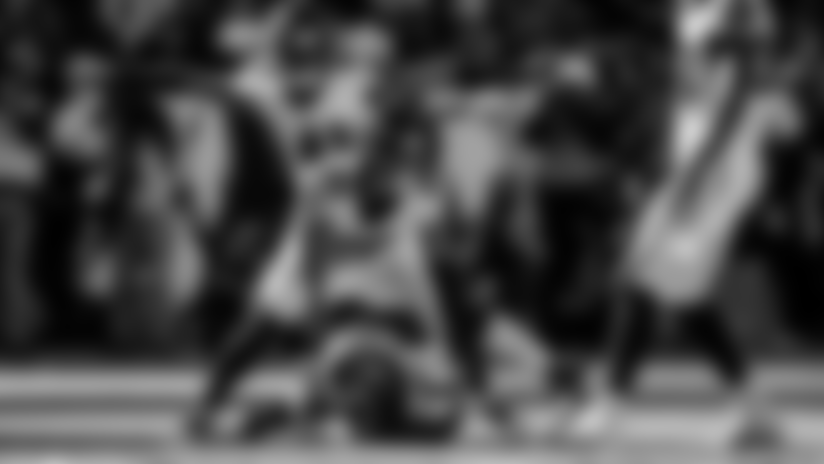 Derek from Saint Joseph, MO
Hey, Beek. Hope all is well with you and thank you for your insight on the Falcons with SFTB. My question would be with the Falcons mentality of building through the draft over the last several years. Who is a young player on the roster already that could possibly be primed for a breakout season? My guess would be Isaiah Oliver or Deadrin Senat. Oliver because with him taking over the starting position he will have a plethora of opportunities and later on last year he showed much improvement. Senat – this is my longshot, but my instincts tell me that if DQ works on his technique and he finds his groove, he could become a wrecking ball right next to Grady Jarrett. I want to know who you felt it might be. Thank you.
Matt: Hey, Derek. Well, you picked two players who need to make big jumps in Year 2. Falcons coach Dan Quinn has already named Isaiah Oliver the starting cornerback opposite of Desmond Trufant. And the Falcons simply need to get better up the middle of their defense. They couldn't stop the run at times last season. Deadrin Senat had an up-and-down season. Senat needs to make the jump and play better more consistently. Of the two, I'd go with Oliver. The former second-round pick out of Colorado checks a lot of the boxes – he's got long arms, has decent size, displays great make-up or closing speed, is smart and now has some invaluable game experience. I won't be surprised if the Falcons draft a cornerback, but for now that job is Oliver's to lose. And I think he'll run with it and have a solid season. MAILBAG
Do you have a question about the Falcons that you want answered? Ask a question here and it could be posted on AtlantaFalcons.com.