Welcome to Straight from the 'Beek! Super Bowl week is here, but the Falcons are off preparing for the 2019 season – free agency and the NFL Draft are right around the corner. And you, in the meantime, have tons of questions about the future of this team. So let's get to a few of them today. Just remember that all opinions here are mine unless otherwise noted.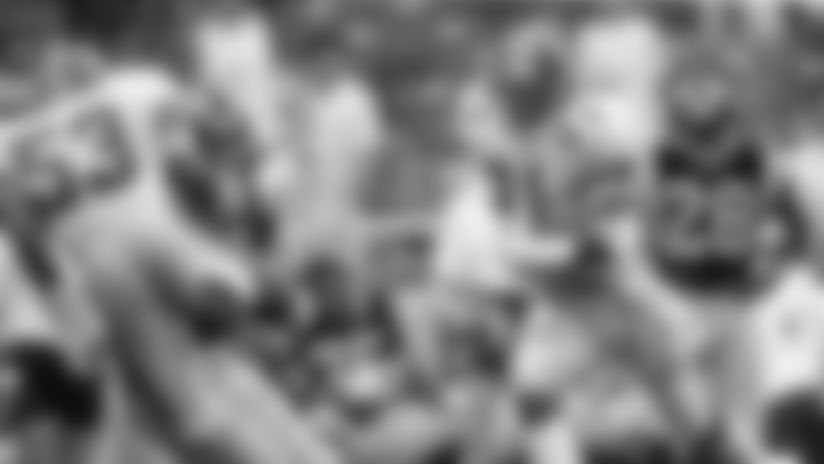 Jake from Charleston, SC
I know people ask you all the time, but will the Falcons get new uniforms any time soon? Would it help if the fan base were to start an online petition? The black alternates and the red Color Rush uniforms have both been great teasers. I don't even care which combination of old uniforms they choose to emulate, but the team is past due for a permanent update.
Matt: I do get asked that question quite a bit and it's amazing how passionate and fired up people get about their favorite team's uniforms. I'll say this about the Falcons' current uniforms – most people who write in to me are in favor of changing them. Most seem to favor the old logo, too. Where they split is in the helmet color – a large amount of people like the red helmets and the rest prefer to keep the black ones. No one has suggested a silver or white helmet, for example. My favorite version is the one Deion Sanders wore during his rookie season in Atlanta (see picture above). But to answer your question, all I can tell you is that when there is something official on that front, I'll be sure share it with you here.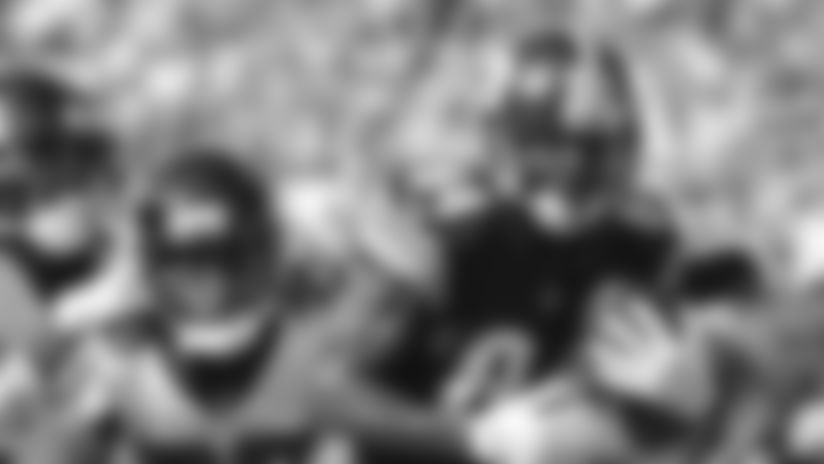 Kentay from Douglasville, GA
Let's be honest. The Falcons have a lot of big contract coming up on defense. How can we afford to pay them and keep Julio Jones happy? Also, why not trade for a player like Antonio Brown for a year and trade him next year in order to clear the books.
Matt: Wow. First of all, nothing has ever been said around these parts that would even remotely suggest that the Falcons would be open to cutting ties with Julio Jones. Nothing. In fact, it's been the opposite, Kentay. From the owner on down to the general manager, the message has been that the Falcons want Jones to be in a Falcons uniform for life. Thomas Dimitroff also expressed at the end of the season that taking care of Jones during the offseason is one of the team's priorities. As far as re-signing players who are scheduled to be unrestricted free agents, yes, there will be some tough decisions to make. Every team goes through it; it's fact of life in the salary cap era. You can't keep everyone and that's why drafting successfully year in and year out is so crucial to maintain success. Now, as far as your suggestion that the Falcons should trade for Antonio Brown – a receiver who is a year older than Jones and is going through an ugly dispute with the Steelers – forget about it. Who's to say Brown is better than Jones in the first place? And besides, this isn't fantasy football. You're talking about trading the two best receivers in the game in back-to-back seasons and by doing that it would somehow "clear the books"? None of it makes any sense to me.
Jerry from Statesboro, GA
Hey, Beek. Thanks for defending Matt Ryan. Your right, he's not the problem. Look at his MVP season numbers and compare them to this year's numbers. They're nearly identical. The problem was a mixture of things. For example, bad luck with injuries, close-game losses, and growing pains just to name a few. Now as we look towards the draft, I say we find a nasty guard like the Colts did in Quenton Nelson. As far as the defensive line goes, there are several defensive players in this year's free agency pool. I think first we secure Grady Jarrett in free agency, then we try to find him some help in free agency as well. This would also help speed rushers like Takk McKinley and Vic Beasley. Which, in turn, would allow one or both of our corners to be released. I know what you will say … replace them with whom? I say Isaiah Oliver and Blidi Wreh-Wilson. They're cheaper and no worse than Desmond Trufant or Robert Alford. What's your take for improving the defense?
Matt: My first comment is, where have you been, Jerry? Always good to hear from you here in Straight from the 'Beek! I don't sign the checks or make the draft picks around here, but after watching this team closely for the last two seasons, there is no doubt in my mind that the offensive line needs to be the primary focus if this team wants to be a legitimate contender for an NFC South title and make a postseason run again. You can have the best skill position players in the world – and the Falcons have some really good ones in Julio Jones, Calvin Ridley, Austin Hooper and Devonta Freeman – but they'll relegated to spectators if the Falcons cannot block up front or protect Matt Ryan. I'm glad you brought up Quenton Nelson, too. If you recall, I gushed about him quite frequently in this space last year leading up to NFL Draft. He was easily my favorite player in last year's class, too. His play on the field made a huge difference for the Colts in 2018 (and so did a healthy Andrew Luck). The Falcons need to get younger and better up front, specifically at the guard spots. The challenge will be finding those guys. Every team wants to win in this league and they generally don't let their best linemen hit free agency. If someone does become a free agent, they're usually very expensive. Look what signing Andrew Whitworth did for the Rams though. Heck, look what signing Alex Mack did for the Falcons. Drafting guys is a challenge, too, because it takes time to develop offensive linemen. Not everyone comes into the league and dominates like Nelson. He is a rare talent – and also why he was so drafted so high (sixth overall). I know, I know … you asked me about the defense, Jerry. Aside from fixing the offensive line, the Falcons must address their defensive line, too. They need to find a way to increase pressure on opposing quarterbacks. Yes, they have Takk McKinley, Vic Beasley, Bruce Irvin and Brooks Reed. Aside from Beasley leading the league once with 15.5 sacks, the Falcons have to ask themselves if any of those guys are capable of producing double-digits sacks on a consistent basis. Assuming they re-sign Grady Jarrett like they've said they want to do, is Deadrin Senat capable of pairing up with Jarrett and collapsing the pocket on a consistent basis? If they can win up front, that'll make the back end of the defense much better. In my opinion, I still think they need a premier pass-rusher – someone like a Demarcus Lawrence, who could become a free agent. Don't forget, they're supposed to get Keanu Neal and Ricardo Allen back from injury – and that will help that secondary immensely. With an emerging star in Damontae Kazee and Isaiah Oliver getting better with every outing, I really like some of the younger players in the Falcons secondary. It would not surprise me at all if at least one of the starting corners is different next season, either. But for now, the priority needs to be up front – on both sides of the ball. If they improve in those areas, this team will be better in 2019. (Provided they avoid the injury bug again … knock on wood.)
Rob from Los Angeles, CA
Hey, Beek. I started watching American football two years ago and somehow I started to like the Falcons. Obviously, I want my team to win the Super Bowl and I think many people can agree that this team has A LOT of talent with the likes of Julio, Ryan, Deion, Jarret and more but they also have a lot of holes to fill. Could you think that the Falcons could do something similar to what the Rams did with giving away some high draft picks and bringing in some great talent to fill their holes?
Matt: Hey, Rob. Look, there are a number of different ways to build a team. The most significant moves the Rams have made in their turnaround, in my opinion, did not entail free agency. They hired a bright young coach in Sean McVay and they've traded drafted well in recent years. Look at some of their key picks – Todd Gurley, Jared Goff, Aaron Donald, Gerald Everett and Cooper Kupp. That said, they have signed some key free agents in Andrew Whitworth, Robert Woods and Ndamukong Suh. The two trades they made that stick out to me are for Aqib Talib and Brandin Cooks. I think the Falcons have some key parts in place but, as I noted above in my response to Jerry from Statesboro, they need to address both the offensive and defensive lines this offseason. How they do that – in free agency and the NFL Draft – remains to be seen. They have to make some pretty big decisions with their own unrestricted free agents first. In fact, 19 players are set to become unrestricted free agents. Here's the list from Spotrac.com:
Andy Levitre, G
Matt Schaub, QB
Ben Garland, G
Derrick Shelby, DE
Justin Bethel, CB
Terrell McClain, DT
Bruce Irvin, DE
Jon Condo, LS
Logan Paulsen, TE
Kemal Ishmael, SS
Ty Sambrailo, LT
Jordan Richards, SS
Bruce Carter, ILB
Zane Beadles, G
Blidi Wreh-Wilson, CB
Tevin Coleman, RB
Steven Means, DE
Justin Hardy, WR
Grady Jarrett, DT
Safety Brian Poole will be a restricted free agent and receiver Marvin Hall is set to be an exclusive restricted free agent. Once they decide on those guys, they'll see who is available in free agency, determine the market (asking prices) and weigh that against the strengths of this incoming draft class. Maybe they'll make a trade or two, too, but I doubt it. Stay tuned. But their work is definitely cut out for them.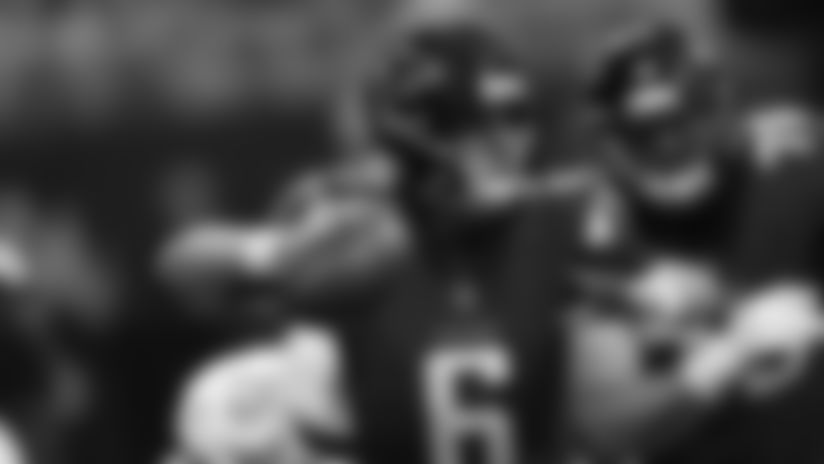 Rod from Lawrenceville, GA
Good morning! Super Bowl week is here in the A and I'm excited. But more excited about our upcoming season! I know that it's not only me but a lot of Falcons fans are wondering if we are still going to UPDATE our current uniforms anytime soon? And do you think that the team should try and look for a future QB in this year's draft? Hope that you are enjoying the festivities.
Matt: Hey, Rod. We are enjoying the festivities, but also wish the Falcons were playing this weekend, too. As far as your question about the uniforms, I answered what I can above. Regarding picking a quarterback this year, that's an interesting question. As I noted above, backup quarterback Matt Schaub is scheduled to be an unrestricted free agent and the Falcons will have to make a decision there. Now, Matt Ryan is the franchise quarterback – and will be for years to come. He is not showing any signs of slowing down, in my opinion. That said, we've seen time and time again how important that backup can be, especially for Super Bowl contenders (see Nick Foles and the Eagles for proof). Even Tom Brady stepped in for an injured Drew Bledsoe once and the rest is, well, history. I think the Falcons will address the offensive and defensive lines in free agency and the draft. But it will be interesting to see what they decide to do with the backup quarterback. They did have Kurt Benkert (pictured above) on the practice squad last season and they like him. He might get a shot at winning that spot, too.