Well, the inbox for Straight from the 'Beek hit a low point on Wednesday and when I tweeted that out (below), you guys answered the bell in a big way. So thanks for that! We received some dozens of questions within minutes – and, as always, you guys submitted some good ones. So, let's get right to them. Just remember that all opinions here are mine unless otherwise noted.
Let's see what's on your minds today …
Tim from Tuscaloosa, AL
Hey, Beek. As I've said before, I love SFTB. Sorry to hear your inbox is low. I'm guessing there are some disappointed fans who've lost interest a little. Let's not dog them for being "fair-weather fans." It's hard to sit through three discouraging losses in a row. But I'm gonna do my part to help you out! I know you wrote something a while ago about how each remaining game was winnable. But, how many games do you think we have to win to have a legitimate shot? Is a 9-7 team going to get in this year? I guess that would mean a lot of tie-breaker scenarios. Would that mean certain games are more important for head-to-head record against teams in a similar position? What do you think, Beek?
Matt: Hey there, Tim. Thanks for writing in! That three-game skid definitely put the Falcons in an early season hole. If there's a slightly positive side to it, two of those losses were to out-of-conference teams (Bengals and Steelers). And yes, winning those division and conference games matter when it comes down to tie-breaker scenarios. The good news for the Falcons is that everything is still on the table for them and they control their destiny right now. Sure, it looks like the 8-0 Rams are well on their way to winning the NFC West and securing the top seed in the NFC, but neither of those are etched in stone right now. There's still a second half to this season to be played and anything can happen, especially in such a physically demanding and violent sport where injuries are commonplace and, as a result, seasons turn on a dime. Now to your question. I think the Falcons are in must-win territory still – I think they have to win their next three games and head into New Orleans with a 6-4 overall record (they'd also be 4-2 in the conference and 2-1 in the South at that point). They are expecting to get Deion Jones back in time for that Week 10 showdown against the Cowboys, but that's not guaranteed as of right now. Should they go into New Orleans and knock off the Saints on Thanksgiving Day, the Falcons would improve to 7-4 (5-2 vs. NFC, 3-1 vs. South) heading into December. That would be the ideal, best-case scenario with five games remaining (four vs. NFC teams and two vs. South teams). Now, a lot depends on what else happens in the NFC, Tim. Ideally, you'd like to control your own destiny, win your games and not worry about it. At the very least, I think the Falcons will need to win two of their remaining NFC South games and seven of their final nine games to have a chance. That would put them at 10-6 (4-2 vs. NFC South). I think that would give them a fighting chance, and I it is possible. But it starts with the Redskins this Sunday; there's just little room for error at this point. And let's be honest, winning on the road is never easy – and six of their final nine games will be away from Mercedes-Benz Stadium.
Thomas from Decatur, GA
What's Deion Jones looking like as far as getting back on the field?
Matt: Hey, Thomas. That's a name I'm seeing pop into my inbox more and more lately. Here's what we know: The soonest Deion Jones can be back out on the field in a Falcons uniform is Nov. 18, a home game against the Dallas Cowboys. There was some confusion as to when Jones could return from the injured reserve list. The Pro Bowl linebacker was placed on IR on Sept. 11 after suffering a foot injury in the Falcons' 18-12 loss to the Philadelphia Eagles in Week 1. Most assumed that Jones would miss eight games and be back. But there's more to it. A player must sit out six weeks before they can practice but they still have to miss eight games from the date they are placed on IR – and bye weeks do not count as games in this case. As we get closer to Week 10, we'll obviously have a better idea if Jones is indeed on track to return to the field. Right now we haven't heard anything regarding any setbacks, so that's all positive.
Adam from Plattsburgh, NY
Good morning, Beek. I am writing you from The Wall again and winter has definitely come. The Falcons have me nervous, Beek, and I wanted to ask what your thoughts were. We have a great shot at getting to .500 or better if we can get some wins on the road. I'm nervous because I think this team is going to live or die by the brotherhood. I love the culture DQ has created but this league is still a business. I think we should have gone after someone like Bruce Irvin, for example, if it were possible. I know Grady Jarrett and Damontae Kazee were fifth-rounders, but I don't think a sixth is mortgaging our future and I have a hard time believing these players wouldn't embrace a player that didn't completely match their culture if it meant it could help them win now. What are your thoughts?
Matt: Ha! Always great to hear from you, Adam, way up there in Upstate New York – not far from the Canadian border. I have relatives up there and know it's definitely starting to feel like winter! Here's the long and short of it: When teams draft well and re-sign their own players, the reality is that they are not going to be major players around the trade deadline. There's simply no room because those funds are (or will be) allocated to their own players. The other part of it is that you must have a willing trade partner. So if the Falcons are (or would be) willing to give up a sixth-round pick for a defensive end or safety who they know well and would fit the culture here, that doesn't mean that team is willing to give up a sixth to the Falcons. Or maybe the team wants a future pick and/or a player as well. It's not always clear cut, like a lot of fans think. The Falcons keep saying they really like the group of players they've assembled and they're sticking to it. Let's see how it all shakes out before passing judgment. Remember, everything is on the table, so don't worry about scenarios that haven't unfolded. And stay warm up there! Thanks for writing in from #BillsMafia country.
Justin from Alpharetta, GA
Hey, Beek. Love the articles. My question is, after our next three games, which I really think we can win, do you still think we will be able to keep that streak going especially against the Saints in Week 12 at New Orleans?
Matt: Hi, Justin! Glad you're enjoying this forum, man. I agree; I believe the Falcons can win the next three, even though two will be on the road (a place they've yet to win in 2018). If they can knock off the Cowboys at home and get Deion Jones back in the process, that would mean they'd roll into New Orleans on a five-game winning streak with an improving defense. If that is indeed how that unfolds, yes, I think they have a chance to go into the Superdome and stun the Saints. But it must start with a win against the Redskins, a team that likes to play much differently than the Falcons.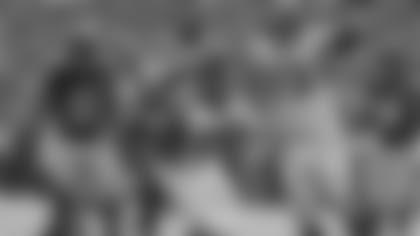 Alex from Macon, GA
What are the reasons you think that Atlanta does not reach out during trade deadline in order to fill some of the gaps left by injuries this season? The defense has stepped up to the plate here recently but there is no denying that we are feeling the pain from the loss of some superstars on our defense! I felt like we could have gone after HaHa Clinton-Dix to fill the safety void. ALSO, am I the only one that is thinking Tevin Coleman and Ito Smith could be our 1-2 punch? I am loving Ito's drive and his consistency and think he could arguably replace Devonta Freeman over time. Freeman could definitely be a HUGE bargaining chip in the offseason to attain a high-end player or two.
Matt: Hi, Alex. Check out my response to Adam from Plattsburgh, N.Y., above regarding why the Falcons were not active ahead of the trade deadline. There are a lot of factors involved. The Factors said they were on the phones talking to teams, but they stayed put with the guys they have now on the roster – mainly because they like what they have better. Regarding Tevin Coleman and Ito Smith being the Falcons' 1-2 punch, well, that's exactly what you're going to see Sunday and into the foreseeable future because Devonta Freeman is out injured and busy working his way back. If there's anything we've learned over the last two seasons with the Falcons it's that they have needed at least three viable running backs at all times, mainly due to injuries. Players at that position take a pounding, and Freeman has a run of bad luck with some injuries he's sustained. I'd hold off on any trade talk, though. Let's see how the season plays out and what the Falcons decide to do in free agency and NFL Draft.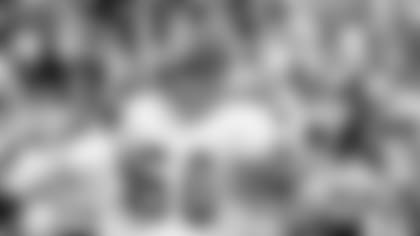 Ron from Milledgeville, GA
Why is it that the organization hasn't pushed to get Tommy Nobis in the Hall of Fame? He is beyond deserving. He was a monster.
Matt: I totally agree with you, Ron. Tommy Nobis was a great player stuck on some bad Falcons teams throughout his 11-year career, and that's what has hurt his chances over the years. Despite being named Rookie of the Year, a five-time Pro Bowler, first-team All-Pro, and being credited with a franchise-best single-season record of 296 tackles, the Falcons were 50-100-4 and never sniffed the playoffs during Nobis' career. And as pointed out here, there have been former Falcons players to be enshrined in Canton – Deion Sanders, Brett Favre, Morten Andersen, Claude Humphrey – but they also played for other teams and tasted postseason success there, too. NFL writer Rick Gosselin pointed out this nugget about Nobis while discussing Hall of Fame candidates: "In his second season, the first official year of the AFL-NFL merger in 1967 when the All-Pro team included the talent pool of both leagues, Nobis was voted first-team middle linebacker ahead of Hall of Famers Dick Butkus, Ray Nitschke, Sam Huff, Willie Lanier and Nick Buoniconti." That's impressive. And that's Hall-of-Fame worthy, if you ask me. At this point the only way he could get in is if he's recognized by the senior committee. Let's hope it happens. Nobis, known as "Mr. Falcon," was an inaugural inductee into the Falcons' Ring of Honor.