Welcome to Straight from the Beek – happy Friday, football fans! The draft right around the corner and you've got lots of questions about it, and so much more. So, let's get to them. Just remember that all opinions here are mine unless otherwise noted.
Daniel from Fort Worth, TX
Hey Beek, I hope all is well with you! This would be my second time writing to you. I understand why all these people are questioning what we need. I honestly do not believe we have a lot of holes to fill. With that being said, I honestly believe we will be back in the mix at the end of the year. I do not see, but maybe four teams in the league (Saints, Browns, Rams, and Cowboys), that have more talent on their teams than ours. I believe we have the strongest receiving corps in the league. As long as Matt has protection, he would be a top-3 quarterback. He is always in the top-6 in just about every category. So, I am not sure what everyone is worried about. The injuries we suffered last year were some of our best talented players. They always say "next man up," but you cannot replace a Deion Jones, Devonta Freeman, Keanu Neal, or Rico Allen. I have a question about training camp. I live in Fort Worth, Texas (born and raised), but I started loving the Dirty Birds team in 1989. I went to a game 2 years ago when we played Buffalo (disappointment), but the stadium was awesome. It has been my dream to go the training camp in hopes of meeting the team. I finally am going this year. I know trading camp is usually open to the public around the last week of July into the first week of August. I did my trip insurance just in case the dates change on me. Do I have a good shot of getting autographs if I am there? I will guarantee that I will be one of the first ones waiting to be let in. Do you have any suggestions for me regarding the whole process? I would really appreciate your feedback. I read your columns every day, so keep doing your thing!!!!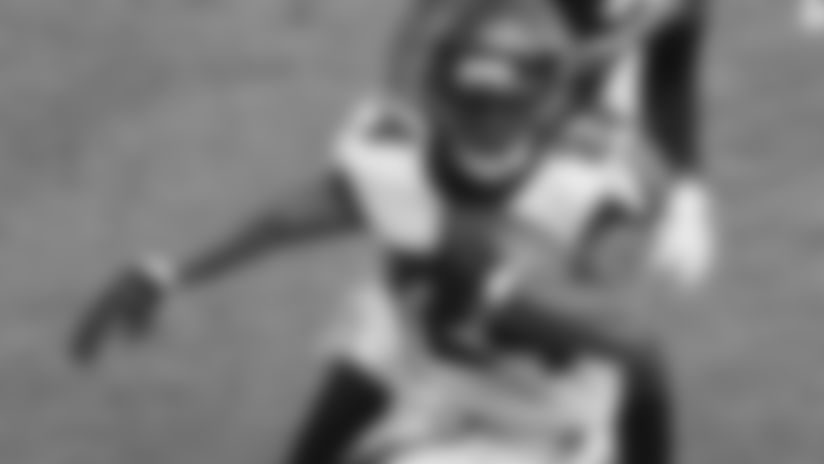 Matt: Hey, Daniel. Well, I'll agree – and disagree – with you on some of your points. Totally agree the Falcons have a ton of talent at some key positions. Matt Ryan, Julio Jones and Alex Mack are some of the very best in the league. And, yes, injuries were a huge factor last season, but all teams deal with them to a degree (so no excuses, right?). But I disagree with you on not having a lot of holes. The Falcons have three to four areas that must be addressed before training camp – offensive line (specifically at right tackle and depth in general), defensive line (tackle and edge rushers), cornerback and running back. Based on everything we're hearing, Devonta Freeman appears healthy and on course to make a healthy return, and that's going to be huge for this offense. But having Tevin Coleman, especially the last two seasons, has been huge for this team. Can Ito Smith spell Coleman this year? And who is that No. 3 just in case? Kenjon Barner? Maybe. But I think you'll see another back in the mix, too. Just my opinion, of course. As far as autographs at training camp, Daniel, you should be fine and able to get some. I know some days the rookies will sign them and then it'll be select players on other days. It depends, but there is certainly a chance to get some.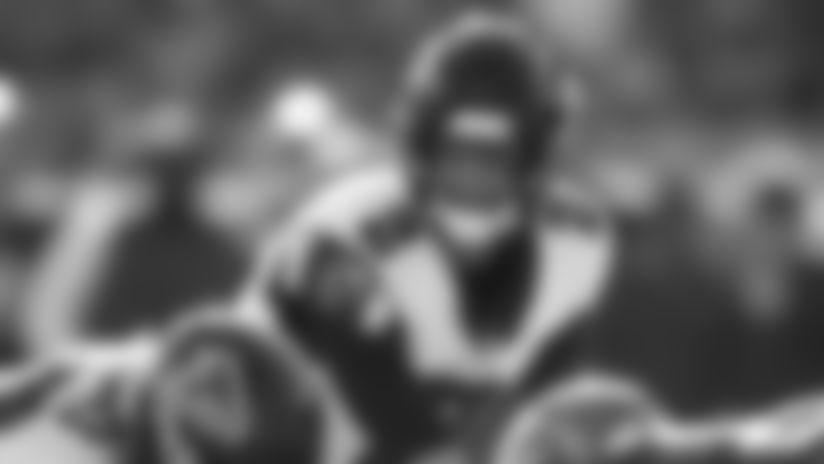 Terry from Conyers, GA
Why do you think so many Falcons fan hate Matt Ryan? Matt is one of the better QB's in the league and the fans don't seem to understand that. If you look at his stats they compare favorably with the top players in the league. In many instances his stats are better than his peers. He has often had the Falcons in the mix for the playoffs while playing with a subpar defense. One last thing, please ask Mr. Blank about going back to those 1980 uniforms.
Matt: Wait, are there a lot of Matt Ryan haters out there? I don't get it. I'm trying to figure out what parts of his game or accomplishments they dislike. The following rankings are among active players:* Most passing yards:*
Drew Brees - 74,437
Tom Brady - 70,514
Ben Roethlisberger - 56,194
Eli Manning - 55,981
Philip Rivers - 54,656
Matt Ryan - 46,720
Aaron Rodgers - 42,944
Drew Brees - 6,586
Tom Brady - 6,004
Eli Manning - 4,804
Ben Roethlisberger - 4,616
Philip Rivers - 4,518
Matt Ryan - 4,052
Aaron Rodgers - 3,560
Drew Brees - 520
Tom Brady - 517
Philip Rivers - 374
Ben Roethlisberger - 363
Eli Manning - 360
Aaron Rodgers - 338
Matt Ryan - 295
In 10 playoff games, Ryan has completed 237 of 351 passes for 2,6772 yards and 20 touchdowns and just seven interceptions. For his career, Ryan 65.3 percent of his passes for 46,720 yards and 295 touchdowns. Last year he was just shy passing for 5,000 yards (4,924) despite being sacked 42 times. Whenever Falcons fans call for drafting a quarterback or claim it's "time to move on" from No. 2, my first response (besides why) is, who are you going to replace him with that's even remotely close to being as good as he is? When Ryan steps down and decides to call it a career, I'm certain he'll end up in Canton five years later. So, for the life of me, I do not understand why ANY Falcons fan wouldn't love seeing Ryan behind center on Sundays. As far as the uniforms go, you guys should know by now which ones are my favorites (see below).
Hi, Beek. My question is, which player would be the smarter pick for the Falcons' first pick, Ed Oliver or Montez Sweat? It seems that the biggest need in the draft is on the defensive side of the ball.
Matt: Well, one is a defensive tackle and the other is a defensive edge. The Falcons need to address both positions, and both of those guys can affect the pass rush. I think both of those guys could go in the top 10 picks, so it could be a moot point by the time the Falcons pick at No. 14 (unless the move up). If one or both of those two players should be available when the Falcons pick, however, I think you go with the edge rusher (Sweat, pictured above) since good ones are so hard to find. I know all about the Ed Oliver comparisons to Aaron Donald, but … there is only one Donald. I think Oliver is going to be very good – and, to be honest, I think Falcons fans should be happy if either of those players end up wearing the Black and Red. Hope that makes sense.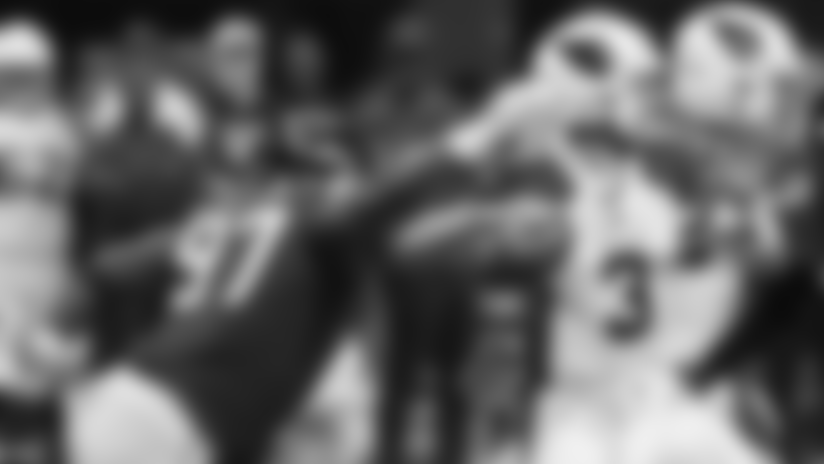 Seth from Grandview, TX
If we draft a more than one defensive tackle this year what are the chances we let Grady Jarrett walk next year?
Matt: Just because you draft one, two or three defensive tackles doesn't mean that you're replacing Grady Jarrett or his production, Seth. Honestly, I don't see it happening. I know they've placed the franchise tag on Jarrett at the moment, but based on what I'm hearing from ownership (listen to Arthur Blank's comments here) and what GM Thomas Dimitroff has said repeatedly, they want Jarrett to remain in a Falcons uniform for years to come. I think he ends up getting a more cap-friendly, long-term deal, Seth. MAILBAG
Do you have a question about the Falcons that you want answered? Ask a question here and it could be posted on AtlantaFalcons.com.