Welcome to Straight from the 'Beek. The Falcons are back it on Monday, preparing for the second preseason game of 2018 – and you've got plenty of questions. If you want to discuss topics that hasn't been covered or just have some general thoughts you want to get off your chest, submit those right here. Remember, all opinions here are mine unless otherwise noted.
Jerry from Statesboro, GA
Hey, Beek. I read an article where Dan Quinn was quoted as saying that Duke Riley showed improvement in the Jets game. In the comments section the fans thought otherwise. They really let Duke Riley have it. The fans really seem to like Foye Oluokun. I just don't see Riley as a starter "right now." What's your opinion? Damontae Kazee played like a starter against the Jets and showed much improvement from last year. I think Kurt Benkert should be stored on the practice squad if he clears waivers. What do you think?
Matt: Hey, Jerry. I'm aware of coach Dan Quinn's comment and if you listened to (or read) the entire quote about Duke Riley after the Jets game, he also said that there is more room for improvement. And Quinn further explained it by saying that he's seen even better technique this year from Riley in practice. Quinn thought Riley, at times, was "on point" technique-wise but also noted that there were "two or three examples where he could have laid a good hit if he'd continued to run his legs through the contact." Was Riley perfect? No, but it was the first preseason game, too. Let's keep things in perspective a little bit. As far as the fans' comments go, there's always going to be knee-jerk reactions and hot takes. Those same folks aren't watching practice day in and day out and seeing what the coaches are seeing. Another player who is also playing much better in his second year is Damontae Kazee, and that was definitely apparent against the Jets. In case you missed it, the second-year safety racked up 11 tackles – including nine solo – and was flying around the field. I'm anxious to see how both Riley and Kazee play in the second and third preseason games now. Improvement and consistency will be key, and that goes for backup quarterback Kurt Benkert as well. There are three more preseason games to go, and as you know, these games are all about evaluating the young and unproven players as the Falcons continue to build the 53-man roster. Let's not overreact after one outing that no one will remember or be talking about come Sept. 6.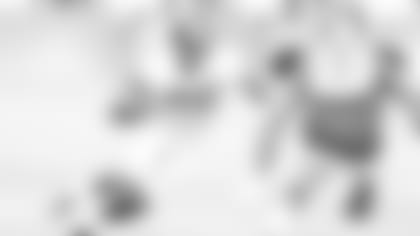 Joshua from Los Angeles, CA
Thanks for so many well-scripted articles. Wanted to know your opinion on whether our offense should choose land or air to get the best striking power with our vast number of weapons; I feel we should find some symmetry on all facets. Also, are there small tweaks you feel could be done with our defensive stopping power to better guarantee a championship run? In regard to a name or slogan for our defense: Southern Preyers. Thanks again.
Matt: Hi, Joshua. Thanks for writing in – and always great to hear from fans out West, too. I think you hit it at the end regarding the offense when you used the word 'symmetry.' I'm going with the word balance here, and that'll be key. The Falcons have an outstanding running back combination in Tevin Coleman (pictured above) and Devonta Freeman, and if you make opposing defenses respect the run, it opens up the passing game. And, as you noted, the Falcons have a plethora of downfield weapons in Julio Jones, Mohamed Sanu, Calvin Ridley, Marvin Hall, Justin Hardy, Austin Hooper, Logan Paulsen and Eric Saubert. The more the Falcons can get defenses thinking about all of them, the better. If anything, remember this: the play-action sets up the big plays downfield. Once that thing gets rolling, it's hard to stop. As far as the defense goes, I think it'll be key for the Falcons to get production from guys like Terrell McClain, Deadrin Senat and Jack Crawford. If that happens along with the continued outstanding play of Grady Jarrett, it should make life better on the edge for Vic Beasley, Takk McKinley, Brooks Reed and Derrick Shelby. Their goal is simple: Get pressure, sacks and force fumbles. If the Falcons are strong up front, they have an outstanding linebacking corps and secondary who are capable of taking care of the rest. I like the nickname suggestion, although I'm not sure if 'preyers' is a word. Love the spirit of it!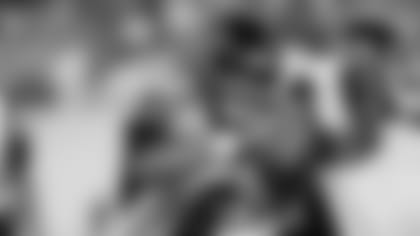 Michael from Chandler, AZ
Hey, Beek. First off, I love the work, keep it up. Secondly, after the first preseason game of the year, do you think that any one player stood out other than Kazee out there killin' it with 11 tackles? I do fully understand that a preseason loss is exactly that ... so needless to say, I have no current worries about our dirty birds. Thanks for your time.
Matt: It was good to see so many young and unproven players out there trying to show off their wares against the Jets. Same goes for those second-year players like Damontae Kazee and Duke Riley, who at this time last year were playing their first-ever preseason games in the NFL, too. To answer your question, yes, I thought there were a number of guys who caught my attention besides Kazee, and I mentioned them in my post-game column. Quarterback Kurt Benkert didn't finish the night with an eye-popping stat line, but the rookie out of Virginia came in and gave the Falcons offense a much-needed jolt – with his arm and legs. He completed a couple long passes – one to Devin Gray for 30 yards and another to Dontez Byrd for 27 yards – before finishing the game completing 9 of 17 passes for 125 yards with one interception. He also ran the ball twice for 11 yards. Some might consider Gray a longshot to make the final 53-man roster, but if he keeps playing like he did against the Jets he'll make it a tough decision. Gray was targeted five times and hauled in four passes for 83 yards – that's 20.8 yards per catch. That's not bad, regardless of who the Jets were lining up on defense at that point. And Linebacker Jonathan Celestin, an undrafted rookie out of Minnesota who grew up in Jonesboro, Ga., had the Falcons' lone sack of the night. Celestin also had three solo tackles and quarterback hurry while on the field.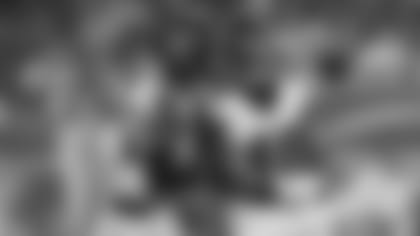 Tim from Augusta, GA
Beeky … This is one of the strongest teams the Falcons have ever fielded offensively. My only concerns are two-fold: depth at linebacker and size at defensive tackle. Don't get me wrong, our starting linebackers are talented, fast, and heavy-hitters. Deion Jones, De'Vondre Campbell, and from what I'm hearing from camp, Duke Riley, are beasts. Beyond Kemal Ishmael (a converted safety), I have serious concerns about depth. Now, I know most, if not all of our defensive ends can play OLB, but where is the depth at MLB? On to depth at DT ... Senat, Jarrett, and McClain are all 300-plus pound DTs, but what happens if we are faced with short-yardage defense? Speed is great, but on third-and-2, fourth-and-1, etc., you need some 320-plus pound run-stuffers to clog the center lane or you can get pancaked head on and in gaps between C-G positions. Where's the beef?
Matt: I think the depth factor will sorts itself out throughout the course of the preseason, Tim. A couple of rookies – Foyesade Oluokun and Jonathan Celestin (pictured above, on the right) – played well against the Jets. I think the Falcons really want to see what they have there first before making any moves. And, of course, if a player currently playing on another team becomes free at some point, they'll weigh their options as they always do. No need to hit the panic button yet. And I'm not concerned at all about the size along the defensive line, either. I'd rather have players who are quick and have excellent technique as opposed to big fellas who do not. And, as I always ask to those sorts of comments, who is walking the street right now that would be an upgrade? If it becomes a real concern, then the team will consider all of its options. Remember, a bunch of players are not only auditioning for their respective teams, but for 31 other ones as well right now. Stay tuned.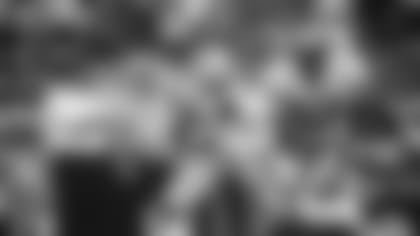 Jeff from Kathleen, GA
Just asking when you think we might see a throwback uniform to the days of Bartkowski, Andrews, Pridemore, Curry, Billy White Shoes Johnson and that bunch – red helmets with the red jerseys and grey pants? That would be nostalgic for a fan from the not-so-glorious glory days. I know it's probably late for an entry for the nickname for the defense, but I am going to suggest "The Shadow of Death" especially in their black shirts and helmets.
Matt: Hey, Jeff. Those uniforms and color combinations happen to be my personal favorites as well. In fact, I like the ones worn during Deion Sanders' rookie year in 1989 (pictured above). I believe the pants were silver, too. It was a great look, including the black cage on the helmets. As far as that nickname suggestion goes, wow. That might be the darkest one yet.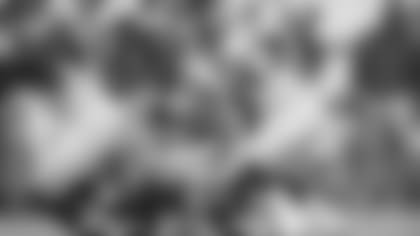 Gregory from Aiken, SC
I've seen the tapes of Ito Smith at Southern Miss, and some of the brief tapes from our camp, and I can understand why we got him. His cutting is as sharp as anyone's I've ever seen (and I'm 70 years old, so I've seen a lot), both in running his routes and in avoiding tackles. The guy is elusive with a capital "E," and I expect we'll see him returning either punts or kickoffs. My question is: if he's not often going to break into the backfield, do you think he could somehow get into the slot? I'd hate to see such a talent ride the bench.
Matt: I agree with you on Ito Smith's jump cut, Gregory. It's pretty special. But when the coaches evaluate the running backs, it's more than what they do with the ball – it's also in pass protection, blocking and special teams. I think I'll need to see more from him in the next couple of preseason games to get a better feel of what he brings to the table. For him to be on the field in the slot, who would he replace? Mohamed Sanu, Marvin Hall or Justin Hardy? I don't see that happening. At least not right now.